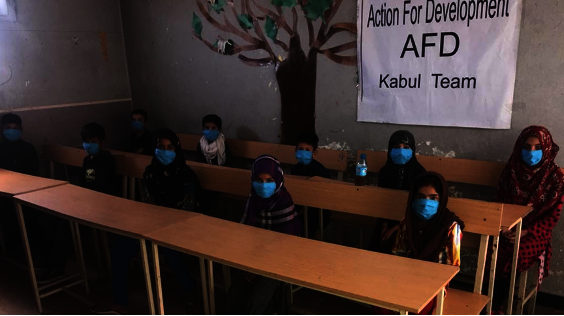 Like everywhere, 2020 has been a challenging year. For many families it has meant keeping children home, and for others it has meant that children's education was entirely interrupted and their lives uprooted.The need for children to have access to education had been documented in reports and studies for decades, and yet, many still do not have access to this fundamental right.
Action for Development has worked to ensure that the most marginalized children have kept up with their education when it was safe for them to do so. Although closed temporarily for 3 months due to the Government imposed lockdown, teachers managed to stay in touch with the majority of the students enrolled in AfD's school - they went to see them on the streets, in their home or, if possible, contacted them through their parents.
"I am Malalai. Before I joined the school for street working children l could not read and write. But now l read a magazine that my teacher gives me every day and this was my biggest ambition - to read the texts from books. l am grateful to you for providing me with this opportunity."
Our classrooms are currently running at full capacity and we would like to give more children like Malalai the chance to learn how to read and write.
With your help we would like to:
Open new classrooms to be able to accommodate 300 more children
Continue provideing a daily meal for all children
Introduce regular health checks and vaccinations for children in collaboration with the AfD Health Centre
Continue training female teachers to learn the new official curriculum in Afghanistan
Equip classrooms with technology to introduce new teaching methods
Offer English lessons to children and teachers
'My name is Shbana, and it is almost one year that l study in the school for street-working children. l am the first child of my family that got access to education by the help of you. Now l have learned to read and write and l can help my brothers and sisters. One day our village representative brought a form for filling, when I filled that form correctly, my father was proud of me. Thanks a lot for providing me with the opportunity of learning.'
Your help can make a huge difference, especially where it is needed most.
Every donation counts!
Thank you for your generous support,

The Team at AfD