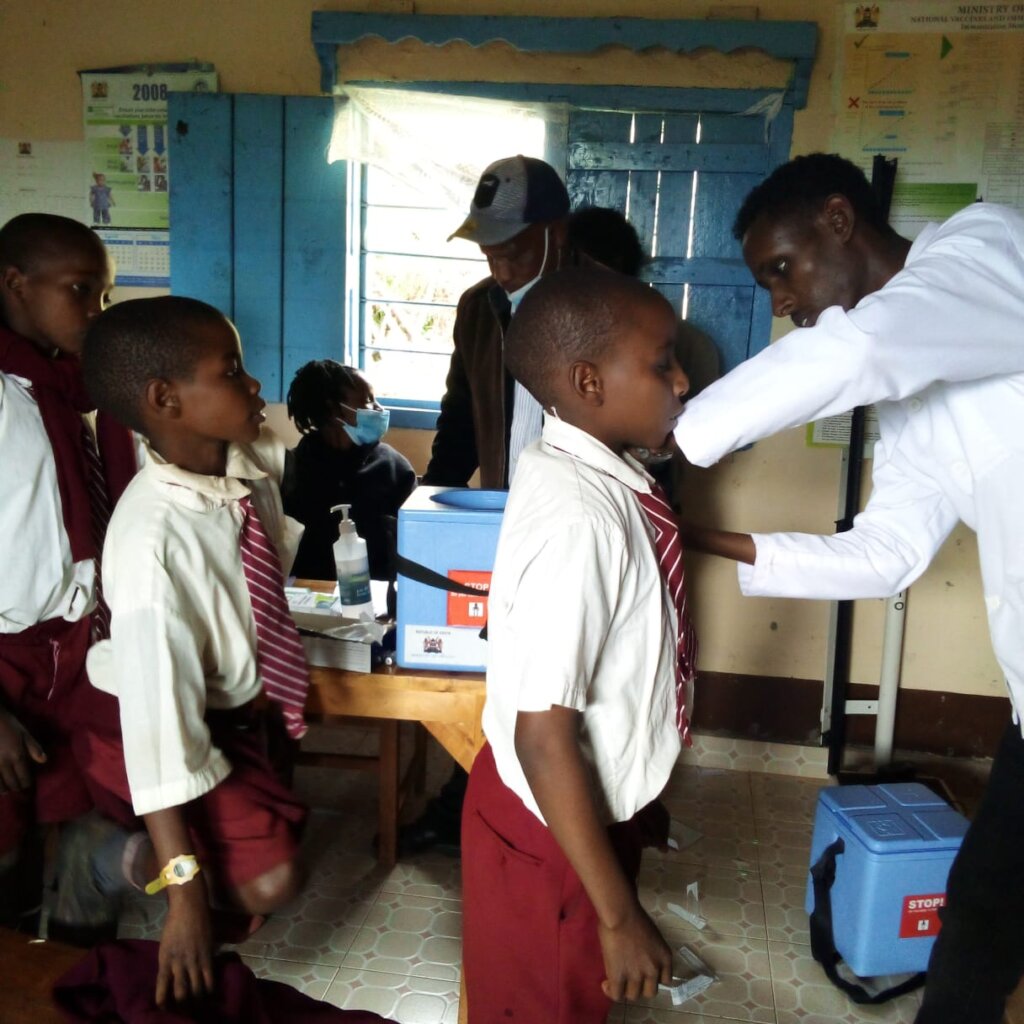 Thank you for donating to this project which is part of our emergency response to the COVID-19 pandemic. Your donations are helping to provide - training for Health Care Workers about the COVID-19 vaccination programme; information and communication materials for Community Health Volunteers to share in their communities and equipment and materials for health facilities to store and administer the vaccine. For example - providing equipment such as Personal Protective Equipment (PPE) - gloves, masks and hand sanitiser, vaccine fridges to store the vaccines and cooler boxes for transporting the vaccines to remote communities.
Vaccines continue to be distributed and administered and as of December 16th the rate of fully vaccinated adults has increased to 36.9% across Kenya according to the Ministry of Health figures. In Kericho County, where we work, the rate is 34.3% - that is 174,335 adults (over 18 years) out of a target population of 508,980. Vaccinations are also available to children aged between 12 and 18 years and in Kericho 10.8% of the target population of 160,761 are fully vaccinated.
Since January 2022, we have provided 25 health facilities (with a catchment population of 74,848) with vaccine cooler boxes to enable the safe transportation of vaccines, and 10 health facilities (with a catchment population of 37,489) with vaccine fridges to enable the safe storage of vaccines. Your support of this project has helped to make this happen.
Strengthening of health facilities is also supporting the routine childhood vaccination programme and on November 10th Jagoror Dispensary marked World Immunisation Day when 57 mothers brought their babies for immunisation, 65 school children also came for their HPV vaccine and a total of 101 boys and girls received the COVID-19 vaccine.
In Kericho County, many people live in hard to reach areas with poor roads, rough terrain and no public transport. Bringing the COVID-19 vaccine to the people is vital to reduce community transmission and keep everyone safe and healthy. We do this working in partnership with the Ministry of Health, by bringing outreach clinics to communities setting up at markets, churches and schools. Your donation providing PPE, training, equipment and materials is helping to make this happen. Thank you!
Please feel welcome to share this report with a friend and tell them why you support this project. The need is still great and every single donation makes a difference.
Thank you for your support.