Project Report

| Sep 8, 2022
COVID-19 vaccination storage, uptake, training and administering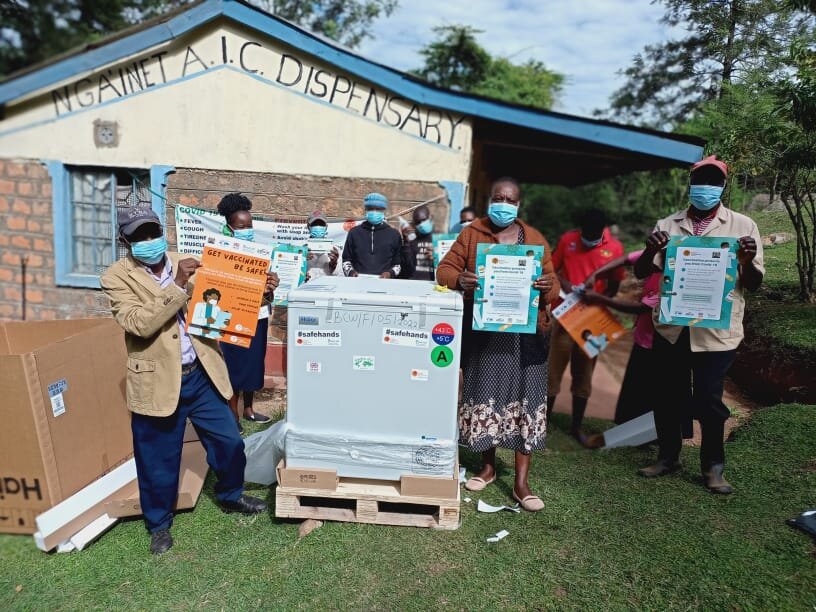 Thank you for donating to this project supporting the rollout of the COVID-19 vaccine. Since our last report in May, the rate of fully vaccinated adults has increased to 35% across Kenya and in Kericho county, it stands at 33%. The ability and confidence of the health care workers to administer the vaccine is increasing through training and provision of PPE. Households are receiving information and growing in awareness of the need for the vaccine through regular visits from Community Health Volunteers and there is greater access to the vaccine in Kenya as the months go by. Between April and July 22,244 people in Kericho county were fully vaccinated.
With your help, the project continues to focus on training and sensitisation of Health Care workers on all elements of the vaccine programme; preparing health facilities by providing vaccination fridges, vaccine carriers, PPE, IT support and information posters & banner and training Community Health Volunteers to raise awareness and understanding in the community about the vaccine.
To increase the distribution and uptake of COVID-19 vaccine, all health facilities across the County are needed to administer the vaccine. Unfortunately, most of these facilities lack equipment to deliver these services. Where a health facility cannot store the vaccine, the staff of that centre have to travel to another health centre to collect vaccines on a daily basis. This mean that while they are travelling the health facility is closed and day to day health services cannot be delivered. Providing health facilities with vaccination fridges allows them to store the COVID-19 vaccine as well as others such as those for children under five years of age. The health needs of the community are not impacted by closures and Health Care Workers can get on with their job of looking after the community.
This project is helping to support a number of health facilities to act as vaccine provision sites. With their storage facilities and through a mobile outreach system and health care workers who set up outreach clinics, vaccination services are provided to remote clinics and communities. Vaccine cooler boxes for transport, IT support with tablets for keeping records and personal protective equipment are part of the outreach system.
Community Health Volunteers are part of Kenya's Community Health Strategy, acting as a link between the households and health facility in a community. They act as key agents in sensitising community members on the importance of the COVID-19 vaccine. To help these volunteers in their role, we support their training and provide communications materials – posters and banners.
''Great thanks to Brighter Communities Worldwide for your support and sacrifice. Your support helps further our mission to provide healthcare services to the community''; Dr Collins Kirui, Sub County Medical Officer of Health, Belgut Sub County, Kericho County.
There is much more to be done to make sure we leave no one behind. Next week, donations up to €50 will be matched at 50% by the GlobalGiving Little by Little campaign. Please share this report with a friend, share with them why you support this project and let them know about the matching fund. The need is still great and every single donation makes a difference.
Thank you for your support.