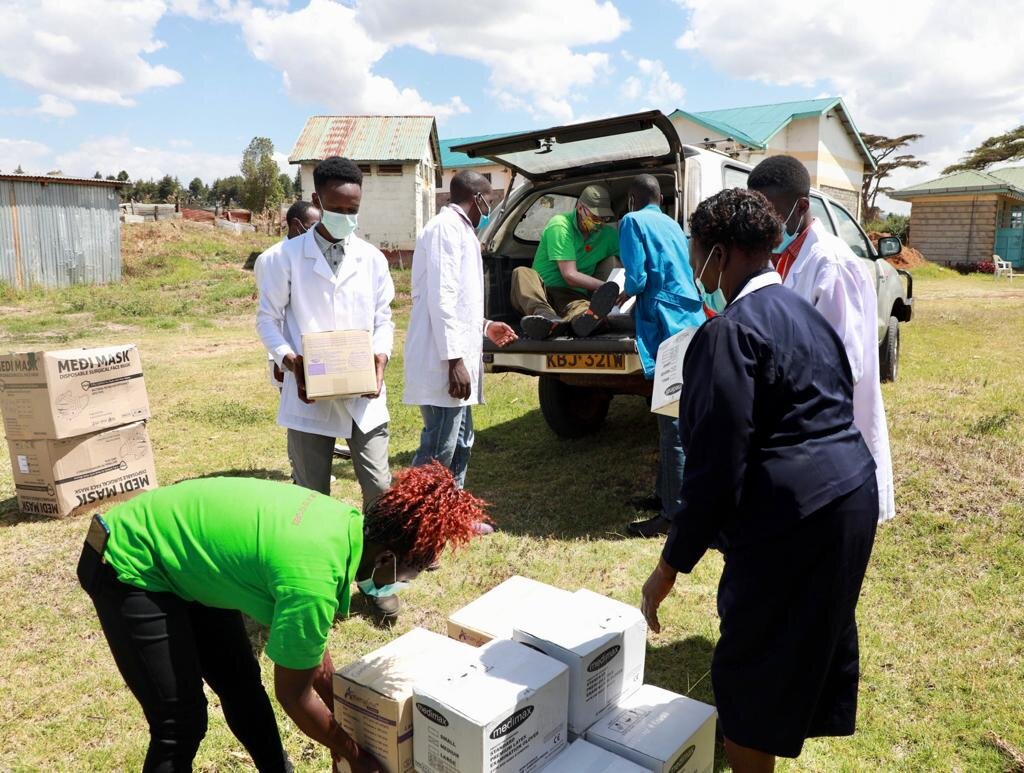 Thank you so much for supporting our programme to help with the roll out of the COVID-19 vaccine programme in Kericho county where we work. Thanks to your donations, this programme is providing vital support.
The latest update is that the number of fully vaccinated adults in Kericho county is at 28.2% (target population over 18 years of age is 508,980). Progress continues to be hampered by logistics and distribution challenges.
Every day we are getting requests for Personal Protection Equipment (PPE). Photographs here show a distribution to the Londiani Sub-County Hospital in February. The hospital was in crisis as their supplies were finished and no further supplies were available which put services provided by the hospital at risk. This hospital provides outpatient and inpatient care, medical and surgical emergency response, maternal and child health clinics, HIV/AIDS care centre, paediatrics and obstetrics/gynaecology. Without these services lives are at risk – the next closest hospital is 50km distance which without access to transport may as well be 500km. Unfortunately, this situation is not an isolated case.
Training for 36 health care workers in Infection Prevention and Control across health facilities took place since our last update. This training includes identifying, isolating and caring for patients, contract tracing, home based care and administration of the COVID-19 vaccination. These health care workers continue to bring the vaccine to the furthest parts of the county through outreach clinics and your donations support all of this work.
We have supported 26 Outreach clinics exclusively for COVID-19 vaccinations since November and at those clinics 511 people have received 1st dose; 529 2nd dose and 13 people received booster shots.
Since the opening of the Vaccine centre at Londiani Sub-County Hospital in December, the hospital staff have given out 23,710 vaccinations in total.
The government has lifted the mandatory wearing of masks which has led to assumptions in the community that 'COVID-19 is no longer with us'. We continue to raise awareness of the virus and the vaccination at all our programme events using posters and banners to ensure that even the most remote communities know the vaccine is available to them and the threat to their health is not gone away.
Please share this report among your circles – COVID-19 is far from over in Kenya and with high transmission rates, the threat of a new and more dangerous variant remains real.