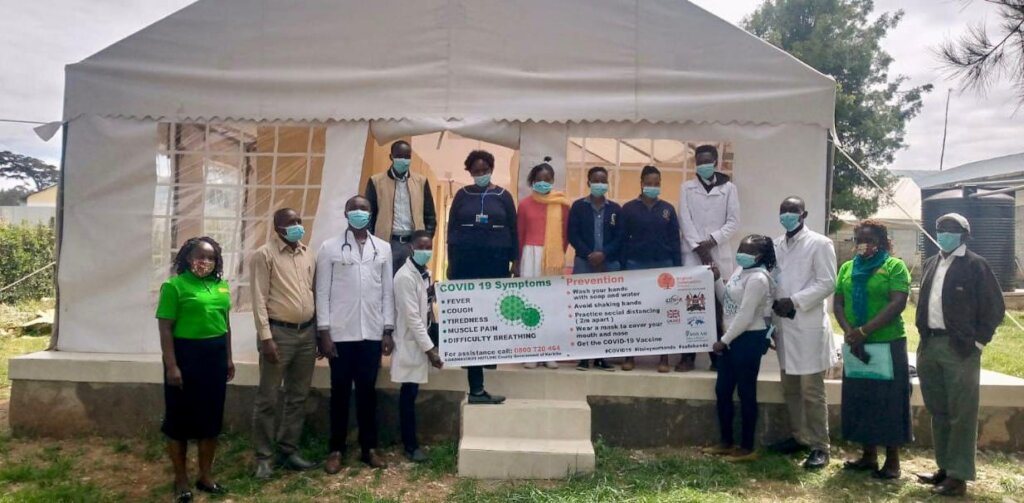 Thank you so much for supporting the roll out of the COVID-19 vaccine in Kericho county, Kenya with your donation. Here is the latest update for you on what's been happening.
December 10th was a day for celebrations as the vaccine centre at Londiani Sub-County Hospital was opened and the first COVID-19 vaccines were administered from there. This was great news! The centre is constructed on a newly built, permanent foundation with a temporary tent structure and inside the area is sectioned off into individual booths for dispensing the vaccines.
Kericho county has a population of almost one million people with 56% over 15 years of age. 4% of the adults here are fully vaccinated. There is a long way to go to make sure that no one is left behind.
The challenges to the roll out continue - providing the basics like soap and PPE as well as the major logistical challenges of vaccine fridges, tents to set up temporary clinics, transport & training for Health Care workers, cooler boxes for vaccine transport, information on posters & banners to let the community know about the vaccine and outreach clinics bringing the vaccine to the people living in remote and hard to reach parts of the county.
So far we have supplied 13 Health Facilities with vaccine fridges, 16 outreach clinics have been supported, 148 Health Care workers have been trained and 107 Community Health Volunteers have trained on how to sensitise their communities about the vaccine reaching 12,840 people so far with information shared.
The World Health Organisation (WHO) says 'If the vaccine isn't everywhere, this pandemic isn't going anywhere'. This is borne out by the recent global surge in a new variant of the virus. It is vital that everyone, everywhere has access and we are determined to do all that we can to make that happen. Only then will the communities we work with be able to rebuild and recover from the devastation this pandemic is causing to health services, schools, business and community.
Your support makes all the difference in safeguarding the lives of the people we work with. Thank you! Please feel welcome to share this report with your circle of friends and family - every single donation makes a difference.