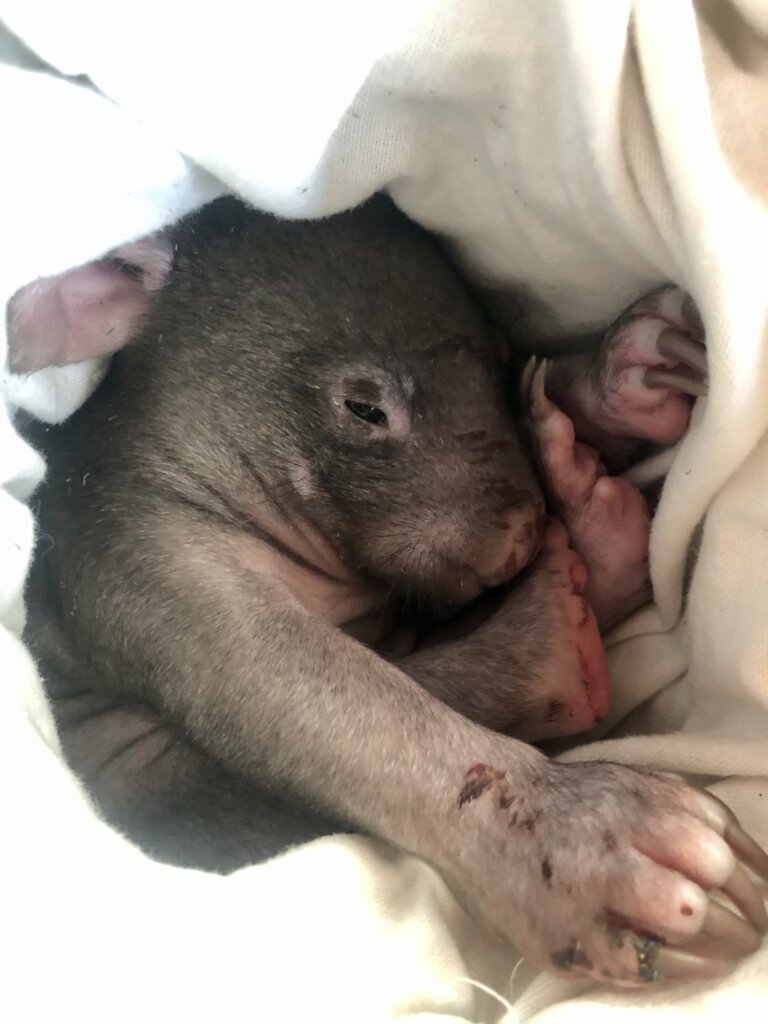 So often, our work is about providing second chances to native animals who simply wouldn't have made it without our help. The two rescue stories below could not have happened without the ongoing support of people like you. Every hour of every day, your support is helping us rescue and care for native animals who are injured, orphaned, sick and in pain. On their behalf, thank you for helping us create these second chances!
A second chance for orphaned wombat joey
Last month, a motorist called WIRES when they witnessed a wombat not moving on the side of a busy road, in rural New South Wales. Whilst they were sure the wombat had died, a WIRES carer quickly attended the scene to do a pouch check. It was lucky she did, as the mother's tiny joey was found next to her – hungry, cold and grazed, on the side of the road.
After receiving urgent medical treatment, he was transferred to his WIRES carer Zora, where he was buddied up with some other youngsters to continue his rehabilitation. When he's learned all the skills he'll need to thrive in the wild, he'll be released back into suitable habitat. Thank you for making sure he gets his second chance!
Another orphan given his second chance

In Tasmania, a member of the public urgently called WIRES when they encountered a pademelon looking weak and emaciated. It also appeared to be having a seizure. Sadly, minutes after Ned, our Tasmanian Emergency Responder arrived, the pademelon died. However, when Ned completed a pouch check, he discovered a very young male joey weighing just 714 grams. After the joey was checked by a veterinary team, he was transported in our Wildlife Ambulance to a wildlife carer where he'll be cared for until he's ready for release.
Thank you for supporting our vital wildlife rescue work and for helping to give orphans like these their second chance of life in the wild, where they belong.