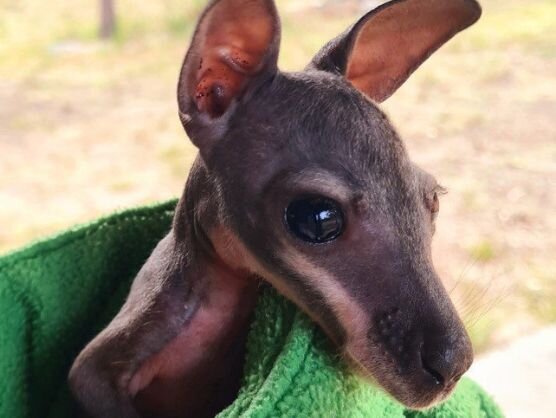 As heavy rains once again cause widespread flooding across the state of New South Wales, your support to WIRES is continuing to provide a daily lifeline of support for Australian native animals at their most vulnerable.
Here are just three rescue stories, thank you for making them possible!
Flood affected brushtail possum now in care
In Sydney, a young female brushtail possum was discovered under a balcony, displaced, disorientated and soaking wet after recent heavy rains. She seemed quite unwell so her WIRES rescuer wrapped her in a towel to dry and warm her, before transporting her to a local vet for a medical check.
Luckily, the young possum had no serious injuries and was placed with her WIRES carer very quickly. She's now well on her way to recovery and should be due for release near to where she was found in the coming weeks.
Infant Tasmanian Pademelon rescued just in time
When a passing motorist called to report a Pademelon that had been hit by a car in the state of Tasmania, she was fairly sure the mother was dead, but hoped we could send a rescuer just in case.
Her instincts were correct. Whilst the mother had been dead for several hours, a pouch check revealed that her teat was extended, suggesting she'd recently been suckling an infant.
The WIRES rescuer searched the area and found the young joey, a few metres from the road, hiding amongst rocks. She quickly warmed the joey who was cold, frightened and dehydrated, and provided him with vital fluids. After a few hours of careful monitoring he was transported in our Emergency Response Vehicle to his specialist carer, where he's now being provided with the care and rehabilitation he needs for an eventual release back into the wild (pictured above).
Three wombat joeys in the next phase of rehabilitation
Car accidents and ongoing floods continue to have a devastating impact on wombat populations and WIRES now have several orphaned wombat joeys in care. Whenever possible, wombat joeys are buddied up so they can grow and develop together, before their release.
'Poppet' pictured below was separated from her mother during the recent floods. She was found in a back garden, exhausted, wet and very cold.
She's now been buddied with Gus and Bear, who both lost their mothers in recent car collisions. Both had been relatively protected in their mother's pouches and had escaped with just a few scratches on their heads.
Wombat joeys stay with their mother in the pouch for 7-10 months, so all three were far too young to fend for themselves and are now receiving dedicated long term care.
As you can see from the photo below, they are now at the second stage of their rehabilitation, learning to dig and burrow in their natural environment and it is very thirsty work!
Thank you again for making these rescues possible. In the last financial year, our Wildlife Rescue Line received over 200,000 calls! This is a significant increase on the year before and we thank you sincerely for making sure so many native animals get the second chance they so desperately need and deserve.
THANK YOU
Without you, none of this is possible. If you are able to give a gift to support the ongoing rescue, rehabilitation and recovery of wildlife, please donate today and share our project.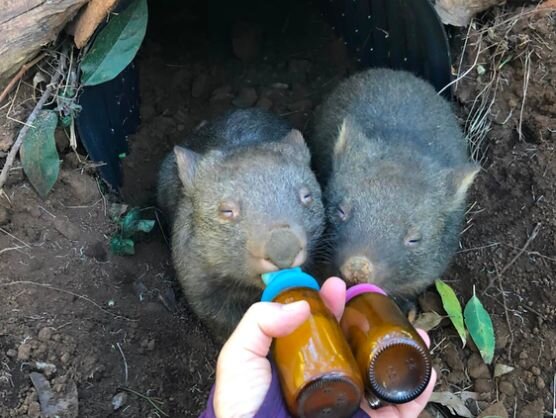 Links: