Project Report

| Mar 22, 2022
Our flood rescue stories and efforts
The past month for WIRES has been extremely busy due to the recent catastrophic floods across the east coast of Australia. There have been many animals who have not made it, however the ones that we can help rescue and eventually release, make the efforts of volunteers, members of the public and staff all worthwhile.
Echidnas saved from flood waters
An echidna was found floating down a river clinging to a mattress in a flood impacted town. It had some cuts on its beak and his skin appeared to have been submerged in the water for some time.
Most of our volunteer carers were struggling with significant flooding to their own homes at that time, with many entirely cut off. The echidna was taken to a WIRES carer, however had to be quickly evacuated when her home became at risk. The echidna was picked up by one of our emergency rescue vans and is now recuperating in an animal hospital.
Echidnas have been seriously affected by the floods with one rescue group reporting 32 in care by early March. Several orphaned puggles have been found alone, likely to have been washed from their burrows and are now in WIRES care. The lucky echidna above, was clinging to a pole in flood waters, when a member of the public, herself being evacuated in a tin boat, rescued him, and with advice from WIRES, transported him to high ground.
Displaced and exhausted birds
Many hundreds of birds have been found displaced, waterlogged and grounded in flood impacted areas. Often, they've simply been too exhausted to fly through relentless days of heavy rain. One juvenile white-tailed tropic bird was found a remarkable 300km from her natural home. Often these birds have been successfully released back to suitable habitat after they've had a chance to dry off and rest.
Orphaned joeys
Many orphans have been found wet, isolated, and alone after floods and storms have destroyed their habitat. Burrow animals have been particularly affected. In some places, flood waters were witnessed completely submerging established gum trees.
This eastern grey joey below, was found in a paddock during stormy weather, possibly thrown from her mother's pouch by the wild storms. She was transported by one of our emergency rescue vans to a nearby vet.
THANK YOU
Thank you for the vital role you play in helping us rescue and care for these survivors. We are deeply grateful for your support.
Without you, none of this is possible. If you are able to give a gift to support the ongoing rescue, rehabilitation and recovery of wildlife, please donate today and share our project.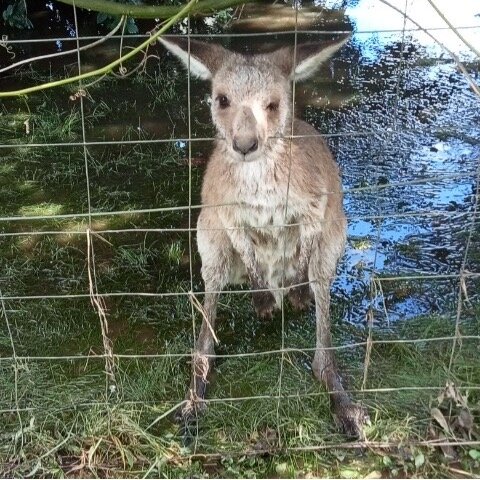 Links: