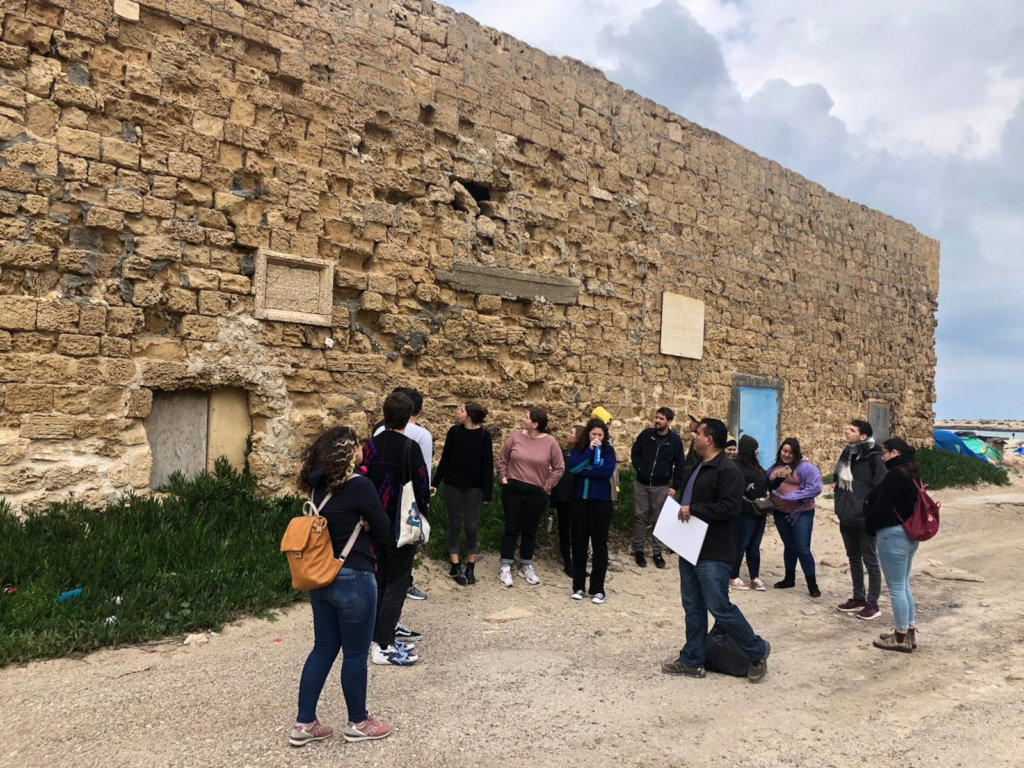 These have been hard and unsettling months for all of us. As we send you this update, along with our unceasing gratitude for your support, we want to also include our best wishes and our deepest hope that all of you who read these words are healthy in body and spirit, and that your loved ones are safe, as well.
The pandemic made its way to our quarters in late February, and heavy and crucial restrictions on movement and gatherings began starting in early March. So our update this time around has two clear sections - 'Before COVID-19' and Amid COVID-19.'
Before COVID-19
Participants continued their learning and volunteer work in Jaffa; working with students at the different educational institutions where they volunteer, initiating events, and going through workshops and learning days. A crucial component of this learning, a part of the educational program, has been the series of annual tours participants take part in. The tours enable our participants to explore the Israeli socio-political landscape and interrogate their own responsibility within it. In late February, participants got to take part in one of the two tours planned for the February-May period, titled "From Jaffa to Beirut." The tour begins in Jaffa and ends at the border with Lebanon, in Rosh Hanikra. The tour moves through different points along the incomplete path from Jaffa to Beirut, like the destroyed village of Tantura or stand-alone church in the wrecked village of Iqrit, unraveling the unspoken histories of the land we all share in order to allow participants to consider the prospect of a different, less segregated, and more just, future. We believe that in order to equip our leaders to create this shared and just future, we must enable them to ask hard questions about the historical and current injustices that inform their own lives. And indeed, our young leaders left with many questions and revelations.
Amid COVID-19
As our work deals with people and dialogue, the restrictions to limit the spread of the virus - while crucial - affected us tremendously. Still, we worked to adapt.
We adapted the volunteer portion of our Community in Action program to fit with the current needs of our community; after an initial break, our leaders either continued their work as part of the educational institutions they were working with, or supported young Jaffa students we hosted in our offices, who did not have access to computers at home for online learning. Further, our participants have been working to transition their activism initiatives online. Our participants have continued their volunteer work, activism, and learning amid the crisis in a period that has served as an invaluable lesson, demonstrating how crucial it is for everyone to take responsibility and act to make our society better for everyone who live here.
Looking forward
Beyond our project, we were not surprised to see the incitement and violence that was directed towards Palestinians in Jaffa, and beyond, in light of the crisis. The disproportionate impact of the crisis on marginalized communities directly stems from the discrimination, neglect, and incitement against which we work with our youth year-round.
While we have had to adapt our activities, there is no doubt in our minds that the need for our educational work has not disappeared, and will be even more relevant and crucial in the aftermath of the crisis. We are working today, and always, to ensure our participants have the support and tools they need in order to make sense of this situation – to process, and act.