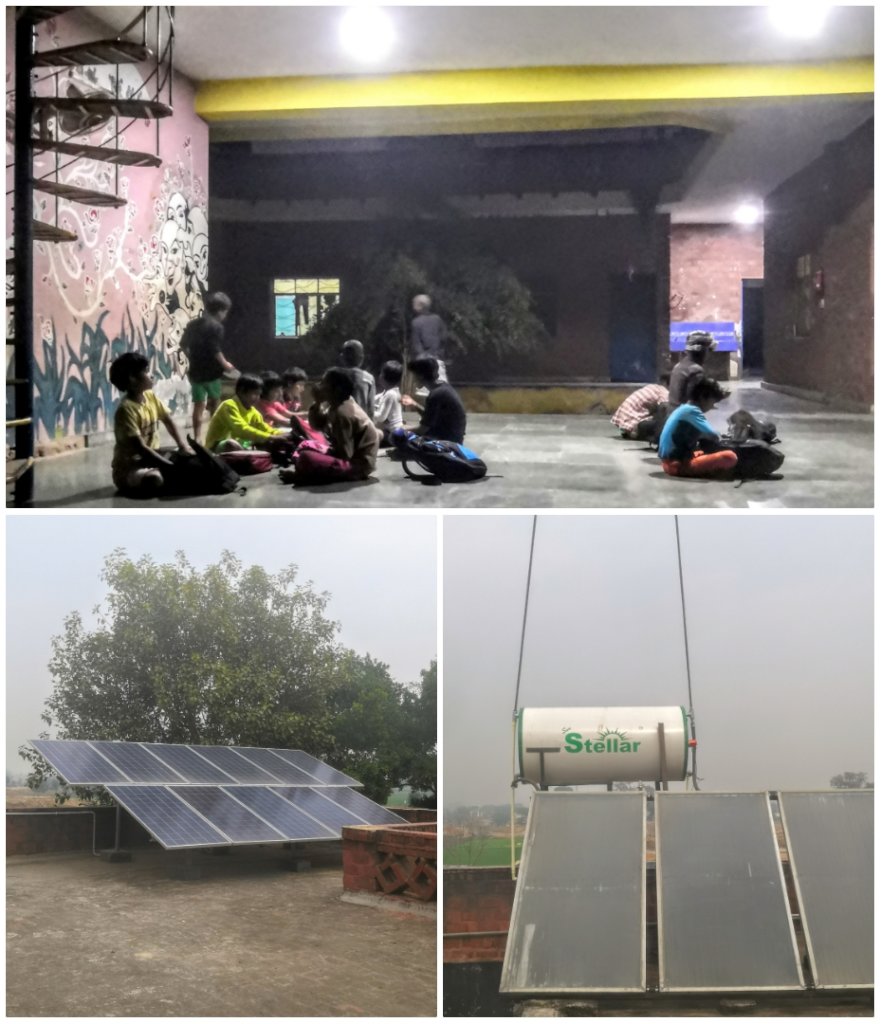 Newsletter Oct-Dec 2019
Achievement - Solar-powered campus
After living for more than two decades with frequent and long power cuts and an expensive alternative source for generating electricity, Karm Marg now has a fully functioning solar system for powering our campus and heating water in the winters with the help of Somfy foundation. (France/India)
Some of the problems addressed by having installed a solar energy system on our campus are
We don't face long and frequent power cuts anymore.
Children can now study during the evening and night time.
Summers are more tolerant as a stable power source means our cooling machines run without disruption.
Work hours are efficient and extended
The electricity bill reduce drastically.
The installation and setup of the solar energy system has been done by partnering with Somfy foundation and we thank them for helping Karm Marg take a leap towards adopting renewable energy.
Success Story – Smiles
It's very strenuous for the staff of Karm Marg to deal with children who come from extremely traumatic backgrounds. We not only have to provide them with a safe and secure home-like environment but also have to work really hard on their mental and physical health. It requires a lot of patience and tolerance to monitor them and keep updated about their physical and emotional well-being and to make sure they are responding to our treatments.
In the month of October four siblings, two brothers and two sisters, who had been verbally and physically abused by their parents arrived at arm Marg. We were really shocked to discover their condition and the history of abuse they had endured.
The oldest girl of the family had been abused routinely by her father, who also threatened to kill all of her siblings if she reported the abuse she was suffering to anyone. Their stepmother would also treat them very badly and was complicit in the abuse the kids had to suffer. Due to excess torture and the beating they were exposed to, all of them suffered varying degrees of mental and physical illnesses. All the siblings have been diagnosed with acute depression and suffer from panic attacks. Vishal, 12-year-old (name changed) is suffering from severe Arthritis which has left him unable to even walk properly. Another boy, Rajneesh (name changed) is suffering from Bilateral acute retinal necrosis, which has left both his pupils to not function properly and therefore has very poor eyesight.
But somehow the oldest sister showed a lot of courage and decided to raise her voice against her father and called the police on her parents with the help of local women and registered a complaint against her father and mother. The father has consequently been sent to jail and since then all the kids have been sent to Karm Marg.
These kids have gone through an extremely tough period in their lives but all of them are now receiving medical treatment and counseling to aid their mental health. We still have a long way to go but we can see the smiles and confidence return to their faces and also rejoice in the fact they are slowly starting to enjoy their lives. Hopefully, in April all of them will start going to school.
Sharing Happiness
ALBATROS from Denmark celebrated Christmas with us through gifting a new Television set for the children and sponsoring a two-day outing for all our staff. This is a part of Albatros company's staff 'giving program' in which every staff member of their company donates an amount towards a cause at Christmas time.
In 23 years of Karm Marg journey, Staff got this opportunity first time to go for the outing. Its totally different experience and they had so much fun and bonding with each other. A total of 13 staff went for the outing and 4 staff stayed at the campus to look after the children and they got the surprised gift.
Deborah from SCOMI foundation visited KM and spent time with children and staff for more than 10days to understand what challenges the organization faces and how SCOMI can support and full fill the gap. SCOMI is supporting from the Beginning of Karm Marg for last 24 years, they are more than a family to us then only a Donor.
New Project Partnership
Hanish and Angy, who started CoderShunya, an initiative to empower children from destitute backgrounds by means of technology, approached us to a partnership with Karm Marg to give access to children in young age to technology will greatly make the difference in the livelihood of these children, giving them a platform to develop the open-source project while also addressing the social cause. They introduce in teaching through long-distance training via Skype / Google hang out or such other apps.
A total of eight children (two boys and Six girls) are enrolled in this project to attend the class twice a month.

Volunteer program
Shaurya a 10th class student studying in China came to Karm Marg along with his father Shambhu Nath under the school volunteering program. He along with our seven children made a short movie on Karm Marg day to day life and he taught the children how to use mobile cameras and edit movies using different apps. Children are not allowed to keep mobile phones personally due to safety reasons, so they are so excited to explore with mobile phones and learn new skills.
Main Activity of the quarter

The Art room project through Art-Reach India continues going on with our five girls, in this quarter these girls got the chance to learn from Chandan Gomes, who is an acclaimed photographer and won many awards. He conducted the session on photography at Qutub Minar and it was a great opportunity for the kids to interact with him and learn more about photography.
The annual children's winter carnival took place on 22nd December at Kisan bhawan, Faridabad. This time we managed to reach out to approximately 300 kids from different NGO and from low-income backgrounds. We are very thankful to Tanushree who organizes this every year to bring a lot of joy and excitement in the lives of many children.
On the month of October, our theater group performed at Indira Gandhi National Center for the Arts in ITIHAAS festival. The topic of the performance was about the current scenario of today's reality where no one raises a voice against animal cruelty, corruption Etc. The spectators really liked the concept and appreciated the kid's performance.
Our younger children are also very fond of dance so keeping that in mind we sent them to participate in Dhinak Dhin Dhaa - 4, the festival of dance workshop which was organized by Creativity adda
After Babli now Teena got the chance to become a yoga instructor with the help of Shivananda yoga institute, they are given the scholarship to learn and become a Yoga teacher.
Now both Babli and Teena committed to giving one year of their service to Shivanad ashram, their lodging and boarding will be taken care of by the ashram.
Festive Season:
Every year KM's alumnus comes together to celebrating major festivals with the children, which sprout very fond moments for us and leaves us feeling very proud.
This quarter we celebrated Dussehra, Diwali, Christmas and the arrival of the New Year together with much fun, laughter and happiness. Together we cooked delicious and verity of cousins to celebrate the festival. It show the strong boundation between children and KM and above all lots of happiness and smiles on every face.
Government Visits
Govt Child welfare Committee, Child helpline and other child safety-related departments visited Karm Marg to check if the organization following all the rule regulation properly and children are safe.
Jugaad
As the peak session started we went busy this quarter at Jugaad. Preparation of all the upcoming exhibition and festive session order was in full swing.
We started selling our homegrown organic vegetables at the local market and getting a good response.
Intern in Jugaad
Three Interns from IICD (Indian Institute of Craft & Design) Jaipur came to Jugaad under a one-month Internship program. They learned and explored various skills in Jugaad and also designed a few new products and explored social media to promote these products.
This is an ongoing process where every year few students apply for an Internship program to learn and explore on ground to understand how craft people work and design as well do the marketing.
Beneficiaries of the quarter
Under permanent care – 46 children
Under short stay – 16 children
Short stay children rehabilitee with family – 8 children
Youth start living independently - 2 youth
Library: 60 children (7 & 8th class student of local govt secondary school)
Two girls enrolled full-time training under the stitching unit of Jugaad.
Three youth enrolled in Bakery learning.
Fifteen women are working on a daily basis under Jugaad income generation program.
Twenty new women are started taking part-time training through Jugaad.