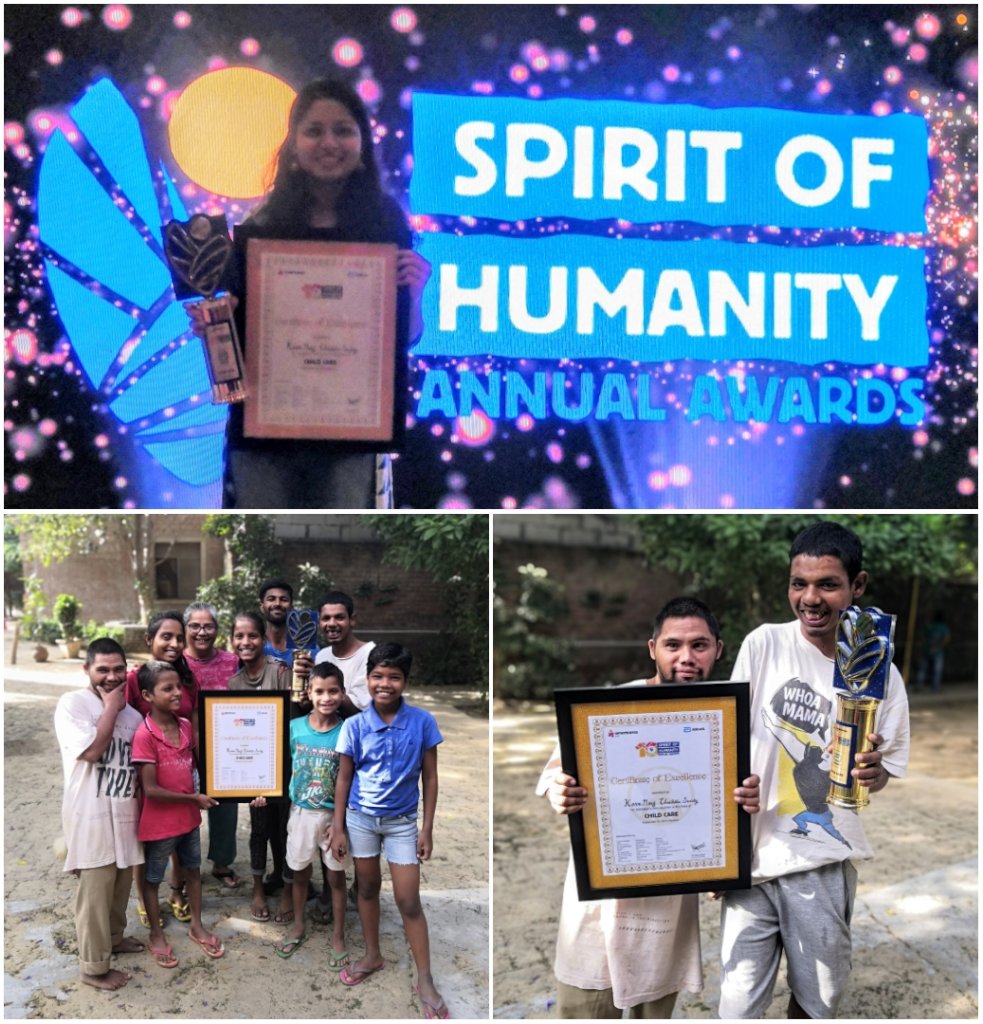 Quarterly report - July to September 2019
Winner of Annual Spirit of Humanity Award
September presented a 'hurrah' moment for all the children, team member, trustees, founder and everyone who are associated with Karm Marg for receiving National award for excellence in childcare from Spirit of Humanity by Americares India, which seeks to honour the best Ngo's in the country and the people behind them. Our success was a culmination of a lot of hard work over the years and the cooperation offered to us through our partners; the patience and understanding shown towards us and the love you've had for us for so long. The award is very valuable for us as it provides us with a lot of credibility which will enable us to acquire more funds and support in the future and also attract potential donors and partners.
Expanding the knowledge of children through the mediums of art
Five of Karm Marg's young adults were selected for a one-year intense workshop to understand art deeply, practice it and choose it as a profession in the future if interested. This opportunity was provided to us by Art reach India after doing a workshop over the period of one year with the children and young adults of karm Marg and showcased their work in a well-known art museum, Kiran nadir museum on June 19. As part of this initiative, karm Marg's children participated in the following.
2. Collage and Composition with artist Tehmeena Firdos.
2. Visual Narratives with S. Anand from Navayana Publishing.
3. Introduction to Theater with Maya Rao.
4. Visit Pra-Kashi at National Museum.
5. Shadow Puppetry with Anurupa Roy.
Engaging volunteers through technology
From the first day of Karm Marg's beginning, our remote location has provided us with numerous benefits but also many shortcomings. The distance of commute from the city has proven to be a major roadblock and has hampered many programs, initiatives and collaborations in the past. The rise of technology has now helped us bridge that gap with mentorship programs that take place through video calls or mail exchanges
Indu Harikumar, a close friend & mentor of young girls of KM, started taking English classes with four girls via skype's video calling. It is amazing to see how technology has helped reduce the distance between our volunteers and children.
In future will planning that children will receive educational classes from volunteers or teachers, counseling and participate in mentorship programs online via apps like Google duo, facetime, etc which saves everyone a lot of time, money and energy and it helps the kids in enhancing their skills by learning from qualified teachers or people who have great experience in a particular field.
Beneficiary of the quarter: With all your support and help,this quarter we have managed to reach out to 152 beneficiaries.
Children living in a home - 55
Children only getting educational help - 05
Skill training full time: 04
Skill training part time: 08
Under Library project: 80
One step toward saving environment – As the monsoons approached we had conducted a series of workshops and plantation work.
The kids of Karm Marg participated in a tree planting and clean drive initiative on two different occasions. At a forest homestay in Tirthan valley, Himachal Pradesh and at Neighbourhood woof, an animal shelter and birth control clinic for dogs which is in north Delhi. Both the places are run by long-time supporters of Karm Marg. As part of the exercise in Himachal, the kids got to stay at the homestay in a forest and went on a tree-planting drive conducted by one of the local residents of the area. He educated our kids about the importance of local flora and fauna and how they need to be preserved. The kids also went for a clean drive to nearby tourist spots and collected lots of waste and reusable materials that had been thrown away and converted them into recycled products. The following was written by Tanushree, who runs the homestay in Himachal, about the experience.
"Today is an emotional day on many levels. We had been planning to do a "clean and green drive" since a long time. But strangely we could not get the right kind of saplings. We kept trying mostly because last year a big junk of the forest was lost to fire during summers. It was heartbreaking.
Finally after trying for a long time we gave up and decided to limit ourselves to a clean drive. Now for that too we needed volunteers! We have been associated with Karm Marg for a long time. I have seen most of these children in the pictures grow from tiny unsure babies to confident young adults who care about the environment and hug with all their hearts. It was a dream to get them to see our dream. As luck would have it, they volunteered!
And the day they came, we managed to get 250 saplings for the forest out of the blue! So today this wonderful bunch of kids along with a solo traveling volunteer, planted sapling in terrains that were not easy to get to.
Tomorrow more trees will be planted and riverside will be cleaned. See? The world is in safe hands. And these pairs do not know when to stop. We all will be okay .We just need more to join in.
PS. That is very sound advice right there by Mr Dabey Ram -"We are alive because of these trees. If they weren't here, you're being here and our lives would be useless. Each one of us needs to plant at least 10 trees every year."
Sowing and planting of vegetables – During monsoons, some of the kids were introduced to organic farming as a new skill set that they can learn and practice. This included preparing the field, fertilizing, sowing winter crops and vegetables, tending to the crops and harvesting. We also collected seeds for summer crops which will be planted next year. Organic farming and permaculture are big trends in India nowadays and have huge potential. Training our kids in this field of work not only teaches them how to grow their food sustainably and organically but also empowers them to find work and earn a living through the same.
We also conducted our first workshop around organic farming and permaculture with the College student of a local government college. It was a two-day workshop with 150 students from Kheri Gujran College, Faridabad.
Changing lifestyle - At Karm Marg we teach the kids to respect the natural environment and live in accordance with nature. This helps them to learn and practice alternative ways of living their lives and minimize their impact on the planet. Part of this exercise has seen us develop and manufacture a lot of in house everyday products like floor cleaners, dishwasher detergent, toilet cleaner liquids that are made using fruit waste, peels and seeds.
Festive season – With the celebrations for Raksha Bandhan taking place the festive season for this year has commenced. The kids celebrated Raksha Bandhan in a unique way by making their own Rakhis, which they made by recycling waste and old materials and tied the rakhi to there love ones friends pet and tree.
Library Project - Our on-going library Project is going well. In the month of September, we managed to do 6 library classes for the children. Besides storytelling we are also engaging children in Games, learning sign language and awareness program etc. But above all, our children show an enthusiasm to learn sign language .
The 6-month Computer course, which was organized by the Haryana State child Protection society Govt. of Haryana for the CCI's (Child care institution) started in the month of April 2019. During this period children were taught MS-office, Excel and Web designing. This Course ended in the month of August and all the CCI's were invited to Panchkula to receive the Certificate. On 28th August children went to Panchkula (Haryana) where Smt. Kavita Jain (State Minister of Department of Women and child development) distributed certificates amongst the children.
Jugaad
The impending arrival of Diwali, the festival of lights, has spurred us all into action as it is arguably the biggest annual festival in India. We have fast-tracked a lot of work and new design ideas for bags, stationery and accessories keep popping up and work is taking place at full speed now.
We showcased Jugaad products at weekly markets, Sunder Nursery, Delhi, this market is known for only promoting organic and handmade products.
Faridabad, our home town which is situated close to Delhi, is not too aware of organic and handmade products and even fewer shops addressing this demand. Some vendors have come together who grow organic vegetable and have started putting stalls at Common Park every Sunday so people get the opportunity to buy organic vegetables and at the same time become aware about this kind of produce. We have also started selling our Plants and organic vegetables in Faridabad, at Kisan Bhawan. We are very happy to receive positive responses from the people who shop there and hopefully we will continue moving forward with this venture.