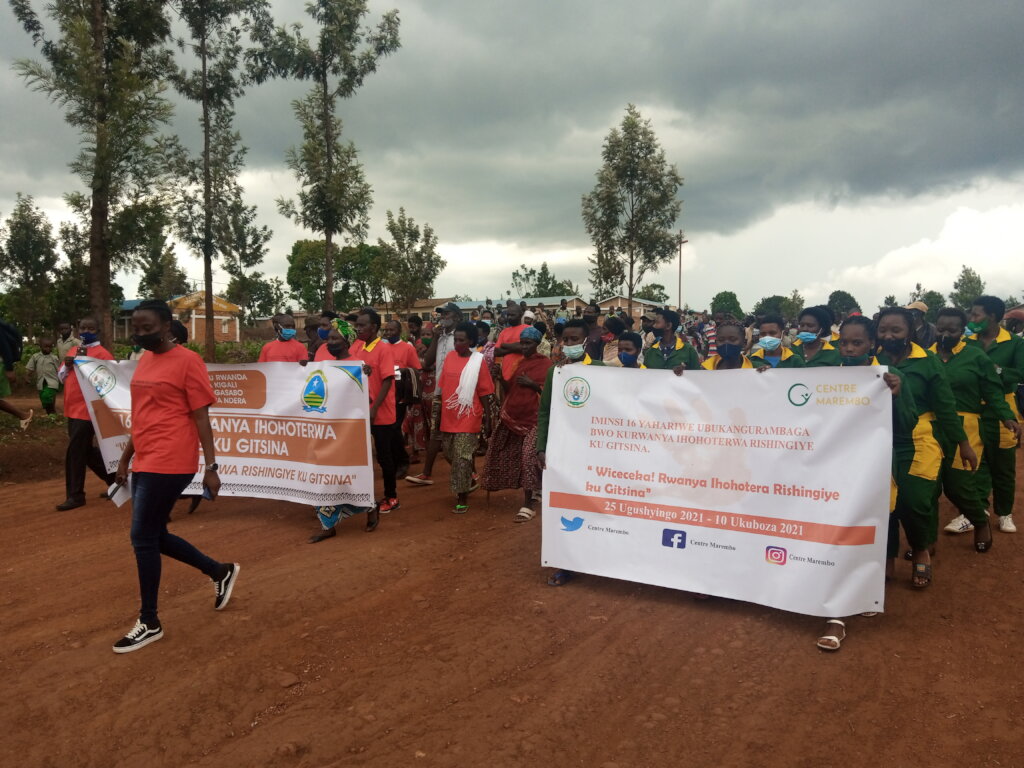 Centre Marembo has got some interesting news to share with you!
16 Days of Activism 2021
As of 10th of December 2021, Centre Marembo has joined with Gasabo district residents to carry out activities relating to the 16 Days of Activism. This was an important campaign as voicing out a wake-up call on the subject of gender-based violence (aka GBV) to support victims affected by it and addressing the issues on unwanted pregnancies. The following theme was: "Speak Out! End Gender-Based Violence."
The Executive Director of Centre Marembo, Nicolette Nsabimana, invited authorities, private sectors and others to encourage young mothers and girls within the public to participate in non-traditional work. The audience also had the chance to listen to the testimonies given by Centre Marembo beneficiaries, who themselves are affected by GBV. Throughout the campaign, the Centre Marembo beneficiaries participated in several radio stations to share their testimonies and spread encouraging messages to bring out the fight against GBV and unwanted pregnancies.
As to mark the closure of the anti-GBV campaign, a walk demonstration was held at Mukuyu Cell, within the Ndera Sector.
A surprise visit!
On 5th March, a group of seven people visited Centre Marembo with a heartwarming surprise as they donated various items, including clothes, food, juice, milk, menstrual pads and so on, to help the young mothers of Centre Marembo. Not only that, but they even paid medical insurances for 20 of the young mothers, including their children. Centre Marembo is truly grateful for this act of kindness and that momentous day will forever engrave in our hearts.
Agro-pastoral project is back!
After 15 months of postponement due to covid-19, we have finally resumed farming activities with the purchase of over 1,065 few-weeks old chicks back in December 2021, to produce eggs in order to fight malnutrition observed in children and young mothers, as well serving as an income-generating activity through selling of the eggs and chicken manure (as organic fertiliser) to the market.
The hens are now 3-4 months old and it will take another month for them to start producing the eggs. The total purchase of the chicks was 1,200,000 RWFS (roughly 1,190 USD, or 900 GBP) and a 10 days supply of chicken feed costs 240,000 RWFS (approx. 175 GBP or 231 USD).
Women's International Day
On March 8th, Centre Marembo, its partners, friends and young mothers gathered to this day to celebrate and looking at on how women and girls can fight against climate change, as this year's current theme is "Gender equality in fighting against Climate change". Discussions highlighted on how to mitigate its effects and explores on how impoverished women and girls are vulnerable to the climatic change, since their rely on natural resources, mainly agricultural, as an income source when selling farm produce to the market.
Since both covid-19 and the climatic changes added more pressure on increasing inequalities, violence and driving vulnerable people into poverty, thus regressing their progress on their employment, education and well-being.
To mark the end of Women's International Day, the Centre Marembo beneficiaries were invited to participate in the Voice of Girls' program on Imanzi FM local radio station and received various positive responses and constructive feedback from the audience -who were listening on the radio channel- after sharing their testimonies as a single young mother, the challenging experiences they went through and the solutions to overcome said challenges.
End Note:
Centre Marembo would like to express deepest gratitude to you all for making such an impact on our community. You all are the greatest supporters who believe in our cause and we appreciate following our progress throughout these challenging two years.