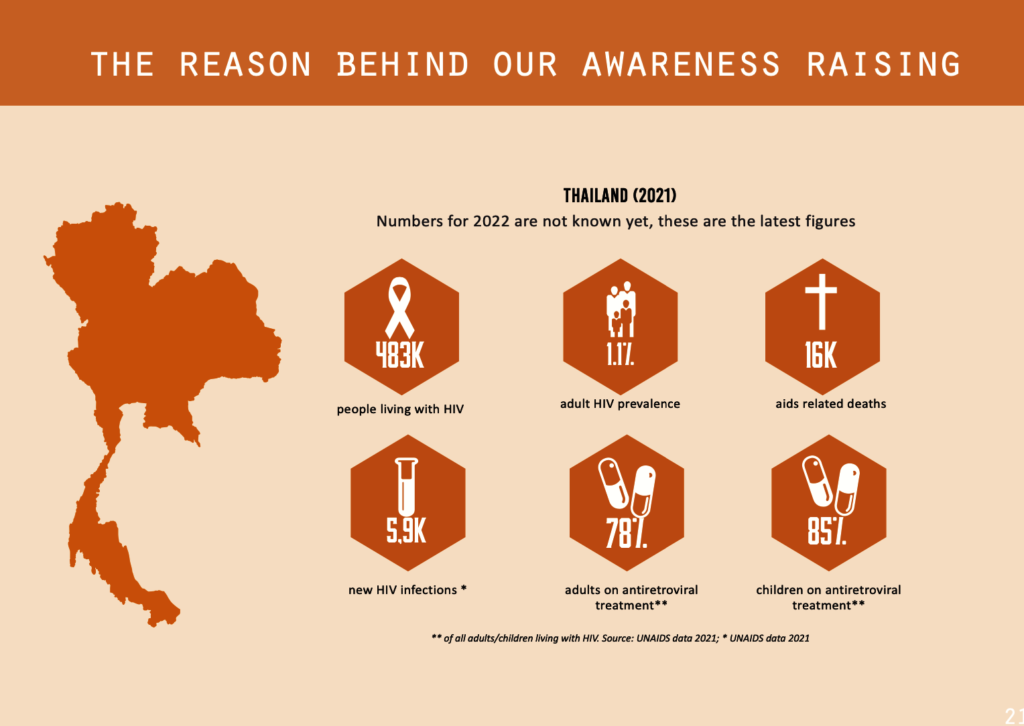 This time no story, but a overview of what we have done in 2022. Also, we would like to share a bit more about the purpose of our programme. We hope you enjoy reading about our work and would like to thank you for making our help to people in need possible!
purpose of the programme
Prevention is better than cure. Siam-Care reaches out to HIV-infected people in the Thai society, but much rather we would like to see people protect themselves enough so that the HIV-virus would not spread any further and would come to an end. Study shows that each year 6400 Thai people get infected with the HIV-virus. The HIV prevalence in 2021 was 1.1%, which is one of the highest in Asia and the Pacific (as we write this, numbers of 2022 are not known yet). Thailand is responsible for 9 % of the region's total population of people living with HIV. Due to joined efforts of Siam-Care and others, the epidemic is now in decline, but the prevalence remains high, especially among men having sex with man and people between 16 and 25 years old. Thailand hopes to end AIDS by 2030, which acquires a lot of awareness. Siam-Care helps educate the public on HIV-related issues such as sex education and HIV-prevention, but also on issues such as child protection and human trafficking. Our knowledge and experience in these areas is officially recognized by the Thai government.
what we did in 2022
2020 and 2021 were very challenging for Siam-Care. Due to the pandemic, most venues were closed, including schools, prisons and government building. Hence, we had to cancel most of our trainings, or in some cases: train groups online. While online training is better than no training at all, it is not ideal. We are thankful that the lockdown is over and in 2022, we were allowed to come and train and raise awareness amongst our targets groups in real life again. In both Mukdahan, Nakhom Phanom and Phang Nga our teams conducted sex education training in several schools. Our main focus is on teenagers, as their age-group sees the biggest rise in HIV-infections. By increasing awareness and spreading knowledge, we are hoping to protect these young people against the risks of (unprotected) sex. The number of teenage-pregnancies in Thailand is high too, and thus we include this in our trainings as well. We also trained university students to teach sex education: a train the trainer principle. They, on their turn, train people in their communities, so knowledge spreads even faster.
As times are changing, we are now including internet in our trainings as well. A big part of the lifes of young people takes place online, and thus we need to help them to protect themselves online as well. Topics that we touch upon during our trainings, are cyberbullying, online gambling, how to deal with strangers who contact you through social media, amongst other themes. Next to training students, we have also provided training for government officials in Mukdahan.
result of the programme
The programs were met with general positivity. In total, over 700 people (inmates, students, teachers, child protection workers, government officials, etc.) received training by Siam-Care in areas such a safe sex, child protection and human trafficking. Pre- and Post- training assessments show that participants gained much knowledge and have a much better understanding of the subject they have been trained in.