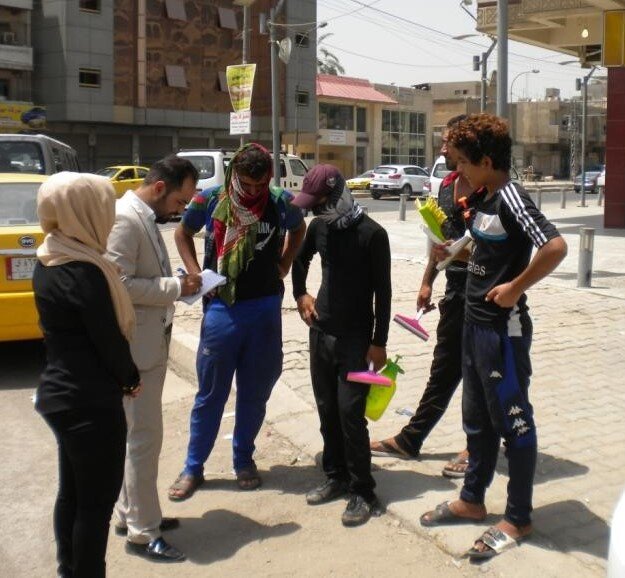 How we love and repect our team of women and men "Street Lawyers!" Their expert interventions in the lives of boys and girls in trouble is life changing, not just for themselves but often others - maybe a poor widowed mother or siblings. Hassan's* case is a poignant reminder.
Hassan* (16) was picked up by police after breaking into a car and stealing money. He faced the prospect in court of a harsh two-year prison sentence. But Hassan was not facing this alone. No, a Street Lawyer - provided free of cost by donors like you - stepped in. You see, teenage Hassan was the family breadwinner, trying to support a desperately poor, blind mother as well as his little 10 year old sister. When he was picked up, the family had not eaten in two days. The Street Lawyer worked with Hassan in advance of the court hearing. The stolen money was repaid to the owner and they persuaded the victim to withdraw charges. Then, when the Street Lawyer explained Hassan's tragic story in court, the judge was touched and acted with mercy, dropping the penalty to six months in prison suspended.
What if a Street Lawyer you support had not come to Hassan's defense? What would have become of his blind mother and little sister without a breadwinner? What would have happened to other children and their families in the hundreds of legal cases handled by Street Lawyers each year, involving charges of theft, drugs, violence, trafficking, and or other offenses?
Thanks to YOU, a lawyer DID come to Hassan's defense and his life was changed, just as other at risk Iraqi children's lives are being changed by your kindness and generosity. We are so grateful to have you on the team!
Gratefully,
Cindy
PS Not yet a monthly donor? Inspired to be? Sign up today and earn a one-month free match (as small as $10 up to as much as $200!) to support women and men lawyers like those who helped Hassan!
*Name and picture changed to protect child's privacy.
* * * * * * *
Cindy Fogleman
Staff Advisor
Iraqi Children Foundation
www.iraqichildren.org
PO Box 233, Falls Church, VA 22040-0233
Mobile: +703.963.3832
cindy@iraqichildren.org