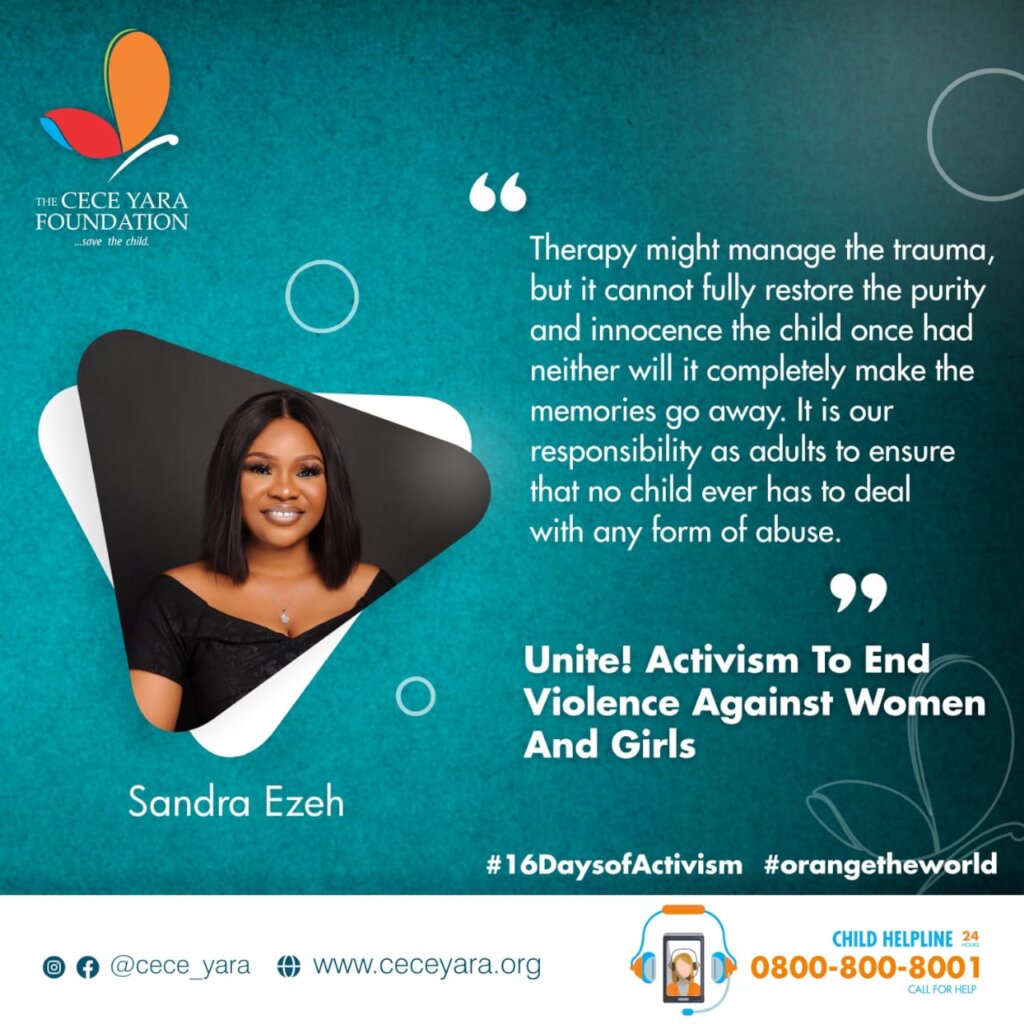 Title: Ensuring the best interest of the child
Cece Yara's Safe Kids Awareness Training Programme (SKAP)
The Foundation trained 3582 children during the 4th quarter in various low income schools in Lagos State. The children were taught to identify their private parts, enforce body boundaries, case reporting, and use community resources to protect themselves from abuse. This includes children in the Lagos State Correctional Center and school children in Nyanya community, Abuja. The children received training on body safety, coping skills from abuse, case reporting and establishing safe relationships.
Cece Yara's Adult Awareness Training with Cummins Staff workforce
A total of 226 adults were trained during the last quarter of 2022 on the best practices of preventing and responding to child sexual abuse. This includes 115 members of the Cummins West Africa Ltd Lagos workforce. Cummins is a leading power generating company, on child protection and its referral pathways. With the training, Cummins has made it a priority to empower its members of staff across Nigeria to be change makers and gatekeepers in their communities and wherever they find themselves; 61 identified stakeholders in Nyanya and Guduwa communities of FCT Abuja were trained in ensuring child protection.
Annunciation Seminary old Boys Association family meeting
The Foundation implemented a capacity building training programme for the Association on child protection, parenting, survivor advocacy, support, and counselling for 50 adult members who made a firm commitment to ensuring child protection from sexual abuse on their various platforms.
Parents Webinar on managing stressors and triggers of trauma in children who have experienced child sexual abuse.
The Webinar hosted an estimated number of 48 parents who were given capacity building in managing the stressors and triggers in children who have experienced sexual abuse and were also harnessed to community resources to support their children to get healed and adjusted to living a normal post abuse life.
Media Advocacy as a Guest Speaker on Radio Maria Station 91.3 FM
The Cece Yara Abuja Team was a guest speaker on the Radio Maria Child Protection Program in Commemoration of the 16 Days of Activism 2022. The discussion was on Fighting against Child Sexual Abuse, our Collective Responsibility. The team had the opportunity to educate the public on the best practices of child protection including the child advocacy center model, utilization of the child helpline and harnessing resources. The Radio station has an audience reach of about 1million listeners who benefitted from the program.
International Day of the Girl Child
The Cece Yara Foundationadvocate that every Nigerian child is given an opportunity to be involved in life-changing initiatives including prioritizing child participation in matters concerning them. It was on this note that the Foundation implemented a Vox Pop to commemorate the 10th Anniversary of the International day of the girl child in downtown Lagos which had about 2million views.
Facebook link to the video: https://fb.watch/iwAVef-1PX/
Instagram link to the video: https://www.instagram.com/reel/CjlA_-Qjb3w/?igshid=YmMyMTA2M2Y=
The Lagos Forensic Symposium
The Cece Yara Foundation made a presentation on "Child forensic interview as the best practice of investigating and prosecuting child sexual abuse cases" at the Lagos Forensic Symposium (LFS) 2022 with about 150 participants from different agencies in the criminal justice sector.
The forensic interview process aids survivor and witness identification, interviewing, and evidence collection. The utilization of anatomical dolls during the process is for purposes of clarification, consistency, distancing, and communication beyond verbal details. It yields forensically relevant details to corroborate evidence and facilitates the investigation and prosecution of child sexual abuse cases.
Webinar on curtailing Child Abuse in Schools
We served as a Panelist on a webinar hosted by Background Check International, where insights and recommendations were given on ensuring child protection schools. It was a public education platform for teachers and parents in the prevention and response to child abuse with about 140 participants.
WASCI Techsoup Exhibition
The Cece Yara Foundation was an Exhibitor at the West Africa Civil Society Institute (WASCI) TechSoup Event. The event offered a platform for participants to discuss emerging technology trends, opportunities, and challenges for non-profit organizations, present special technology offers for non-profits, and create the space for connecting and strengthening partnerships between the non-profit. The Foundation also had a display of its book ''Bisi is the Boss'' which is a resource to empower children on body safety.
Twitter Space Event- Nov 18
In commemoration of the first "World Day for Prevention of, and Healing from Child Sexual Exploitation, Abuse, and Violence", the Cece Yara Foundation participated in a Twitter Space Conversation with other leading experts on "Assessing where we are and the way forward in Child Protection in Nigeria and globally". The conversation was a capacity-building forum for individuals, state agencies and parents to ensure the implementation of the best practices of child protection.
CPN 16 Days of Activism Walk
The Cece Yara Abuja Team collaborated with Child Protection Network and other child-focused organizations conducted an advocacy walk in Lagos and Abuja for sensitization on Violence against Women and Children and also how to report and seek help in commemoration of the 16 Days of Activism.
The Global Citizen Roadmap 36Townhall Meeting
The Townhall meeting was a platform for all stakeholders to deliberate on the impact of the Violence against Persons Prohibition Law, 2021 (VAPP Act) in response to SGBV. The Foundation's Chief Legal Officer actively contributed to the dialogue and stated that implementing the Violence against Persons Prohibition (VAPP) act had facilitated access to justice for survivors of gender-based violence, having widened the ambits and definition of violence with provisions of compensation for survivors. It was also noted that communities could support the Government in the implementation of the VAPP Act by ending negative sociocultural norms that aid violence and by being active bystanders in reporting cases of violence to preserve the lives and safety of survivors.