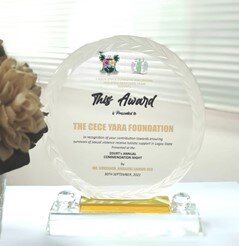 Empowering Communities on Child Protection
30th September 2021 - Award as the Best NGO on Sexual Violence by the Lagos State Government
On the 30th of September, 2021, the Foundation received the award as the leading NGO on SGBV with a letter of commendation from Governor Lagos State H.E. Babajide Sanwo-Olu at the end of the year award and commendation night of the Domestic and Sexual Violence Response Agency of the State Government. The Foundation was commended for demonstrating absolute commitment in ending SGBV with the provision of its services and further described as having demonstrated dedication to public education in engaging with communities to reduce the incidence of SGBV.
The event was graced by eminent personalities including the representatives of the Governor of Lagos State and his deputy, the Secretary to the State Government, the Chief Judge of Lagos State, the First Lady of Lagos State, the Commissioners from the Lagos State Ministries of Women Affairs and Poverty Alleviation, Youths and Social Development, Education, the State's Commissioner of Police, Special Adviser to the Government on Civic Engagements, Traditional rulers, the Deputy Vice-Chancellor the University of Lagos and heads of Agencies all reiterating their firm commitment to put an end to SGBV.
4th November – Safe Kids Awareness Prevention Training (SKAP) at Redeemers International School
The Foundation implemented its child Safeguarding and Protection programme (Safe Kids Awareness Prevention Programme –SKAP) to 200 college students (12-18years) of the Redeemers International School, Maryland, Lagos.
The Redeemer's International Secondary School (Eden Place) is a co-educational secondary school; with a strong bias for Christian education, high moral values, the spirit of excellence and international relevance but never the less has its concern about the high rate of child sexual abuse in the country mores on its damaging impact on survivors' academic performance and mental health. The School, therefore, reached out to the Foundation to empower its students on body safety, case reporting and professional service response.
The children were empowered in a structured child-friendly developmentally appropriate training that provides clear and positive messages about setting boundaries assertively, how to stay safe from sexual abuse and understanding the concept of a trusted adult in case reporting. The students asked questions with a special focus on pseudo incestuous abuses as the society practices a culture of silence on such issues. They were enlightened on the criminality of child sexual abuse as a criminal offence which is acceptable regardless of the survivor's relationship with the perpetrator.
The School authorities were quite impressed with the training which they described as an eye-opener and a professional guide to support children who have been sexually abused or at risk. They further requested that the Foundation implement its adult Awareness prevention training programme for the school staff and the other Redeemers International School outlets as they have a large populace of over a 1.5million children in Lagos State.
15th November 2021 – Deparadise Nursery and Primary School
The Deparadise Nursery and Primary School is located in Alimosho Local Government Area of Lagos State which is notorious for high rates of crime, especially child sexual abuse and exploitation. The Parents Teachers Association of the School had been quite concerned about ensuring body safety for the pupils especially as the population range of the students ranged between 3 -11years in asserting body boundaries against perpetrators.
The Safe Kids Awareness Training Team of the Foundation implemented the child protection training for the pupils on the 15th of November, 2021 in an age-appropriate and developmentally sensitive manner using animated cartoons, drawings of body parts to teach the children about their private parts being exclusive to them, the stop power to resist unsafe touches, not to keep secrets about being abused from their trusted adults and continuous speaking out in case reporting until they receive help.
51 children participated in the training and were given child-friendly pre-tests and post-test to ascertain that they understood the values inculcated during the training to glean life skills on body safety.
22nd and 23rd November 2021 - SKAP Trainings in Public Schools in Ikorodu
The SKAP pieces of training were further extended to public Schools to reach indigent and marginalized children on the 22nd and 23rd November respectively in Ikorodu which is a city and Local Government Area in Lagos State. Ikorodu is a large community and the largest local government area in Lagos State fraught with under-development, low-income, low literacy and the children lacking access to child protection services including access to justice, health services, recreation, good nutrition etc.
The SKAP team of the Foundation conducted pieces of training for 2,040 children in 3 largely populated public primary schools in Ikorodu L.G.A. of Lagos State. The pupils of the schools - Oga Primary School, Anyagburen Primary School and Model Primary School were taken through sessions of training to identify which parts of the body are private, understand safe and unsafe touches, improve their understanding of body safety, increase their capacity to prevent abuse of any kind especially sexual abuse, strengthen their skills to recognize diverse child protection issues and understand their vulnerability and grooming strategies of perpetrators appropriately.
The children were also given the Foundation's IEC materials documented with the Foundation's 24-hour toll-free child helpline to facilitate case reporting, professional counselling, care, emergency interventions and referrals to child protection agencies in Ikorodu.
14th November –Awareness Prevention Trainings for Church Community
The Foundation implemented itsAdult awareness training Programme for the members of the Redeemed Christian church of God at Sparklight Estate in Ojodu LCDA wherein 100 church members including church officials were trained on child protection and further guided to harness the State's child protection system.
The children's department of the church were also trained in asserting life skills to maintain body boundaries and to avoid being vulnerable to abuse within and outside the church community.
Media Advocacy - Empowerment against bullying of children
7th December, the Lead Therapist of the Foundation Dr Rosemary Ogedengbe was on TVC news to give further insights into the effects of bullying on children and the society at a large and appropriate response.
TVC News is a Nigerian news 24-hour television news channel based in Lagos.[ The channel airs on British Sky Broadcasting Group Plc (BSKYb) in the UK, Naspers Ltd. (NPN)'s DStv and Startimes in Nigeria, and Multi TV in Ghana.
16 DAYS OF ACTIVISM ON GBV
Live Webinar on Creating Safe Spaces for Children AND WOMEN IN A VIOLENT SOCIETY
25th November 2021, the Foundation's representative was invited as a speaker by the Women's Wing of the Christian Council of Nigeria (CCN) to speak on creating safe spaces for women and children in a violent society. The Webinar had about 122 participants representing children departments and women organizations of various churches under the CCN.
30th November – Awareness Campaign Walk
The Foundation commemorate the 16 days of Activism on GBV for the year 2022 by implementing an awareness campaign walk to increase the visibility of the Center's mission of preventing child sexual abuse through community empowerment and support. The campaign walk was specifically targeted at the residents and school children of the Gbagada Phase 2 Estate in Shomolu Local Government Area of Lagos State to sensitise them on the Child Advocacy Center model of a one-stop response to child sexual abuse which will mitigate the trauma of survivors travelling to different child protection agencies to access services which are all provided on-site by the Cece Yara Foundation Child Advocacy Center. This it is envisaged will create a stronger base of support to drive our mission forward.
The residents were sensitized on the dynamics of child sexual abuse; knowing the statistics of the prevalence, Minimising the opportunity for it to occur, having healthy conversations with children around the issue, identifying the short and long term signs that a child has been abused and responding responsibly. This was done to influence their attitudes, behaviours and beliefs towards the prevention and response to child sexual abuse.
A total estimate of 1200 adults and 750 children were reached out to during the Campaign.
2nd December Market Community Outreach
Children live within communities and the patterns of everyday life and the norms and values such as local power structures that shape community life can have a very strong positive or negative impact on how children are treated.
Also, the primary duty of community and religious organisations is to protect the children within their vicinity. Communities are vital in ensuring child protection, as they have a role in finding solutions to child protection issues. It is therefore important for all sections of society to actively contribute towards the protection of children from harm and abuse and help to ensure that their rights are respected and promoted.
It is on this note that the Cece Yara Foundation implemented its Adult Prevention Awareness Training in a Market Community Empowerment Programme as part of its activities to commemorate the 16 Days Activism on GBV. The host Community was the popular Ile-Epo Foodstuff Market with a targeted population of 5000 adults including 200 community gate-keepers who were trained on Child Protection and Safeguarding and introduced to key contacts from the Lagos State Government and other child protection agencies within the Community.
The Foundation deployed a culturally competent entertainment-education strategy at the outreach to increase awareness to end negative socio-cultural norms that condone CSA, create the necessary conditions in the market environment for social change to influence public policy initiatives on child sexual abuse.
Technical Working Group on ENVAC
Nigeria is home to 17.5 million OVC. Although civil society organizations (CSOs) and child protection committees (CPCs) provide support at the community level, and ministries of social women affairs and social development (SMWASD) oversee state-level interventions, coordination is often a problem. Insufficient communication and collaboration between the two levels have often left state-level leaders with a poor understanding of the causes and conditions of vulnerability among children in their states, and community leaders with inadequate resources and support from their state-level counterparts.
The Cece Yara Foundation was inaugurated into the National Technical Working Group (TWG) on ending violence against children by the Federal Ministry of Women Affairs and UNICEF to end violence against children in Nigeria which will include strengthening inter-agency collaboration, fostering accountability, fundraising and technical assistance, ending negative socio-cultural norms that condone violence against children, a viable case management system, harnessing survivors to community resources through effective referral pathways.
SGBV Multi - sectoral Coordination Forum
The Cece Yara Foundation was officially inaugurated as a partner on the USAID Nigeria Strengthening Civic Advocacy and Local Engagement (SCALE) project implemented by Palladium to support the efforts of CSOs in the development and implementation of key democratic reforms at local, state, and national levels across any of the SCALE key sectors, paying attention to issues affecting marginalized populations, including women, youth, people with disabilities, and other minority groups.

Child Protection Network Election
The Cece Yara Foundation was elected the State Treasurer of the FCT chapter of the Child Protection network. Child Protection Network (CPN) FCT Chapter, is a consortium of Child-Focused Organizations, Ministries, Departments and Agencies with a vision of a Nigerian society where children are free from all forms of abuse, exploitation, neglect and violence. The Network mission is to prevent and respond to abuse, exploitation, violence and other issues affecting children, thus ensuring the rights of children are protected.
Behavioral Insight Workshop
The Foundation participated in a Behavioral Insight Workshop Organized by The Policy Innovation Centre (PIC); an initiative within the National Economic Summit Group (NESG) sponsored by Rockefeller Philanthropy Advisors, with the support of the Bill and Melinda Gates Foundation. The Workshop seeks to deepen the impact of Nigeria's Medium-Term National Development Plan to aid policymakers and program implementers with the design of more effective solutions for development using Behavioral Insights.
Nigerian Bar Association Collaboration –Abuja Branch
The Cece Yara Foundation is in collaboration with the Nigerian Bar Association Abuja which has escalated to the signing of a Memorandum of Understanding to support professional service response to child sexual abuse by providing pro bono legal services to survivors, awareness creation, branding of courthouses, police stations with IEC materials printed in local languages, adoption of the child forensic interview process and Media advocacy.
Collaboration approval from FCT Social Development Secretariat
The Cece Yara Child Advocacy Center, FCT got provisional approval from the FCT Social Development Secretariat (SDS) to operate as an NGO in FCT. This serves as an authorization to carry out rescue and provide interventions for survivors of Child Sexual Abuse in FCT.
Collaboration approval from the FCT Ministry of Education
The Cece Yara Child Advocacy Center, FCT has obtained the State's Administration of Education Secretariat's approval to collaborate with the Gender Unit of FCT Education Secretariat to implement its Safe Kids Awareness Creation Programme in all the State's government primary and secondary schools. With the approval, over 10,000 public school children (between 5-18 years old) have been empowered on how to stay safe from abuse and set boundaries assertively in a child-friendly and developmentally appropriate manner.
WODDI Talk That Talk (TTT) Show- Mental Health Conversation- A Personal Hack to Productivity
The Foundation participated at the Woddi's panel of discussion on Mental Health titled '' A Hack to Productivity at their monthly Talk That Talk Show. The panellists include a licensed Clinical Psychologist and Founder of Mindshaven, Cece Yara's child Therapist, a Mental Health First Aider, a Grief Support Counselor and an author on Mental Health with conversations on identifying one's addiction and accepting help; sensitization about workplace productivity and how employers should avoid stressors of overwhelming work to their employees.