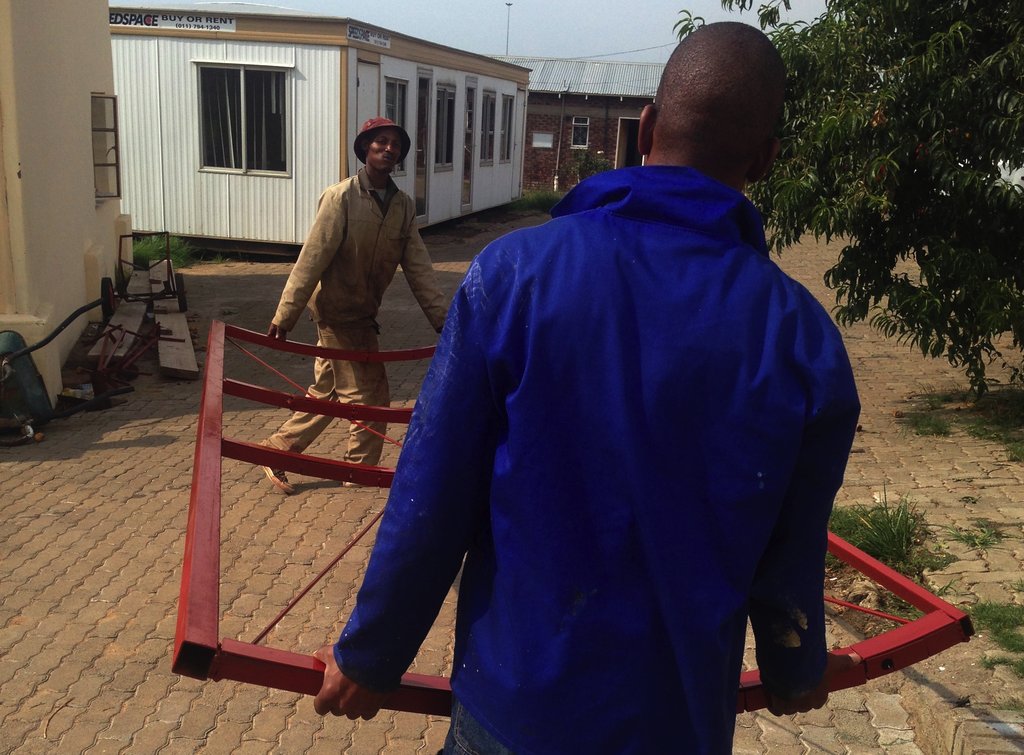 Hello again! I hope summer is treating everyone well, and I am very excited to send you a few updates on our work since my last note.
First, the solar system we shipped from Lesotho in February arrived in Belgium mid-April. Our customers at the University of Liege are still finalizing the site and schedule for installation, however we are hoping to be spending a few weeks with them later this fall to complete the system installation. We will certainly be sending out photographs once the solar troughs are up and running!
Second, our team in Lesotho is using the hard-won experience from this manufacturing project to build an educational solar rig as part of a collaboration with the National University of Lesotho (NUL), funded by the UNDP. The system - a single trough unit with tracking capabilities and a large number of embedded sensors, all of which is mounted on a trailer for easy mobility - will be used as a hands-on tool for teaching undergraduates about solar energy: measuring both the energy available in sunlight and the energy collected by the system under different conditions (summer, winter, cloudy, etc.). Understanding how the system functions and how to interpret the collected data incorporates concepts as diverse as the nature of light, the seasonal variability of solar resources, different forms of energy and mechanisms for energy transfer, relationship between energy and temperature for matter, and efficiency as a metric for success – all important concepts for scientists and engineers to master. Once complete (hopefully by September), our partners at NUL are planning to integrate this tool into their new renewable energy module - which they are hoping will grow into a Master's program over the next few years.
And another bit of exciting news - we have been able to meet with individuals in the Lesotho Department of Energy during the first part of this year, and they have been extremely enthusiastic about working together to actually get some sizable energy systems deployed in the rural parts of Lesotho! We wrote a concept note together, which is now traversing the tortuous bureaucratic pathway through the government channels for approval, and we are looking forward to the opportunity to put together the full proposal with them hopefully by the fall. More details to come!
While we wait (patiently!) for the appropriate boxes to get ticked, however, we are already working on the analyses necessary to identify the best locations and solutions to propose for this work. As part of this, we are working with a new MIT startup called Gridform whose team has developed some fantastic tools for identifying buildings from satellite images – allowing us to find the exact locations of and distances between clinics, schools, and nearby households even in the most rural areas of Lesotho. This is an amazing capability because it will let us accurately estimate the energy demand (by size and type of building), the cost of running wires between buildings, and the fuel necessary to get materials and the construction team out to these sites. To cut their teeth, the Gridform team is willing to help out pro-bono to get our first "proof-of-concept" analysis complete – which is fantastic! The (small) catch is that we need to raise the funds to purchase the multi-band satellite images covering our site of interest for them to work with. Correspondingly, you will note that we have raised the project goal on Global Giving by $2,500 – an amount that will allow us to analyze villages in approximately one tenth of the rural parts of Lesotho. From here we hope to identify between two and four villages with nearby clinics or schools – the best setup for keeping impact high and per-impact cost low – to target for upgrades with the Dept. of Energy. Even more exciting, our teams together are hoping to prove that this method can improve design of projects for rural energy provision anywhere around the world!
Finally in the works... our team has a trip to Tanzania planned in September to meet with potential partners (governmental, non-profit, energy providers) and to assess the potential for STG to expand in that market. We can't wait to let you know what we learn!
As always, I want to thank all of you for your continued support. This work is challenging, fun, multi-faceted, and always taking unexpected twists and turns, and I am consistently grateful for the enthusiasm I receive from this community through it all!
Wishing you all the very best,
Matt