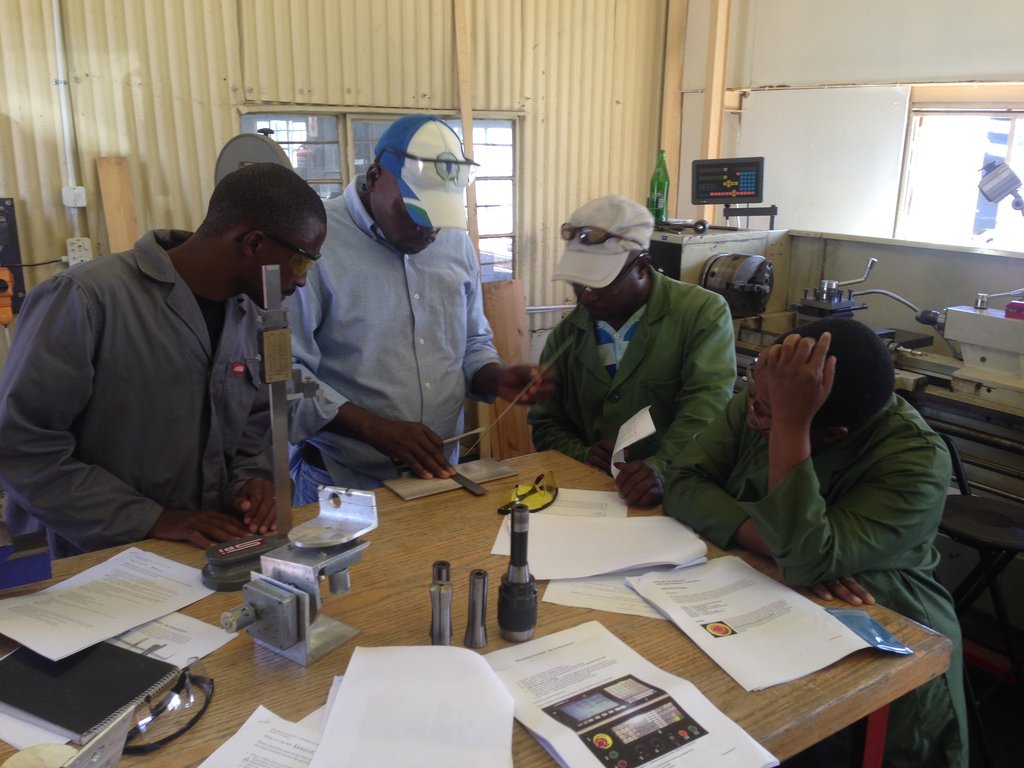 Well, the months fly by and time for another update from Lesotho!
Our team was back in Lesotho this January and February to work on two great projects: training partners in the use of our CNC milling machine (which you all saw get delivered a few reports ago!) and finishing up manufacturing on the first solar energy system built entirely in Lesotho. This kept us plenty busy, but we were thrilled with the results.
During the last week of January and first week of February we trained over 20 individuals - university faculty and staff, local engineering business owners, and engineers/technicians on staff with our partners - in use of the computer controlled milling machine. The intensive two-day sessions covered everything from manufacturing methods to computer aided design (CAD) software, to the nuts and bolts of programming and running the machinery, and each session team worked collaboratively to build components of a specialized solar sensor. We have already had requests for follow-on trainings and additional sessions, which we consider a great success.
Once the training was over, we got back to the hard work of finishing the solar trough system being manufactured in Lesotho for our university partners in Belgium. We ramped up the assembly line, taking advantage of a number of the new workshop tools, and were just able to finish all of the pieces by the ship date: February 28th. The container - a full shipping container destined for a ship in Durban on it's way to Liege - arrived on the back of a truck on the 27th, and we got right to work packing things in to meet the 24-hour timeline the company allowed. (It was an excellent workout for all of us since the shipping company had neglected to send the machinery required to lower the container off of the flatbed truck - so everything had to be lifted to truck level!) It was another long day, wrapping up after midnight, but then we locked it up and sent it on it's way. We are all looking forward to seeing "Made in Lesotho" up on the campus in Liege later this year!
Looking forward, we're working on the final design for the educational installation for the National University in Lesotho as well as getting much of our educational materials from these trainings online. Plenty to stay busy, so hopefully you will stay tuned for updates as the projects develop.
With all of our gratitude for your continued support,
-Matt