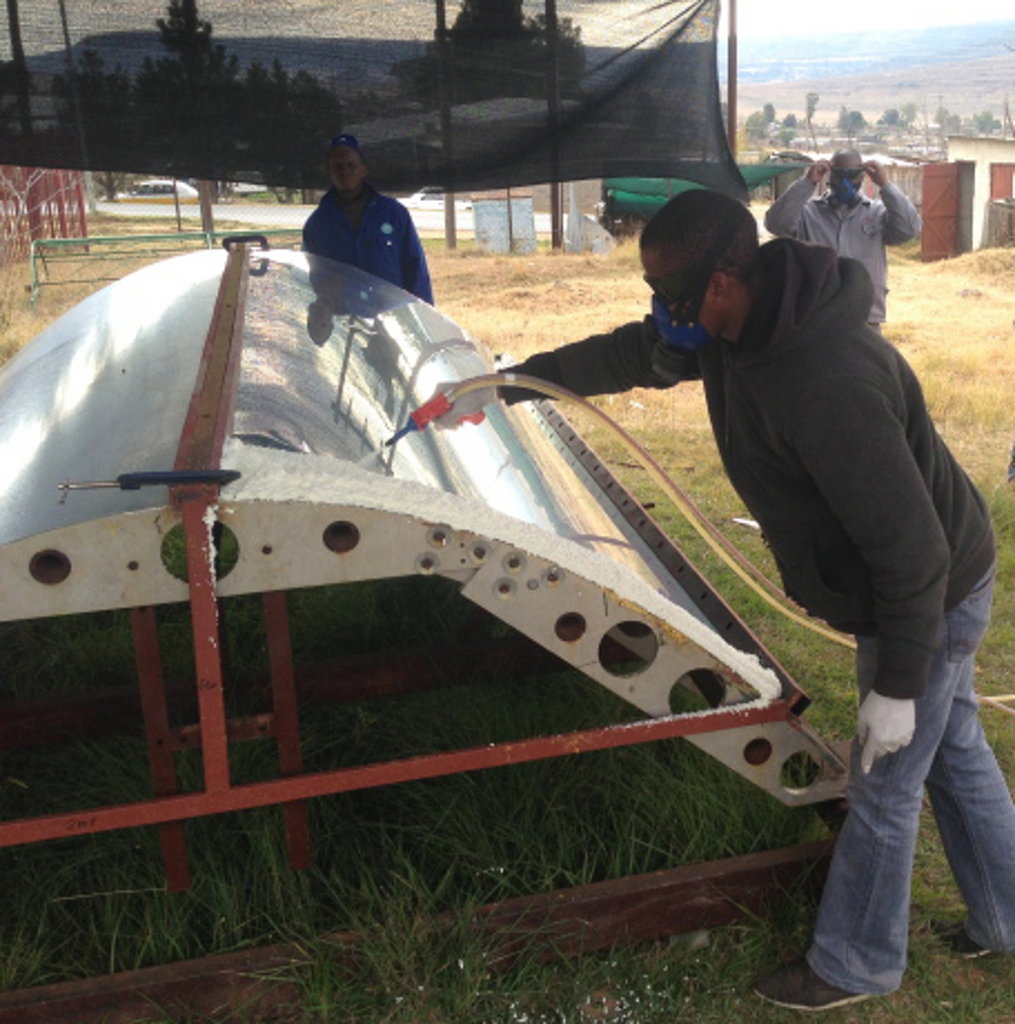 Spring is finally arriving in Lesotho, with lots more news for us to share!
Our team has been busy manufacturing parts for the solar system being built for partners at the University of Liege - solar troughs, frame "wheels" (we use these circular frame components to turn the trough throughout the day without using too much power), footings, and linkages. I have included some great photographs for you with this message showing our technicians, Makoanyane and Tsoeni, working on many of these parts.
In the first you will see them putting together the trough "sandwich" - the mirrored surface and stiff metal backing are attached together with a light-weight foam layer in between. Currently this process is slow as we are using a very small machine to apply the foam, but the good news is that our industrial scale foam machine is shipping from China this week! It may just look like a fancy orange box (picture at the end), but it is going to speed up trough production significantly - which will be helpful in having the 8 units ready to ship to Europe by the end of the year.
The rest of the photos show Makoanyane and Tsoeni adding metal reinforcements to the trough (to prevent bending in windy conditions and during shipping), installing the demo footings at the ATS workshop, and showing off the first completed unit. For those of you who have seen photos of our other installations, you will recognize that this is a very new look. With input from our partners in Lesotho and experience gained through past work, we created this simpler design which uses fewer parts, is easier to manufacture, and will pack down well for shipping. We have to give lots of credit to our team in Lesotho for working with us to identify any kinks in the new design and persevering to get this first demo complete! We are now formalizing our process for testing each unit for efficiency (how much sunlight is reflected onto the central pipe) while our team continues manufacturing on the components for the rest of the units.
And one last exciting piece of news that we just received today: after a long boat ride from China and a brief unplanned tour around South Africa, our CNC milling machine has finally arrived in Lesotho! We are all excited to get it unpacked and online - it will be used for parts of the manufacturing process later this year as well as for more training courses.
Up and coming: a new look for our website front page, working to get solar education materials online, and the next phase of training on the new workshop tools. I will be in Lesotho from Nov. 9 to kick this all off, so we will have more great stories and photos for you then!
Thank you again to all of our supporters, especially our generous recurring donors: during August, an anonymous donor matched all recurring donations, contributing much appreciated additional resources to the project!
And, as always, we would love to hear from you with any suggestions you might have for this or any of STG's projects. We are always on the lookout for good ideas, ways to reach out to more people, interested volunteers, and new partners. You can write to me directly at matt@stginternational.org or submit comments through our website as well.
Looking forward to keeping you in the loop as more machines come online!