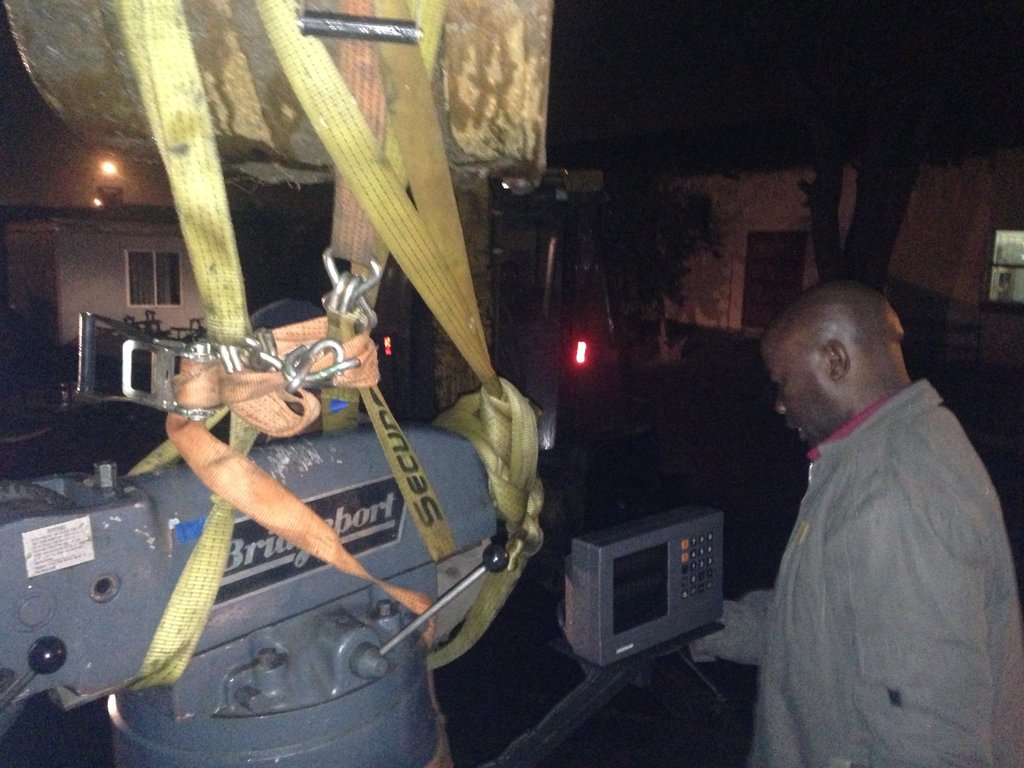 We have lots of great news - and some exciting tales - to share with all of you about our progress over the past few months!
We've been hard at work with upgrades to the shop, starting with installation of a Bridgeport milling machine in late April. We had arranged for it to come into Maseru on a flatbed truck and for a local backhoe owner to help us offload the 2000-lb machine. The action was set for Saturday at 3 p.m. ... until the truck driver noticed the engine overheating on his truck about 70 km outside of town. Stopping every 10 km to refill the radiator with water, he didn't make it to our workshop until 6:30 p.m., well past working hours (and on the weekend). While this might have been unsolvable at home in the USA, a few well-placed phone calls rustled up another backhoe that willing to come help... but had to make the drive over at a max speed of 20mph.
However, as the sun was setting we managed to load the milling machine into a sling, set up spotlights, and by 9 p.m. have her off the truck and into the workshop. Because we wanted to place it beyond the reach of the backhoe, we lowered it onto some strong metal pipes and used elbow grease (of six strong men) to heave-ho it into position. Minor repairs on the wiring the next morning and it was ready for service!
And immediately into service it went: we use this milling machine as one of the central training stations for the Solar Thermal Workshop led by STG during May, which educated 25 government employees and post-secondary educators in key topics related to solar energy. The two-week course had 5 days of interactive classroom teaching and 5 days of hands-on workshop modules, culminating in the design and groundbreaking for an educational solar platform to be used at the National University of Lesotho.
Finally, new photos from the factory where our CNC (computerized) milling machine is nearly finished! This machine, which will ship to Lesotho in the next few weeks, will be the first computerized machining tool in Lesotho and will add precision capabilities for construction of metal parts to the workshop repertoire.
Keep an eye out for our next steps - a very cool new tool for improved construction of our solar troughs, and more to come on putting the solar training course online!