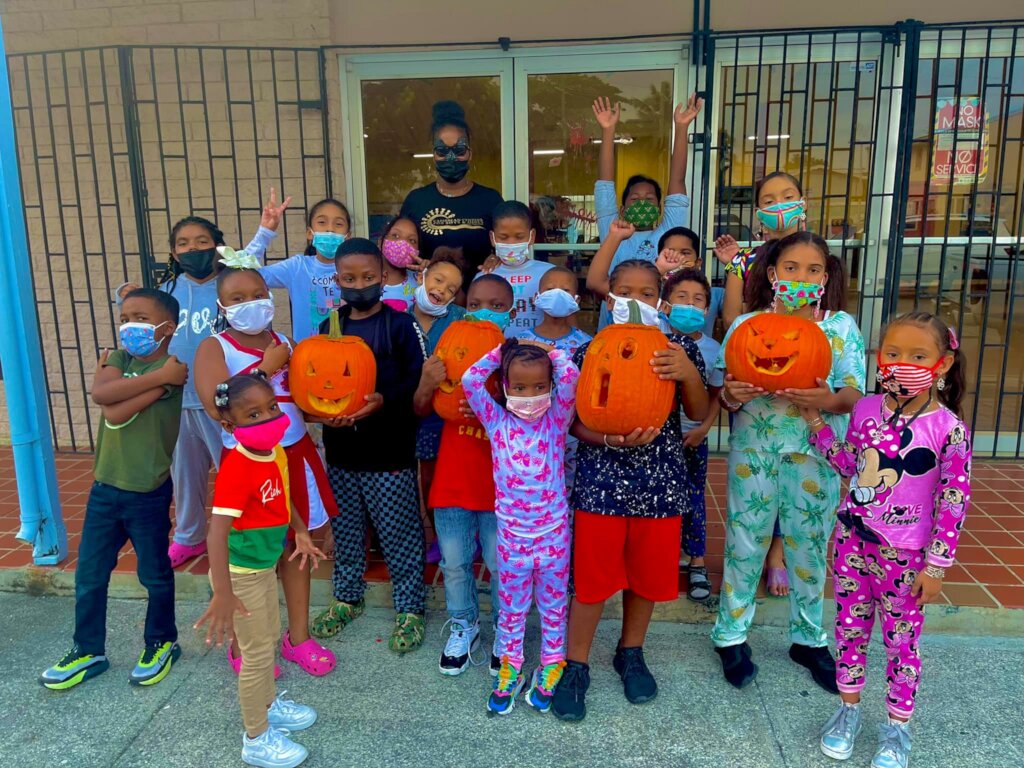 As we herald in the New Year, the U.S. Virgin Islands is experiencing some of the highest rates of COVID-19 since the world was first rocked by the pandemic two years ago. Serving a geographically isolated population, resilience and all the nuances of the word becomes even more critical. At St. Croix Foundation, when we talk about sustainability, we are not just talking about the continuation of a process through the clever use of resources. At the Foundation, our work is rooted in sustaining the people and nonprofits who are on the frontlines of every crisis. For us, the word is steeped in the value of strong relationships and the constancy of partnerships and programming that encompass "sustainable" practices.
When we launched the CARE Fund in 2017, we couldn't have known that in five years we would continue to grapple with a protracted recovery from the hurricanes against the backdrop of COVID-19, supply chain shortages, and increasing costs for everything from building materials to food. But, because of GlobalGiving's trust and support for all of our work and strategic investments, many of the comprehensive projects we have led through CARE in the aftermath of Hurricanes Maria and Irma have had transformational impacts as micro-systems of resilience tested and proven throughout the pandemic. From agricultural innovation and new solar models to nonprofit capacity building, lives and livelihoods have been touched and improved.
Nurturing Farmers and Food Security
As one of the most critical components of a healthy community, local food security continues to be a challenge for many residents in the Virgin Islands. In October 2021, an article by The St. Thomas Source stated that "According to the territory's Consumer Price Index, food prices increased 20.7 percent over last year, 'due to a constant rise in import and export fees'." Time has not improved matters as interrupted supply chains and increased shipping costs continue to create scarcity.
St. Croix Foundation's Farm Tienda Project continues to expand and breathe new life into a contracted system. Of the seven farmers who received Tiendas, two are receiving internet stipends, and several more continue to enjoy improved infrastructure, such as lighting and security cameras, throughout the end of 2021. In the last quarter, SCF continued to conduct site visits to determine any challenges with the Tiendas and support our farmers.
Today, we are excited to report that what began as a simple resilience plan for individual farmers has now evolved into an official Disaster Response Plan. In partnership with public and civic sector partners, the Foundation is now conducting strategic planning to develop a full blueprint that will include (but not be limited to) farmers' roles and responsibilities and a communications plan during future disasters. Farmers who were awarded Tiendas are also now working together as a collective to ensure they are building an intersected system of supports for our community.
A Continuum of Support through Strategic Grantmaking
Nonprofits are not only our partners and boots-on-the-ground. We are very intentional about calling our grantees "partners," with the organizational reverence to intersectionality and systems thinking. With that commitment, in 2021, thanks to GlobalGiving, St. Croix Foundation was able to open our Sustaining Impact Grant through our CARE Fund… and unquestionably, the impact the investments we made were deep and wide.
In November 2021, we awarded $160,000 to 11 organizations! The CARE Fund supports strategic, high-impact investments in the Virgin Islands for disaster recovery and community resilience. In this cycle of grantmaking, which was funded by support we received from GlobalGiving, the CARE Fund prioritized 1) Stabilizing nonprofits serving vulnerable populations through "Open-Door" Funding; and 2) Providing direct support to frontline NPOs to build or expand programming.
This 2021 cycle of the CARE Fund Grant was invitation only and offered to St. Croix Foundation's Nonprofit Consortium (NPC) member organizations. A coalition of 25-plus nonprofits, NPC is a progressive civic model that collaborates around four vital sectors including, 1) health and human services, 2) education and youth development, 3) environs (built and natural), and 4) arts, culture, and Crucian heritage. Grant applications were carefully reviewed by the Foundation's Grants Review Committee, with the following nonprofits and charitable projects receiving awards between $10,000-$15,000 each:
Caribbean Center for Girls and Boys of the Virgin Islands: Out-of-School Programming
Caribbean Museum Center for the Arts: Art Ignites!
Diane Hampton Breast Cancer Project: Art Therapy Workshops
FYR is LIT: BLAZE Literacy and Teen Leadership Development
Music in Motion: 39th Dance Season
St. Croix Environmental Association: Afterschool Environmental Education
St. Croix Landmarks Society: Junior Preservationists Program
St. Croix Long Term Recovery Group: Resilience Hub Planning
Virgin Islands Architecture Center for Built Heritage and Crafts: Strategic Development Organizational Capacity Building
Virgin Islands Good Food Coalition: Organizational Capacity Building
World Ocean School: Roseway Program Capacity Building
Funding for this round of grants will support programs that collaborate to leverage scarce resources and span literacy skill development, art therapy, and organizational capacity to achieve greater impact. We look forward to sharing some data, some pictures, and the impact that this flexible grant builds in our nonprofits and our community!
Sustaining Systems at Community Resilience Hubs
In many communities, it simply isn't enough to award a grant and walk away. Back in 2020 and early 2021, SCF granted the Caribbean Center for Boys and Girls of the VI and Flambouyant Gardens Senior Living Center each a solar PV system, a capacity-building grant that allows for monthly savings on utility expenses. The solar system also arms the center with the ability to continue providing services throughout a crisis in which the electrical grid is interrupted. Since the installation of the systems, SCF's Grant Associate Essence Carter has provided ongoing support for our nonprofit grantee partners. In partnership with each center, the Foundation collected data, identifying critical repairs needed for the systems to make them fully functional. To date, our Team is working with vendors to locate the needed materials for the installation of new inverters on each center.
In addition, and thanks to the generosity and flexibility of GlobalGiving, SCF is also pleased to report that we are finalizing all requirements necessary to strengthen the solar infrastructure of the Foundation's headquarters. Back in 2017, right after the hurricanes, the Foundation served as an essential communications and resilience hub, having buried our utility lines in our reconstruction of our historic headquarters ten years prior. Uniquely positioned in a historic (and accessible) town square, within days of Hurricane Maria, we opened our doors to over 20 nonprofits as well as members of the Office of the Delegate to Congress and FEMA.
Today, having researched the components and systems needed for a model resilience hub and with all engineering site visits completed, the Foundation is finalizing a work plan with local solar installer Lionz Den Solar. We expect this to be completed – despite all the delays brought on by COVID-19 – by March 15, 2022. When the work is done, SCF will increase its capacity by 10KW of battery storage, firmly establishing our headquarters as a primary nonprofit resilience hub to be activated during future disasters. The added benefit of this new upgrade is that our hub will sit adjacent to another major disaster recovery asset, a 12,000 square foot, historic theater that the Foundation owns and is currently transforming into a state-of-the-art Community Disaster Shelter, Safe House, and Performing Arts Center.
AmeriCorps VISTA!
Once again, thanks to GlobalGiving, we have expanded our ability to support, and therefore recruit, new VISTA Volunteers with housing stipends. In the past year, we've had twelve volunteers serving a total of six organizations. As our community endures a protracted battle with COVID-19, on top of ongoing hurricane recovery efforts, the timing couldn't be more critical to build capacity in our nonprofits—as VISTA Volunteers come to the table with expertise and grit!
St. Croix Montessori, one of our VISTA host sites, is a small, nonprofit school serving children ages 3 – 12 years old, many of them coming from low-income families. Like most nonprofits on St. Croix, while the organization provided vital services throughout hurricane recovery and now COVID-19, it operates on a shoe-string budget and often without the capacity to build organizational strength. Enter VISTA Volunteer Mackenzie, who joined the school in October and has already helped the organization secure $65,000 in funding. Mackenzie comes to VISTA as a local recruit with expertise in sustainability and education.
Everything is Connected to Everything
And so it is that the CARE Fund moves closer to five full years of providing active, on-the-ground support to residents and nonprofits that are serving our most vulnerable. Hurricanes, pandemics, political and social upheaval, and economic shifts are not likely to end. But as we write our story, we are compelled by the interconnectedness of all that we do and how these intersections are the heart of sustainability.
We hope you know that the entire GlobalGiving Family has impacted much more than just St. Croix Foundation or our nonprofits. The beautiful part of holistic community development is that all the grants, programs, and advocacy that flow from GlobalGiving impact every aspect of our small island community. As we pledged 31 years ago, we will never hoard or compete but instead serve as conduits of Good, and we will do whatever it takes to move the needle forward for our People, while forging new pathways for philanthropy. While we've accomplished some of our greatest successes with support from GlobalGiving, we're only just beginning!