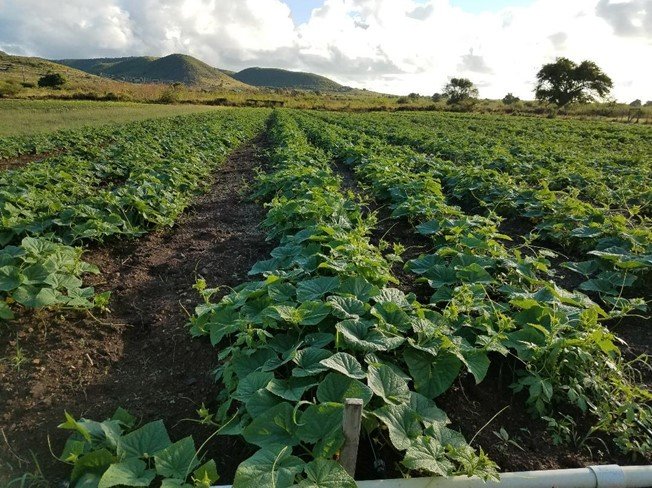 As communities throughout the Caribbean and the U.S. prepare for the 2021 Atlantic Hurricane Season, which is expected to be more active than "normal," philanthropy's work around building resilience is put to the test. For the people of the U.S. Virgin Islands, the smallest "kid on the block" in the equity model, the stakes are incredibly high.
At St. Croix Foundation, as we reflect back on the process of recovery since the 2017 Hurricanes, we are pleased to report that our work in disaster response has gone far beyond immediate recovery. Our approach as a place-based community foundation, the partnerships we developed, and the priorities we focused on resulted in multi-layered pilot programs that are no longer experiments in resilience-building but fully operational systems that bypass inequitable, inaccessible paradigms within our community and within the field of philanthropy itself.
Today, just days after the opening of the hurricane season, we extend our deepest appreciation to our GlobalGiving family and our circle of funders and advocates. Because, with your support, we have expanded innovative pilots and turned them into new scalable models of resiliency and self-sufficiency.
Ready to Serve: Capacity Building in Real-time for Food Security
St. Croix Foundation's focus on resilience is grounded in our commitment to encourage and empower our community to access resources specific to their needs. By doing so, we build new systems that simultaneously strengthen the one and the whole. Case in point: our Farm Tienda Small Business Development and Resilience Initiative! What began as an initiative to get small businesses back online after Hurricanes Irma and Maria has now become a sustainable network of food sovereignty at the business and community level.
As described in our last quarterly report, all seven Farm Tiendas are now operational and continue to serve as resilience hubs throughout Covid-19. With Farm Tiendas located strategically across the island and outfitted with solar panels, water buffalos (and Wi-Fi!), we are pleased to report our farmers are already noting the value of the Tiendas in the event of a crisis to provide for residents and secure food:
"We are ready to serve at a heartbeat's notice."
"We use the unit for our point of sales during the present pandemic control. If we face that challenge again, we are prepared to do so. This unit gave us the security we needed during a critical time in our operation."
Additionally:
4 out of 7 farmers said the Tienda has helped generate more or new business by 50%.
Water buffalos are helping to address water shortages for the farms, providing extra water for crop production and fresh water for washing produce
Ongoing Systems Building through Agricultural Micro Grants
At the Foundation, we often speak about strategic grantmaking. The innovation and relevance of granting Tiendas to small business farmers to strengthen economic and food systems is, of course, part of it! But it's also about our commitment to support our grantees, who we call partners, beyond the initial grant award.
To allow our farmers the flexibility necessary to enhance their infrastructure, in mid-January, St. Croix Foundation, in partnership with Tides Foundation, awarded each farmer a $1000 mini-grant – a total of $7,000. Funds will support new shelving units, stainless steel tables, point-of-sale systems like cash registers, and vital infrastructure, such as a new water pump to feed additional crop rotation.
New Breed Farm, located on the isolated southern part of the island and serving St. Croix residents island-wide through wholesaling produce to local grocery stores, purchased a new water pump with their Micro-Grant to get their well back online. As a significant resource for their farm, the additional water source has already allowed for expanded crop rotation in cucumbers (seen at right) and melons.
From Programs to Systems: VISTA Becomes a Permanent Program at St. Croix Foundation
In 2018, St. Croix Foundation conducted our Nonprofit Disaster Recovery and Capacity Assessment, finding that most nonprofits (69.6%) reported increased demand for program services, yet 72.8% were still operating on a limited basis or not at all. Nonprofits such as the Caribbean Center for Boys and Girls, who were serving upwards of 300youth a day, were vital to our community's recovery. As such, the Foundation quickly identified AmeriCorps VISTA as a resource to offer much-needed staffing and capacity support to organizations that were serving our most vulnerable. Established in 1964, AmeriCorps VISTA's (Volunteers In Service To America) purpose is to strengthen communities and develop leaders through direct, team-based direct national and community service. VISTA has and continues to provide our nonprofit participants with professional expertise from various backgrounds such as engineering, international studies, and education.
After approximately 400 staff hours of coordination and development of our application, the Foundation was approved for a 15-member VISTA Team to come to St. Croix. And, thanks to GlobalGiving, who provided a generous grant to support VISTA housing stipends, to date 6 VISTAs are currently serving the St. Croix Long Term Recovery Group, the Caribbean Center for Boys and Girls, the Virgin Islands Good Food Coalition, and St. Croix Foundation. Together, our VISTAs have put in over 14,000 hours, building capacity through grants research and writing, community partnership outreach, and the development of comprehensive marketing strategies.
This cohort represents the first VISTA team in the Territory in over 20 years, when the Foundation last hosted VISTAs. These outcomes alone make the VISTA Program a success. But we are incredibly happy to report that St. Croix Foundation has just been invited to become a permanent intermediary site for the AmeriCorps VISTA Program!
Despite challenges surrounding Covid-19, which severely affected recruitment, SCF increased check-ins with VISTA members and supervisors, assuring their safety was the top priority. And we used the time to connect with supervisors and offer any revisions to Volunteer Assignment Descriptions. In addition, SCF reviewed resumes and made recommendations to supervisors for candidates that align with the support needed. With this support, 2 VISTAs reenrolled in the program, 3 local VISTA joined, and one brave non-local VISTA safely relocated to St. Croix and secured housing to serve locally during her term. VISTA members are also sharing the program benefits, and a number of interested applicants have reached out around vacant positions. Additionally, our partner organizations are sharing the benefits VISTA support. As a result, three new nonprofits have requested to join the St. Croix AmeriCorps Team. The Foundation has also met with two existing organizations to develop a recruitment and selection strategy over the next two months, aiming to add a total of 7 new VISTAs over the next four months.
Today, what began as a critical rebuilding program, has become a new, healthy system of nonprofit supports for sustainable, community-based capacity building.
From Pilots to Comprehensive Systems in Sustainable Energy
As we reported back in February, St. Croix Foundation just solarized its second community center at Flambouyant Gardens, adding 6000KW of sustainable power to the island of St. Croix! In times of disaster, Flambouyant Gardens, home to 56 senior citizens, will serve as a resilience hub for residents and families to charge electronic devices and use an internet connection to communicate with loved ones. To date, the center has reported $500 in savings and the Caribbean Center for Boys and Girls, our first center to be solarized, another $2500 in energy savings.
With resilience hubs located in some of the most vulnerable and isolated parts of the island (including our Farm Tiendas reported on above), the Foundation is now focusing on fortifying its own energy infrastructure with the help of GlobalGiving. In the aftermath of the 2017 hurricanes, the Foundation's early commitment to burying electrical lines and the central downtown location of the Foundation's headquarters resulted in the Foundation serving as a critical resilience hub. Providing office space and housing nonprofits to key recovery personnel from FEMA and local government agencies. As such, the Foundation has committed to serving as a hub again, increasing our energy capacity by installing additional panels and energy storage.
As our sustainability network grows, the Foundation is also mindful of the importance of ongoing monitoring and support to document successes and challenges to ensure systems evolve for greater impact. Conditions around COVID-19 and early evaluations of the first cohort of students in the Workforce Development component of our solar initiative indicate that longer-term support for students and community centers is a relevant and critical need.
Although COVID-19 has kept us at a distance, the Foundation took time to build a deeper relationship with our students and their employers. By July 2020, all students had received employment in the solar industry, and it was important for the Foundation to continue providing support for their transition into the career field. Thanks to a generous award from the Center for Disaster Philanthropy, the Foundation will continue to monitor what is now a new system of sustainable energy on the island of St. Croix. Over the course of the next year, the foundation will be (1) conducting data collection on the community center model to assess monthly energy savings for the centers, monitor the system for any error messages, and report on how energy savings will be used; (2) providing workforce retention support and career development for the first cohort of students through workshops, one-on-one professional development and Lunch and Learn events with participants; and (3) dedicating to direct project oversight to document the mode, collect and report data and coordinate support for participants and centers.
We truly couldn't be more excited about the success of this comprehensive initiative and thank GlobalGiving, the Center for Disaster Philanthropy, VI Department of Labor Workforce Development Board and JPB Foundation. Without you, it wouldn't be possible!
The Heart and Soul of Philanthropy
When we talk about place-based philanthropy's role in creating new, healthy systems, St. Croix Foundation's philosophy and multi-pronged approach is proven: catalyze holistic community development that builds capacity in nonprofits, leverages cross-sector collaboration, and directs resources at the intersections of complex social-economic challenges facing marginalized communities. Community is the heart and soul of philanthropy --- and by beginning with community, together we build a Prosperity Portfolio that grows into systems that empower the very people who drive change in the most effective way.