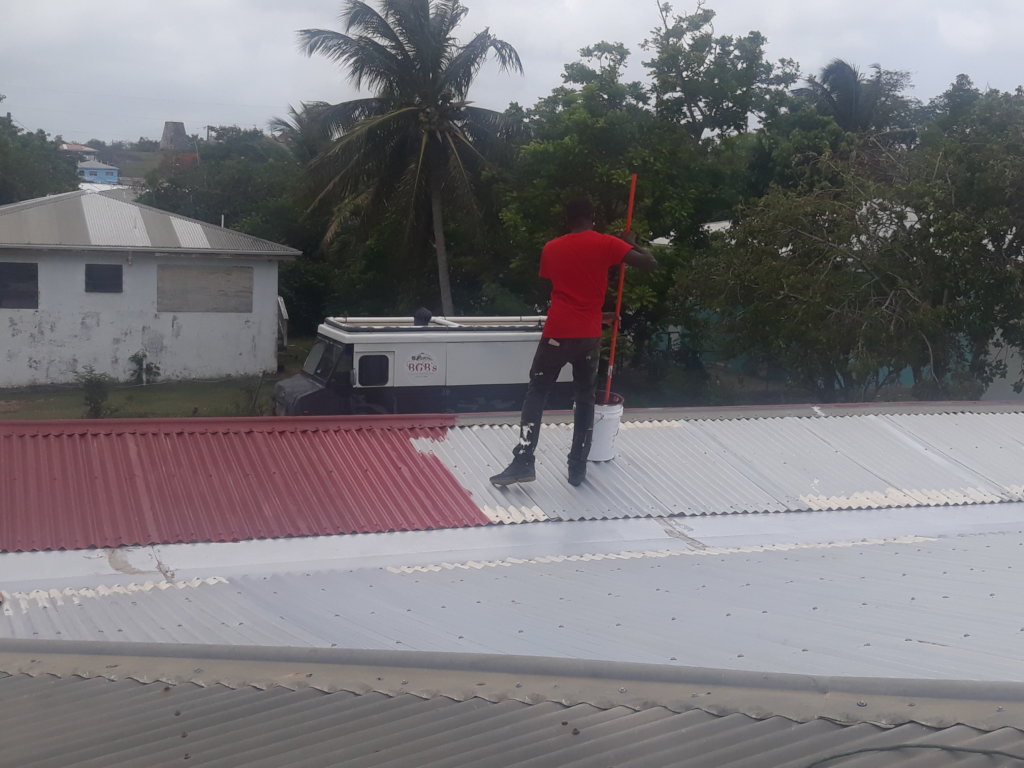 The spirit and resiliency of a people is most strongly on display in the aftermath of a disaster—especially after four years! As we continue to recover from Hurricanes Irma and Maria, in the midst of an ongoing pandemic disaster, the unity of our community continues to be vital towards the achievement of a clear and concerted vision of a recovered and resilient St. Croix, USVI.
The St. Croix Long-Term Recovery Group (LTRG) is a cooperative body that is made up of representatives from faith-based, non-profit, government, business, and other organizations working within St. Croix to assist individuals and families as they recover from Hurricane Maria.
The goal of the LTRG is to unite recovery resources with community needs in order to ensure that even the most vulnerable in the community recover from the disaster. The LTRG was officially formed under the fiscal sponsorship of the St. Croix Foundation for Community Development in 2015. Under the guidance of FEMA and the American Red Cross, members formed committees to carry out the work of the organization.
In 2020, the COVID-19 pandemic forced us into some changes in how we continued recovery. We lost the opportunity to bring in volunteer teams to rebuild homes. Government programs focused on recovery came to halt as we weathered the pandemic storm. Despite these challenges, we were able to pivot to create new partnerships, stronger community engagement, capacity strengthening in technological communication, increased coordination with government agencies, and a renewed commitment from our member organizations to strive for a fully recovered island—and an island that will be prepared for the next disaster while coping with one we could not predict.
We continue the process of formally folding the work of the LTRG into the STX COAD (Community Organizations Active in Disaster) model which will ultimately be housed under the territory-wide VI VOAD (Voluntary Organizations Active in Disaster). As part of this process, we are engaged in a formal membership campaign, asset-mapping of our 150+ member organizations to better understand where resources are located throughout the island, a seat at the Virgin Islands Emergency Management Council table, trained members to staff Points of Distribution Centers in times of crisis, offered volunteers to work emergency shelters, and carried out some initial discussions on community-based resiliency hubs that will be housed under the COAD. These hubs would allow for communities to survive in the immediate days following a disaster while we await additional outside relief—all in conjunction with the COADs on our sister islands.
With all of this, we have not forgotten those in our community who are not back to a "new normal" from the storms of 2017. We still see the suffering of those without homes or a roof on their home almost four years after the storms. And we continue to do our best to bring relief to our community through our Disaster Case Managers and our Unmet Needs Roundtable. In addition, we are vocal advocates demanding that federally funded relief programs be expedited to operate at a much more efficient level. The recovery is not over! COVD-19 may have altered HOW we can help, but it will not stop us from helping all those that we can.
We are grateful for the support of the St. Croix Foundation for Community Development through their fiscal sponsorship and to our wonderful partners at GlobalGiving and Island Spirit Fund for their continued financial support and their commitment to continue this support into 2021.
With gratitude for allowing us to serve the St. Croix community and our sister islands, the staff of the St. Croix Long Term Recovery Group:
Jay Rollins, Executive Director for National & Regional Relationships
Delia Richardson, Executive Director for Community Engagement
Christina Joseph, Executive Assistant
Rosalie Javois, VISTA
DISASTER CASE MANAGEMENT and UNMET NEEDS
During this reporting period, the Disaster Case Management Program continued serving the remaining program participants. The majority are waiting for home repair assistance through the Envision Tomorrow Program. Despite the pandemic, the program has continued to provide support, referral and advocacy to clients.
We helped a client receive assistance through the USDA grant program ($7,500) and acquired funding for 3 additional home repairs. Persistent communication with a contractor encouraged him to conduct an estimate for another client, mandated for their funding application. Another client also acquired an estimate through the generosity of a different contractor. DCM assisted a client with managing the reconstruction of their home by interacting directly with the contractor with regular visits as the work was being completed. Many participants have expressed their appreciation for the level of support and assistance received through the program.
The request for the repayment to prevent Duplication of Benefits by the Envision Tomorrow Program is a financial encumbrance that most clients cannot meet at this point thereby delaying their progression to the construction phase of the program. After receiving verbal support and commitments from the Director of the VI Housing Finance Authority at a meeting in March, we received no further contact, despite numerous phone calls, text, emails and public sightings. In the interim we continue to solicit assistance through the Unmet Needs Committee to provide assistance with repairs for eligible clients. Unfortunately, at this stage post-disaster, those funds are limited. Meetings with Inclusivity, a financial stakeholder, discussed potential grants to cover these shortfalls but no specific resource has been identified as yet.
During this reporting period, DCM had 3 clients undergoing repairs that were funded by the Unmet Needs Committee. The repairs included roof repairs for two clients, and one was an interior repair that included the bathroom, kitchen, and replacement of an exterior door.
DCM also worked with a client who received a grant from USDA in the amount of $7,500 to cover the cost for their kitchen and other interior repairs. Also one client received a second estimate to completely repair their home during this period.
DCM also met with Senator Frankie Johnson who expressed an interest in touring damaged properties to see the realities many of these clients are dealing with.
Another client's contractor started repairs to her home even though her insurance money was inadequate to cover the full repair. She and her sister lost confidence in the Envision Tomorrow 's ability to complete the repairs in a timely fashion since they waited over 2 years, were deemed fully, yet no work was underway. DCM worked with the client in getting the repairs started by coordinating with the contractor.
Throughout this period DCM maintained ongoing contact with all clients by providing frequent follow-ups via phone and face-to-face visits. Home visits were crucial for keeping abreast of deteriorating living conditions and brainstorming for potential resources.
There are several clients awaiting Envision Tomorrow who could benefit from having their roofs re-tarped. Also, as expressed by other clients who feel they can no longer wait, a low-interest loan program would be helpful for those who do not qualify for USDA because of a high debt ratio. Those who have duplication of benefits issues and are unable to pay the amount owed are also in need of assistance.
Unfortunately, one client died during this period while waiting for VIHFA. DCM enrolled one new client.
REPORTING PERIOD: July 1 – October 29, 2021
Metrics: Client Case Load Total
Total Clients To Date: 85
Total Cases Closed To Date: 58
Total number of cases transferred to DCM Caseload: 3
Total Active Cases during the reporting period: 50
New Enrollment during this reporting period: 1
Number of cases closed during this reporting period: 7
Clients served during this reporting period: 50
Total cases submitted to Unmet Needs For Review This Period: 2
Number of cases approved: 0
Number of repairs, estimates and other a construction activities conducted - Repairs:4; Estimates: 1
CONCLUSION:
Throughout this reporting period, we experienced some challenges obtaining accurate information regarding the processes and movements of the Envision Tomorrow Program which was truly frustrating and damaging to the client's trust in ETP. Overall, we were able to maintain adequate support and tend to the needs of our clients in an effort to provide some stability and confidence in the DCM program.