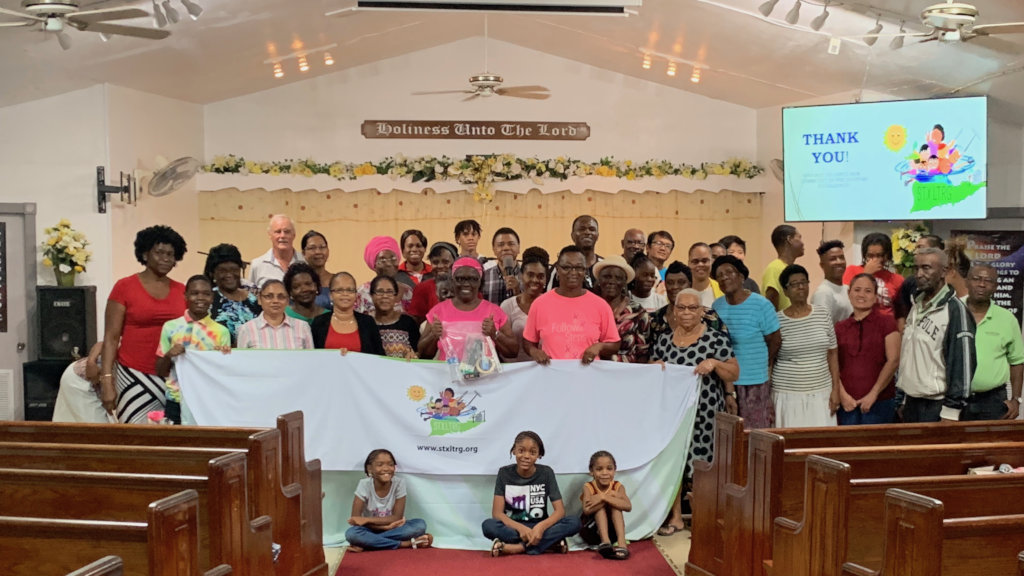 The St. Croix Long-Term Recovery Group (LTRG) is a cooperative body that is made up of representatives from faith-based, non-profit, government, business and other organizations working within St. Croix to assist individuals and families as they recover from Hurricane Maria. The goal of the LTRG is to unite recovery resources with community needs in order to ensure that even the most vulnerable in the community recover from the disaster.
73 Homes and More to Serve...
In this reporting quarter, the St. Croix Long Term Recovery Group construction and rebuild program suffered some setbacks. At the end of 2019, FEMA decided to discontinue the use of "invitational travel" for our volunteer teams, requiring teams to now pay for their transportation to the island. The impact is that the number of teams we were expecting to host, and the frequency in which the teams are coming, has slowed. To date, however, we have hosted 58 volunteer teams who have contributed 51,821 volunteer labor hours and completed 73 homes!
The impact of the decrease in volunteer labor requires that we re-evaluate the number of homes we have in our queue. We have reduced that number to 23 homes and suspended intake and evaluation on 45 homes. Our Disaster Case Managers (DCM) will continue to seek alternative solutions for those 45 families.
Disaster Case Management
As has been reported, the loss of federal funding to hire critical DCMs required the LTRG to piece together funds through grants from various philanthropic sources. Thanks to our partners from the National Voluntary Organizations Active in Disaster (NVOAD) and the United Methodist Committee on Relief we have been granted salaries for two DCMs. And because of the generosity of our GlobalGiving family, a territory-wide grant as well as an additional grant, we were able to hire three more DCMs.
During this quarter, our case managers have served and continue to serve a total of 204 cases. Of those, 134 are still active, and 70 cases have been closed.
The EnVIsion program, a HUD-funded rebuild program operated by the VI government, has begun to take clients. This has allowed our DCMs to assist clients with a new resource. It has also reduced the number of new clients.
Unmet Needs Committee
The Unmet Needs Committee fills a critical role in disaster recovery. When a DCM has exhausted all resources available to a beneficiary, and needs are still not met, then the Unmet Needs Committee steps in to fill the gap. The Unmet Needs Roundtable convened for the first time in this reporting period. During this meeting, four cases referred to the committee by our Disaster Case Managers were funded-- a total of $90,495.00. These cases are all St. Croix residents who, for one reason or another, will not qualify for any of the federally funded rebuild programs. The following is an overview, submitted by a DCM, of one of the cases that was funded:
Client is a single elderly individual that lives alone and survives on a fixed income that limits their ability to make the needed repairs to their home on their own. Client is in a situation where they do not have the support of family to assist in their recovery process and therefore needs assistance. Client has been living in substandard conditions for the past 2 years and continues to do so without much of the basic living amenities. The impact of the storm resulted in client losing the roof of their home along with damages to their floors, windows, doors, electrical, and to the kitchen and bathrooms. Client also lost most of their personal items and appliances. Over the past two years, client was living in the home with a tarp roof that went beyond its useful life that contributed to further damages to various systems and fixtures throughout the interior of the home. In August 2019 client received a newly constructed roof through the Lutheran Disaster Response volunteer rebuild program. However, despite getting the new roof, there are some additional repair items that are required to get the home to a place where it is safe, sanitary and secured. At this time, we are seeking financial assistance from the Unmet Needs Roundtable to fund the completion of the repairs to their home, so they move forward with some level of normalcy in their everyday lives.
Many thanks to GlobalGiving for understanding and working with us to use these funds to provide assistance to the most vulnerable in our community. We will have exhausted available funds for this committee within the next month. The LTRG continues to work to identify additional funding for this critical piece of recovery.
Connecting, Engaging, and Equipping Residents with Resilience Preparedness
As previously reported, The LTRG began offering free workshops to organizations and congregations seeking to equip their members to be "Prepared to be Your Own First Responder." The goal of the workshops is to effect a cultural change from one of reaction to one of preparedness--not only for hurricanes but for any disaster that could come our way. We have now offered this workshop 7 times and worked with more than 200 community members. One attendee said, "You made me feel cared for and I can prepare even with a small budget. I hope you come back again to do more trainings." Another attendee offered this feedback, "More people need this information and presentation. You spoke with passion, engaged the audience, cared about the people and used very practical examples." We will continue to offer these workshops in 2020 and plan to expand them to include information about VI VOAD.
Finally, we are pleased to announce that the VI VOAD has been reactivated! VOAD is an acronym for Voluntary Organizations Active in Disaster. The Virgin Islands VOAD has been recruiting member organizations on all three islands and holding monthly meetings.
Making A Difference…
The St. Croix Long Term Recovery Group is an organization committed to making a memorable difference in the lives of our community stakeholders, one life, one business, one mind at a time. While emergency relief and even intermediate recovery and survival absorb resources for the first one to two years, we believe that our community is now in a stage where it is truly able to build independence and resilience for the future. As such, the time is now to engage our communities like never before and we thank you for standing shoulder to shoulder with us now and into the future!