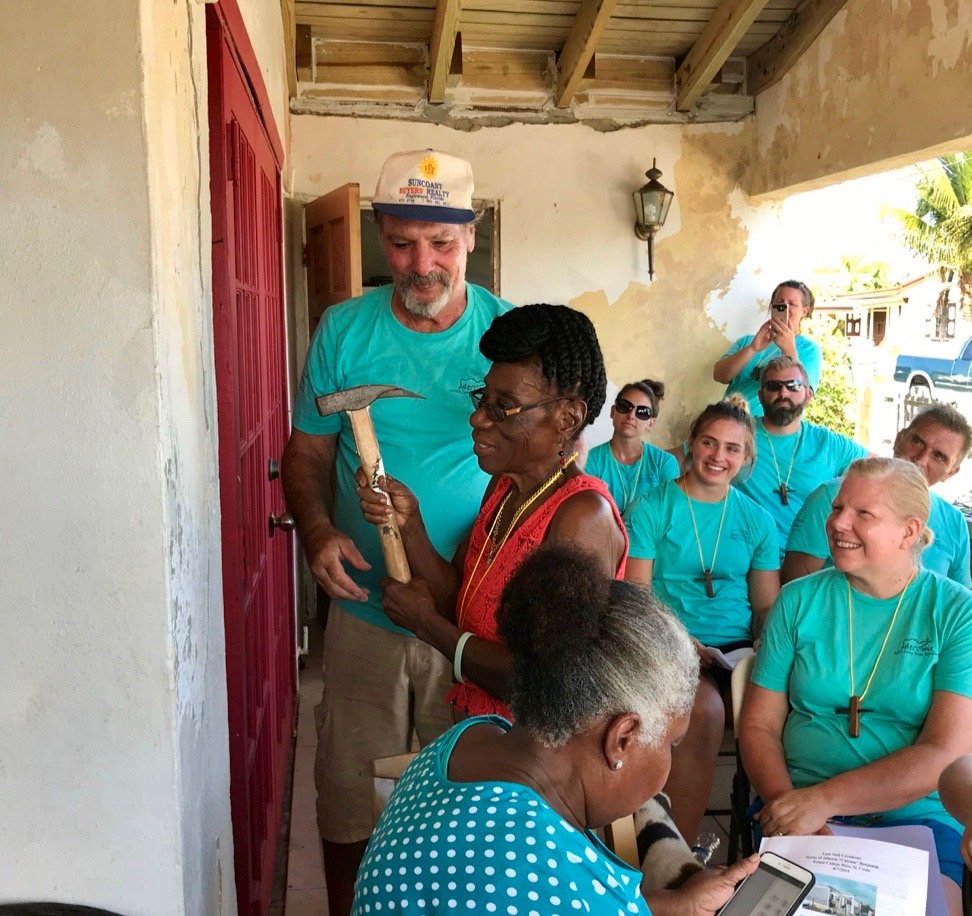 The St. Croix Long-Term Recovery Group (LTRG) is a cooperative body that is made up of representatives from faith-based, non-profit, government, business and other organizations working within St. Croix to assist individuals and families as they recover from Hurricane Maria. The goal of the LTRG is to unite recovery resources with community needs in order to ensure that even the most vulnerable in the community recover from the disaster. This is Community and Solidarity in action.
Construct and Rebuild – Homes, Safety, Joy, Relief
In this reporting quarter, we surpassed $100,000 USD of GlobalGiving funds to purchase building materials for homes. Thank you! An additional $100,000 USD will be drawn down by LTRG member organization Lutheran Disaster Service to continue to purchase building materials.
To date, we have hosted 706 volunteers, 39,000 volunteer labor hours, 46 total groups, and 60 homes completed! We have 68 homes in the queue, and requests for service continue to come in on a daily basis. The other good news from this reporting period is that FEMA has granted us Invitational Travel through June of 2020. This means they will pay for the volunteer teams to travel here and provide a small stipend to feed them while they are serving. And, we continue a very important aspect of this program: the "Final Nail Service," where the homeowner symbolically drives the "final nail" into their completed home. These ceremonies are full of emotion: joy, relief, gratitude, and praise.
Special thanks are given to our member partner Lutheran Disaster Response for leading this project.
Disaster Case Management: No Closed Cases Until Recovery is Complete!
With the loss of federal funding to cover the expense of this program, the LTRG has pieced together funds through grants from various philanthropic sources – including GlobalGiving – to ensure that Disaster Case Managers (for all three islands) are in place and active.
As reported in the last quarter, these managers are critical, with each working with up to 80 cases at a time to ensure that every beneficiary is not inadvertently receiving duplicate benefits from FEMA, has connections to available resources on the island, and refers to the LTRG's Unmet Needs Committee when resources are not available. Unlike other programs, Disaster Case Managers (DCM) do not close a case until the client is completely recovered and has a sustainable action plan for thriving post-recovery.
We are grateful to our National Voluntary Organizations Active in Disaster (NVOAD) partner, the United Methodist Committee on Relief for grant monies to support an additional 2 DCMs and to GlobalGiving for supporting a territory-wide grant that will allow us to hire 2 more DCMs on St. Croix. Recently, this new grant was recognized at the Clinton Global Initiative by Secretary Hillary Rodham Clinton for GlobalGiving's commitment to this work. With these funds in place, the LTRG will have 8.5 DCMs by the end of the year.
During the quarter, our case managers have served and continue to serve 177 cases. Of those, 140 are still active, 7 have referrals pending, 37 cases were closed, and 10 have been referred to the Unmet Needs Committee.
Unmet Needs Committee
As mentioned above, the Unmet Needs Committee fills a critical role in disaster recovery. When a DCM has exhausted all resources available to a beneficiary, and needs are still not met, then the Unmet Needs Committee steps in to fill the gap.
In this reporting quarter, the Unmet Needs Committee has accepted 10 cases through our online portal. This portal, unique to St. Croix, allows DCMs to anonymously upload cases for review—preserving the dignity of the beneficiary and allowing the funders to make unbiased decisions. The $50,000 USD monies from GlobalGiving are being used to address some of the needs of the 10 cases that have now been referred.
This committee is now seeking additional funders for the Unmet Needs Roundtable in preparation for the additional cases that will come through. The goal is to raise an additional $15,000,000 USD to meet these needs and every little bit counts!
Improving Lives through Community
The St. Croix Long Term Recovery Group is philanthropy in action: volunteers from the community, unifying for the purpose of helping their neighbors for the love of humankind. We thank our GlobalGiving Community for your continued commitment to the people of St. Croix and the U.S. Virgin Islands. As an isolated community and Territory, our voice is often lost, but lives throughout the Virgin Islands are being impacted for the better, people's wellbeing stabilized, because GlobalGiving sees us. We cannot express our gratitude enough and hope you will continue to stand with us in solidarity to build resilience!