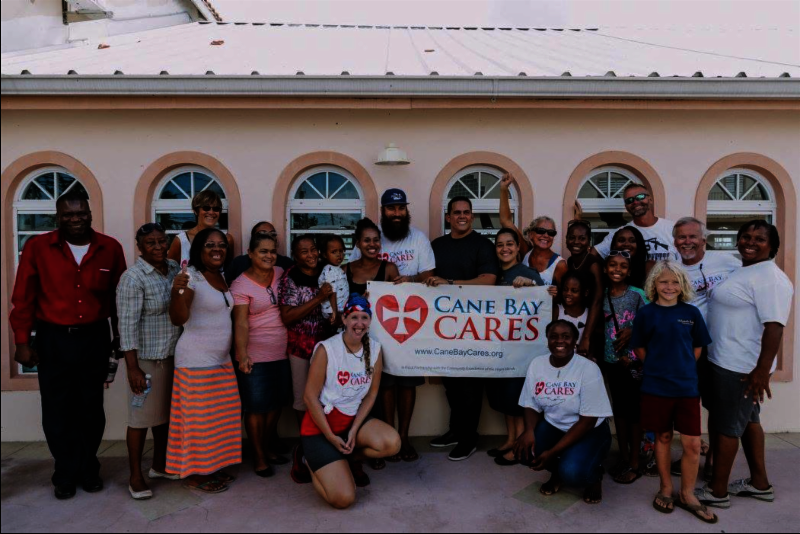 St. Croix Long-Term Recovery Group
September – November 2018 Impact Report
The spirit and resiliency of a people is most strongly on display in the aftermath of a disaster. As we recover from Hurricanes Irma and Maria, the unity of the community is vital towards the achievement of a clear and concerted vision. The St. Croix Long-term Recovery Group (LTRG) is a cooperative body that is made up of representatives from faith-based, non-profit, government, business and other organizations working within St. Croix to assist individuals and families as they recover from Hurricane Maria. The goal of the LTRG is to unite recovery resources with community needs in order to ensure that even the most vulnerable in the community recover from the disaster.
Construct and Rebuild
Cane Bay Cares, a service initiative of Cane Bay Partners LLLP, donated $45,800 to the St. Croix LTRG, a project of St. Croix Foundation and coalition of non-profit relief organizations, to fund the repair of roofs and the retrofitting of volunteer housing on St. Croix.
The funds were allocated from the disaster relief fund established between Cane Bay Cares and the Community Foundation of the Virgin Islands. About $30,000 of the donation will be used to repair or replace 2-4 roofs for residents in need, while $10,000 will be used to complete the retrofitting of volunteer housing at the former St. Dunstan's School campus, and the remainder will be used toward the highest priority items.
The Construction Rebuild Committee has been hard at work since the first volunteer team arrived on June 2, 2018. Since that time, they have hosted 21 volunteer groups. The groups have ranged in size from 7 to 40 members! In total, 275 volunteers have served and completed 14,300 hours of volunteer labor. With only 2.5 Disaster Case Managers (DCM), this committee has managed to get through 64 cases! The work is difficult and exhausting--but they are working to ensure that residents get connected to the resources they need. This committee will continue to expand in the new year to help reach even more people in need.
Disaster recovery encompasses interventions at the community level as well as with individuals and households. While there is inter-dependence between the recovery of the community's infrastructure and the recovery of individuals and families within that community, the mechanisms for their recovery are distinctly different. Disaster casework and disaster case management are functions in support of empowering and of addressing the basic needs and recovery needs of individuals and families. Because of the DCM's the LTRG were able to provide 30 roof repairs, 4 rebuild in-temporary housing, 9 major damage in-temporary housing, 9 minor damage (doors, windows, tiles, painting, etc.), 7 major damage in-dwelling, 5 electrical work, 5 mold removal, 9 rental assistance, and 5 roof restoration completed.
The LTRG intends to continue recruiting skilled construction teams and rebuilding the roofs of low- and fixed-income homeowners, primarily the elderly. They continue to seek funds to subsidize building material costs. But perhaps most importantly, they hope to be able to expand the program by finishing renovations on St. Dunstan's School, which will allow them to house three times the volunteers than they can at the current location. Further repairs are needed to the St. Dunstan's School and they also need additional vehicles and trucks for an expanded volunteer program. Presently, they are also in need of a ¾ ton crew cab truck to allow them to transport large loads of building materials with their trailer and carry additional volunteers.
Building a Better Future
Some survivors affected by the hurricanes do not meet the eligibility criteria for government disaster aid programs or will continue to have unmet needs even after receiving the maximum amount of help from the disaster recovery programs. This is where recovery groups come into play. LTRGs are locally-based teams that are committed to seeing the islands through to full recovery. The groups are helping Virgin Islanders remove debris, feed their families and make repairs to their homes.
"The mission of the St. Croix LTRG is to help members independently provide community services on a daily basis and provide effective relief and recovery services to people affected by disaster on the island of St. Croix," said Pastor Gary Moore, chairperson of the St. Croix LTRG. "As we transition from the emergency response phase of the disasters to long-term recovery, it is important that we come together as community leaders to communicate, cooperate, coordinate and collaborate for a more sustainable and resilient future for our entire St. Croix community."
LTRGs will continue to bring people together to support grassroots recovery efforts and find solutions for some of the major challenges Virgin Islanders face after the disasters.