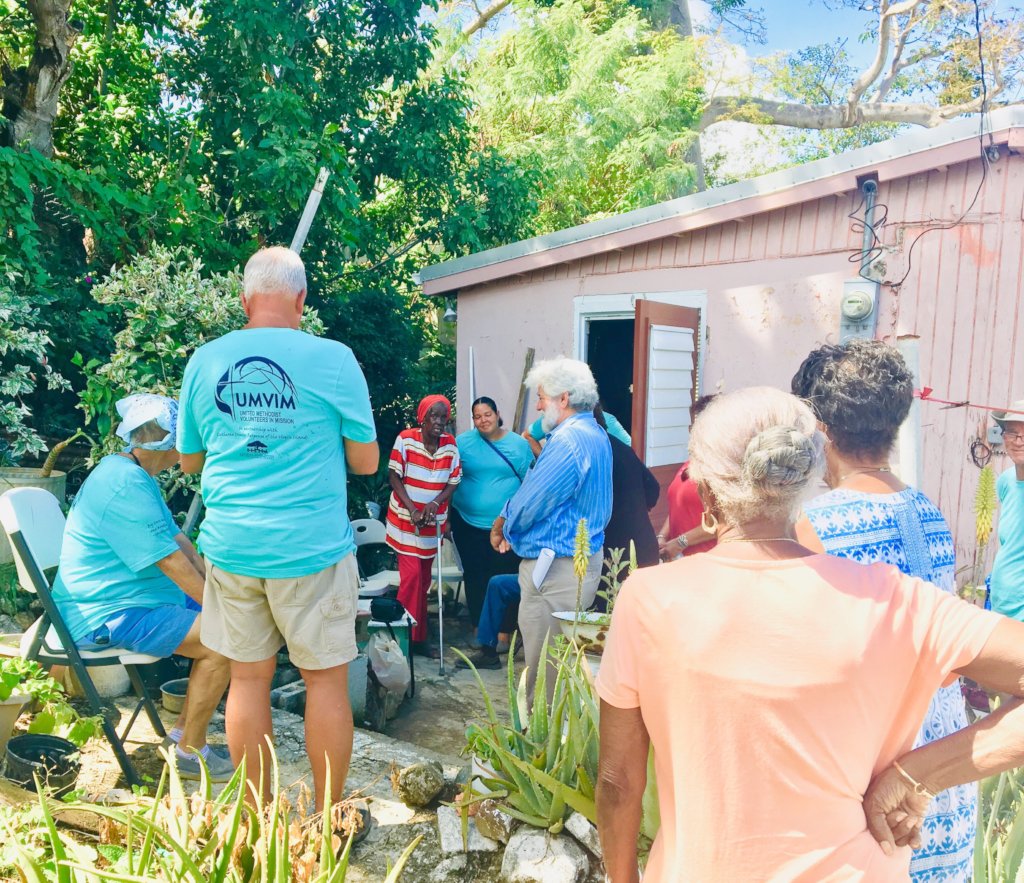 December 2018- February 2019 GlobalGiving Report
The spirit and resiliency of a people is most strongly on display in the aftermath of a disaster. As we recover from Hurricanes Irma and Maria, the unity of the community is vital towards the achievement of a clear and concerted vision. The St. Croix Long-Term Recovery Group (LTRG) is a cooperative body that is made up of representatives from faith-based, non-profit, government, business and other organizations working within St. Croix to assist individuals and families as they recover from Hurricane Maria. The goal of the LTRG is to unite recovery resources with community needs in order to ensure that even the most vulnerable in the community recover from the disaster.
Construct and Rebuild
Thanks to the grant monies from GlobalGiving, our Construction/Rebuild Committee is funding the repair of roofs for residents on St. Croix through an initial use of $75,0000 for building materials.
This committee has been hard at work since the first volunteer team arrived on June 2, 2018. Since that time, they have hosted 30 volunteer groups. The groups have ranged in size from 7 to 40 members! In total, 369 volunteers have served and completed 20,213 hours of volunteer labor. That equates to a cost benefit (value of labor) of $1,076,949.92. The work is not slowing down anytime soon. There are currently an additional 50 homes that have been referred to the committee and are now in queue.
The LTRG intends to continue recruiting skilled construction teams and rebuilding the roofs of low- and fixed-income homeowners, primarily the elderly. We continue to seek funds to subsidize building material costs. But perhaps, most importantly, they hope to be able to expand the program by finishing renovations on St. Dunstan's School, which will allow them to house three times the volunteers than they can at the current location. Further repairs are needed to the St. Dunstan's School and they also need additional vehicles and trucks for an expanded volunteer program.
The GlobalGiving grant monies were also leveraged to purchase a used 2018 Dodge Ram truck. The truck, which holds up to 6 people, is used for transporting volunteers and supplies to job sites. As we continue to increase the number of volunteer teams, this additional means of transportation is crucial.
Disaster Case Management
Disaster Case Management (DCM) is the key for LTRGs to provide this much needed assistance to individuals and households across the island. Each manager works with up to 30 cases at a time to ensure that every beneficiary is not inadvertently receiving duplicate benefits from FEMA, has connections to available resources on island, and refers to the LTRG's Unmet Needs Committee when resources are not available. Unlike other programs, Disaster Case Managers do not close a case until the client is completely recovered and has a sustainable action plan for thriving post-recovery.
With only 4 Disaster Case Managers, this committee of the LTRG has managed to get through 80 cases—the majority of which are elderly with medical issues. The work is difficult and exhausting--but they are working to ensure that residents get connected to the resources they need. Our hope is to divert an additional $50,000 of the Global Giving monies to support the hiring of an additional Case Manager.
Disaster recovery encompasses interventions at the community level as well as with individuals and households. While there is inter-dependence between the recovery of the community's infrastructure and the recovery of individuals and families within that community, the mechanisms for their recovery are distinctly different. Disaster casework and disaster case management are functions in support of empowering and of addressing the basic needs and recovery needs of individuals and families.
Unmet Needs Committee
As mentioned above, the Unmet Needs Committee fills a critical role in disaster recovery. When a DCM has exhausted all resources available to a beneficiary, and needs are still not met, then the Unmet Needs Committee steps in to fill the gap. There are currently 6 cases that have been referred to this committee. Diverting $50,000 of GlobalGiving monies to this committee would allow us to start to fill these needs and close these cases.
Building a Better Future
Some survivors affected by the hurricanes do not meet the eligibility criteria for government disaster aid programs or will continue to have unmet needs even after receiving the maximum amount of help from the disaster recovery programs. This is where recovery groups come into play. LTRGs are locally-based teams that are committed to seeing the islands through to full recovery. The groups are helping Virgin Islanders remove debris, feed their families and make repairs to their homes.
LTRGs will continue to bring people together to support grassroots recovery efforts and find solutions for some of the major challenges Virgin Islanders face after the disasters. Together with GlobalGiving we will achieve this!