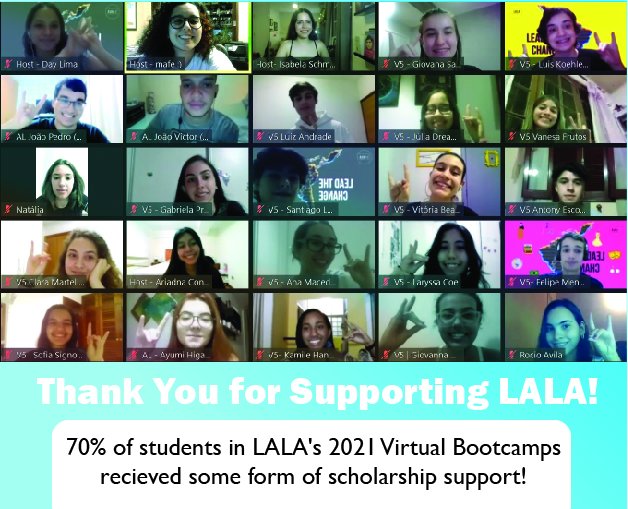 Hola! I hope this finds you well.
Thanks again for supporting our scholarship fund and helping us to win fifth place out of nearly 400 organizations in LALA's December crowdfunding competition with GlobalGiving.
Thanks to your support, our first two Leadership Bootcamps of 2021 were historic for LALA!
In January, we held our first-ever LALA Brasil Virtual Leadership Bootcamp (VLB) held exclusively in Portuguese and we are excited to continue with exclusive Portuguese AND Spanish programming this summer!


Our fifth Virtual Leadership Bootcamp, and largest to date, reached over 200 students across Latin America in February!
Thanks to you, we were able to maintain LALA's commitment to need-blind admissions with our Scholarship Fund, ensuring the enrollment of our most promising applicants, regardless of their financial means.
In the two first Virtual Bootcamps of 2021, ~70% of students received some scholarship support, amounting to approximately USD50,000 in scholarship aid.
Despite the challenges posed by the pandemic, V-Camps have been an excellent opportunity to test the scalability of our Bootcamp model, and after five camps we are confident in our ability to effectively connect and develop young leaders both virtually and in-person!

What V-Campers are saying about the experience:

"Simply one of the most remarkable and meaningful experiences I have ever had in my life! Even with physical distance, it is possible to feel all the love as if we are side by side."
"LALA was the best experience of my life. Everything is so incredible and magical. People are so welcoming and wonderful. At LALA you can be yourself, without anyone judging you. We are really a community, an ecosystem, a family. Would recommend (and have already recommended) to several friends!"
"LALA is magic, it is an incredible experience that I would recommend a thousand times so that more people live what I experienced, the beautiful energy that exists between all people, and the motivation that it gives us to be part of the change is great."
Please visit our website to learn more about LALA, make donations with less processing fees, or follow our exciting growth and student highlights on Instagram at @somos_lala .
Obrigado, gracias, and thank you!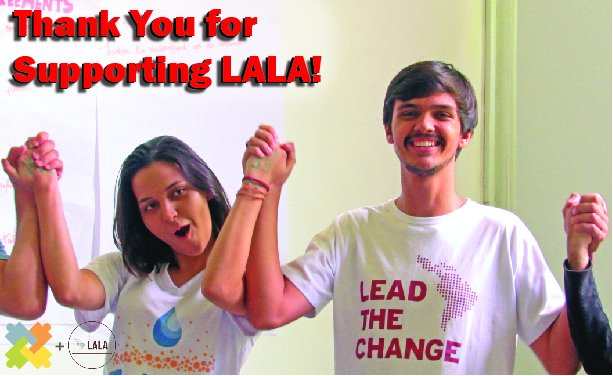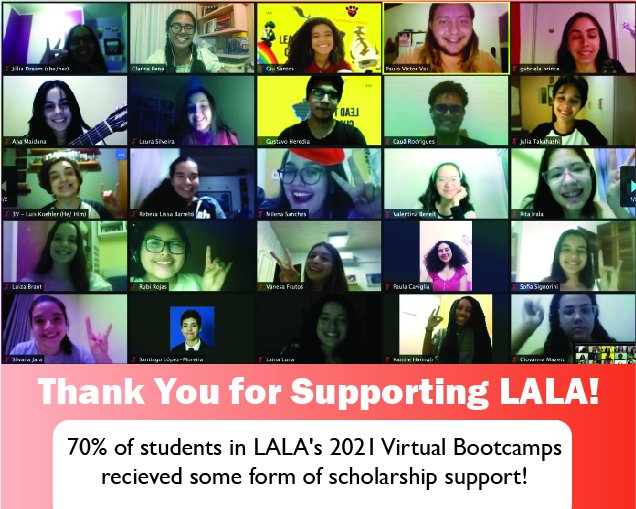 Links: