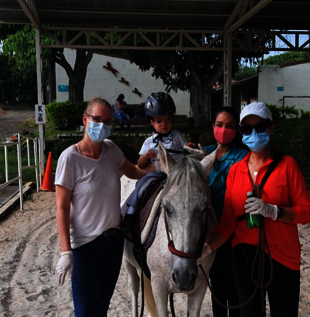 Dear Sponsors,
I hope you and your families are well, given the situation in the world.
Due to Covid-19 and the affects it has had on the students, both personal, physical, emotional and educational; we decided to add a new methodology to Equine Therapy classes, reinforcing the autonomy of each student.
In order to incorporate parents or family companions in their processes, we have trained them to take part in EquineTherapy classes as lateral assistants. We have noticed how this has increased their affinity to the effort which has also had a positive impact on our students.
Here you can see a video of each week's program and their achievements. https://youtu.be/lMZMkaM3L0w
Additionally, in the video, we proudly share with you the achievement of the DALUZ Foundation students who participated in the Special Equestrian Olympics that was held virtually.
The month of May we were closed due to the commercial restriction according to the guidelines of the country, I attach the quarterly report for April, June and July per student for your knowledge according to the objectives set for 2020 and its achievements.
These have been difficult months, but we continue working with each of the students on their goals and bringing LIGHT to each of their homes. We couldn't do it without your input and help! Thank you very much! Together we shine more!
Very best regards,

Daniella Chavarría S.
Founder and Director DALUZ Vivencias Equinas
Equestrian Sports Manager Special Olympics CR
PATH Equinetherapy Certified Instructor & Mentor
FEI ** Equitation Coach
EAGALA Equine Specialist
(506) 8842 5757
www.daluzcr.com
Attachments: