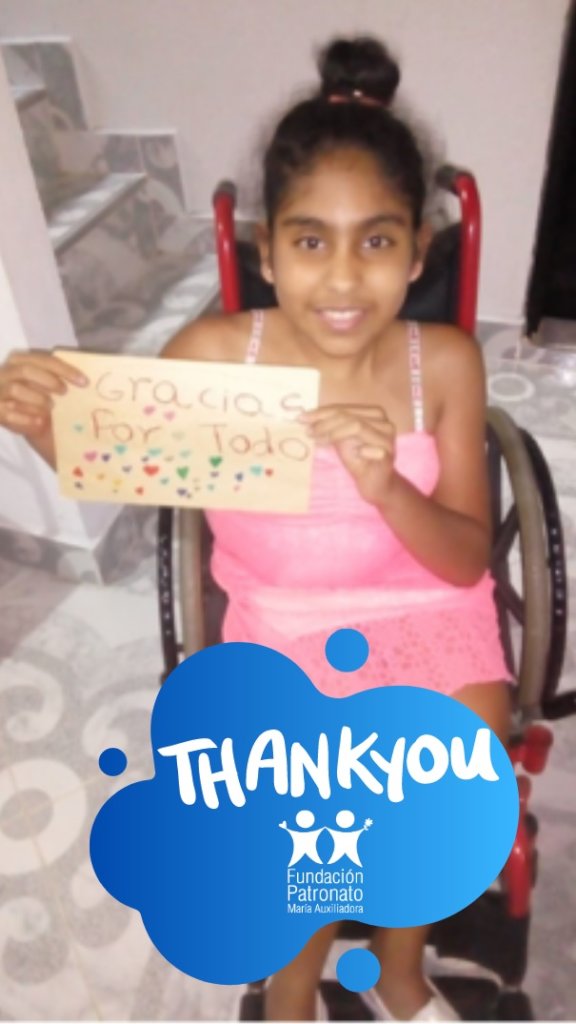 Dear Patronato community,
I hope you all are doing well and are healthy and safe.
Waleska was born in Táchira, Venezuela, is 11 years old and has lived in Medellín, Colombia with her family for two years. In her spare time, Waleska enjoys listening to music, loves to sing, paint, read, and swim.
She was diagnosed with spina bifida in Venezuela, but when she left her country of origin, all the health services she received were suspended and, for this reason, she was referred to our Foundation by an allied entity.
In our Foundation, and thanks to your generous donation, she receives specialized consultations and comprehensive rehabilitation on a recurring basis. This has allowed Waleska important achievements such as learning how to swim, play and learn the subjects at school. It has helped her strengthened her self-confidence and improve her relationships with children of her age. All of this is the result of receiving comprehensive care that combines treatments to improve the physical and mental health of our beneficiary children, like Waleska.
As Waleska says in the poster she made, in the picture, "Gracias por todo" (Thank you for everything). We, in the Foundation, say the same thing: thank you for everything!
Please be safe friends,