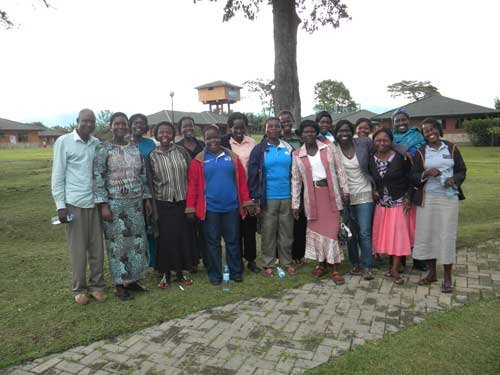 The last three months have been fun-filled with activities like sports, music, dancing and drama. There were also inspirational moments during retreats, training and psycho-social support sessions.
Music, Dance and Drama
We have discovered that SOS Children's Village Fort Portal is endowed with children who are talented in dancing and acting. Most of them can now dance "Olunyege", a popular and complex cultural dance in Uganda. We bought a few traditional music instruments to add flavor to the dance and are in the process of acquiring some more. We are also designing unique costumes for the dances, made of different fabric and styles, to be worn during the Christmas festival. In Uganda, cultural dances have to be accompanied by special attires to match up the dance being performed. The children are very excited about this program.
Psycho – Social Support Assessment for Children and Mothers
In October 2014, SOS Children's Village Fort Portal carried out a Psycho-social support assessment for SOS mothers and their children. During the appraisal, both children and mothers were encouraged to come up with solutions to what they perceived as challenging. At the end of the sessions, the evaluation team gave recommendations for each group for the next six months.
The birth of SOS Mothers' Forum Uganda
Still inOctober, SOS Mothers from Gulu were hosted by their colleagues in Fort Portal for a joint retreat. The meeting gave birth to the first ever SOS Uganda Mothers' Forum. The main aim of the group is to enable members (SOS mothers) share their experiences, and come up with solutions to common problems.
New child expected
During this quarter, the location team also identified extremely vulnerable children in the area that could be admitted for long term care, in SOS Children's Village Fort Portal. Out of more than thirty cases assessed, ten children were recommended for admission. The youngest is Caleb Dushime (named by SOS team) aged 1½ months. Baby Caleb was found dumped near the Rwanda-Uganda boarder with an uncut umbilical cord. He is currently under the temporary care of Potter's Village in Kisoro district in south western Uganda. SOS mothers and children in Fort Portal are eagerly waiting to receive Caleb, as soon as his admission is approved by the Uganda national office.
Sports
We have a football club named Hermann Gmeiner Kids Soccer Club F/P. Children not only play soccer for fun but also try to learn the professional side of the game. During the August school holidays, the team played and trained with Horst Soccer Academy (a local boys' football club) in Fort Portal. Such experience exposes our children to professional football and strengthens the team. Our aim is to train 20 interested children, who will then pass on the knowledge to others, 13 boys are already training every Saturday. Unsurprisingly, girls have also shown interest in professional football. We will support them in every way we can. We hope to have a strong team by the close of this year and to be in the regional football scene come 2017.
Meanwhile, every school going SOS child has acquired a new pair of sports shoes. Most children have a physical education lesson at school, so it is important for them to have sports shoes to wear with their sports uniform. The children were overjoyed when they received their new wears in September; they wore wide smiles and jumped up and down. Majority of them now feel encouraged to participate in various sporting activities in school.
Education
Tuition was organized during the school break in August to support academically weak children, and to generally keep them busy when out of school. Some children attended private classes in respective their schools while others had lessons within the village. The private classes have boosted the overall performance of the children. This was revealed during a recent review of the children's school results, by SOS Children's Village Fort Portal staff.