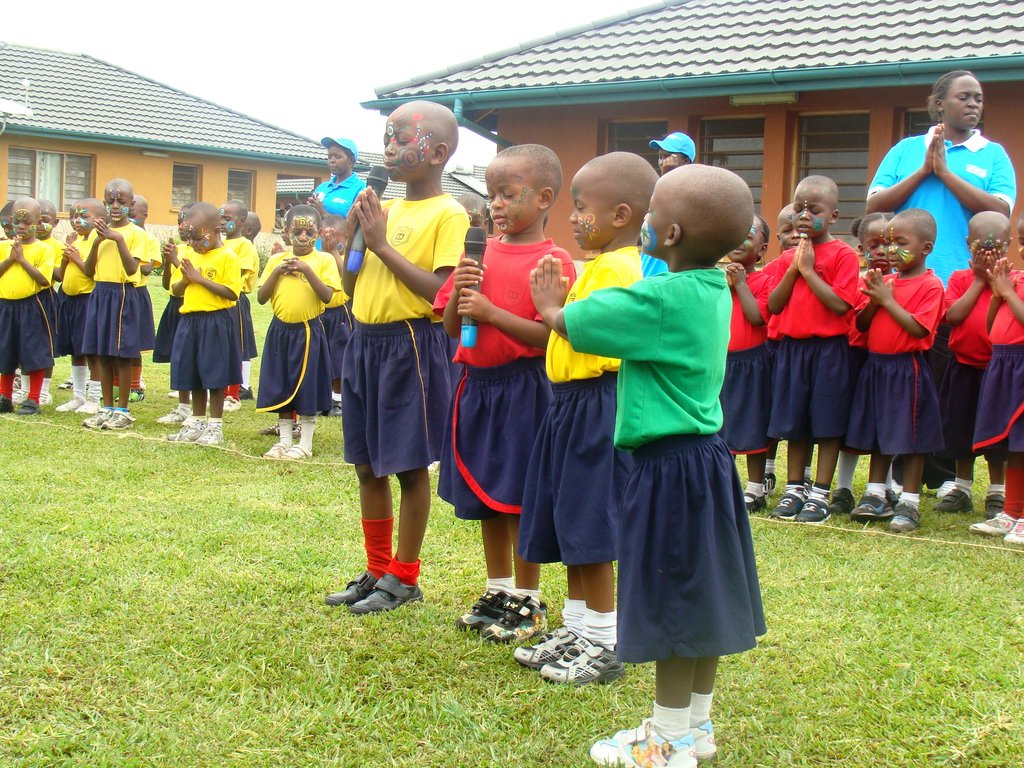 Many hearty greetings from SOS Children's Village Fort Portal! The festive season will soon be here but before we get carried away by the joyous mood, I would like to share with you the latest news at our location. Enjoy reading!
To date the Children's Village is blossoming with 119 happy and loving children. 7 of them are toddlers and still stay at home with their mothers while the older children go to school. The kindergarten organized "Donate-a-book week" to mark the end of second term of school for the children attending kindergarten. This activity was aimed at developing children's reading culture and intellectual mind. We got a very positive response from the parents who donated some reading books for the school library and others pledged to do the same at a later stage. With these, we are hopeful that our kindergarten library will be better stocked with a variety of reading books for the children. At the climax of the week, parents were invited to a concert where the children recited poems, rhymes and also acted out the stories they had read in the books. They staged an art exhibition and parents were happy to purchase their children's artwork. It was indeed a wonderful week with a lot of learning! There are plans to lobby for more reading materials to further boost the children's reading culture. A mini library will also be opened up at our Kindergarten and office block to enable children's access to reading materials.
Early July this year, SOS staff and children jubilated as we commemorated three years since the opening of the Children's Village. It was such a fun filled day and was well attended by district officials, local leaders, friends and other community members in the neighbourhood. The guest of honour was a high ranking police officer (District Police Commander for Kabarole district). Later in the day, he was seen dancing away with the children. This amused them so much as they have always known police officers to only carry out serious work!
Our Children's Village lies within the Toro Kindgom. The Kingdom is an ancient monarchy that was abolished in 1967 by the Government of Uganda, but was reinstated in 1993. The current monarch is known as King Oyo who ascended to the throne in 1995 at the age of only three and a half years. He actually holds the record of being the world's youngest ruling monarch. In September, a big celebration was held in Fort Portal to commemorate the 18th coronation anniversary of King Oyo. The celebration locally known as Empango was well attended by Kingdom officials, all African queens, High profile political and religious leaders, businessmen as well as the community of Toro. Amongst these, was a group of SOS children who took part in a march led by His Majesty and later on, they had the honour of presenting songs, poems and dancing before him. It was such an honour that they still talk about to date. Their brothers and sisters who didn't participate always listen to the stories in admiration!
We have continued to support the neighboring communities where we work through our Family Strengthening Programme and are delighted to share with you one of the several testimonies as a result of our work. After a long disagreement between Jack and his wife Dinah on who should support which child of the four (4) grand children (3 boys and 1 girl), they finally agreed to jointly support all their grand children. They arrived at this agreement after attending a gender awareness session for caregivers organized by the SOS Children's Village. Dinah explains that initially her husband had decided to pay school tuition fees for only one grandchild and his choice was a male (a son of his deceased son). This left the remaining 3 children (2 boys and 1 girl) under the care of his wife. It was difficult for Dinah to meet all the scholastic needs of the 3 children since she dug fields to earn a living unlike her husband who made bricks for construction. The bricks generate way more income compared to digging fields. As a result, the children under Dinah's care were always sent away from school due to defaulting school tution fees while the boy under Jack's care would always pay on time and had all the scholastic requirements.
As already mentioned, Jack had refused to support his 3 grandchildren because they were born of his deceased daughter thus they belonged to a different clan from his (our societies are patriarchal in nature). Furthermore, Jack had his fears of supporting a girl child through school because he viewed it as a waste of time. He was worried that the girl-child could easily get married and drop out of school. Thankfully, from the gender awareness sessions the couple attended, they understood the importance of supporting and treating all children equally since they have equal chances of excelling. It was at this point that the couple agreed to jointly support all their grandchildren. Dinah is now so grateful to SOS Children's Village for organizing a training that brought peace and harmony in her home since she now seats with her husband to plan for the family. SOS Children's Villages has plans to continue sensitizing our communities on issues to do with gender such as social matters, violence as well as child rights. More support will also be given to community groups most especially those involved in individual Income Generating Activities so as to enhance sustainability.
On another note, our Medical Centre continues to grow. The number of patients treated grew and we are also glad that patients visiting the medical centre leave appreciation messages for the services being provided to them. Communities neighbouring the centre are happy to have such medical services in their reach unlike back in the day when they had to move several kilometrers to public hospitals in town. We are also grateful for skilled assistance from our health care professionals this year. They have continued to provide on-going medical check ups and consultation. They have also had several outreach activities in the communities where people have been fully sensitized about HIV/ AIDS. We look forward to strengthening our partnerships with institutions that have been used as referrals for some of the children SOS couldn't support fully like mentally ill cases and counseling. We also hope to reach out to children or caretakers who need support in the area of nutrition. This is because Toro is known to have the highest level of malnutrition cases in the region against the background that we have the potential to produce optimal food to feed our population.
All of this would not have been possible without your generous support. Your belief in creating a loving home for every child has brought us this far and we are very thankful. Happy festive season!