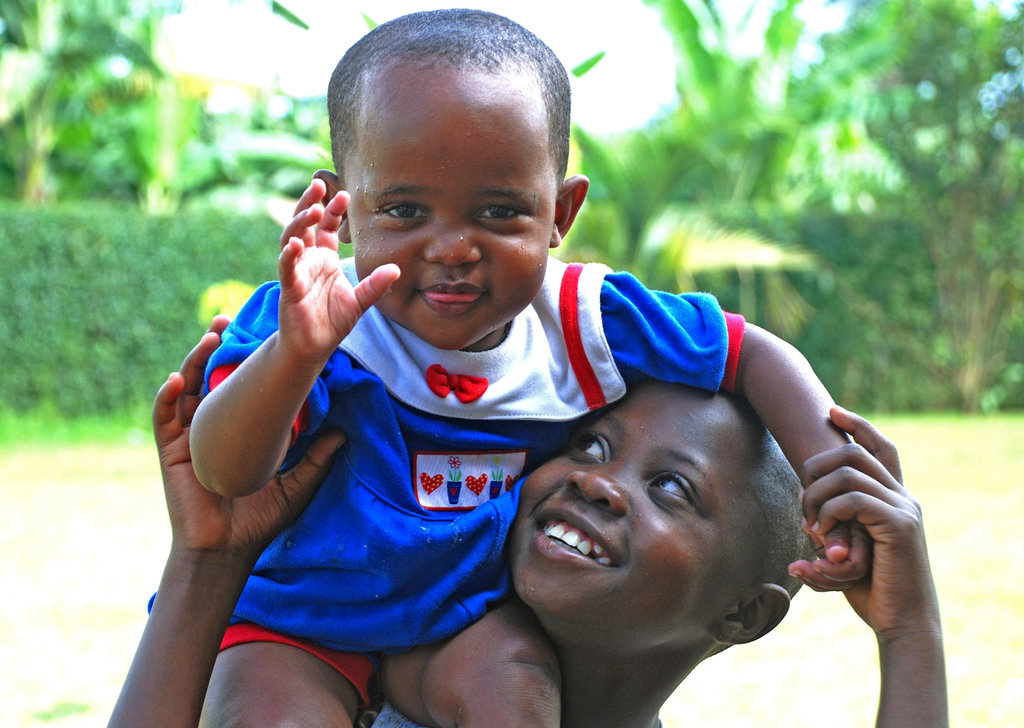 The Children's Village continues to provide a loving home for the children. A few months ago, a set of twins and their older sister finally found a place to call home. The mother to the three children, passed away shortly after giving birth to the twins. They were then left to their elderly grandparents to nurse them since there was no one else to take over. However, life was very difficult for their old grandmother who had to go digging in the neighbouring gardens in order to get money to buy milk for the twins. When they were almost four months old, the local leaders sought help from SOS Children's Village Fort Portal. On a good note, the response was positive and the twins plus their sister were taken on for long term care.
On arrival, the children were dressed in rugged pieces of cloth however this did not stop them from smiling at everyone who reached out to carry and cuddle them. It was such an emotional moment; some staff were moved to tears as they wondered why life was so unfair to them at such a tender age. To the children in that family house, it was exciting to receive yet another little sister and brother. They could be seen taking turns to hold the twins. Currently, the twins are now fully grown and look even prettier. Their sister Tracy started attending kindergarten and is progressing well. A strong bond has been formed with their mother; she hardly wants to leave their side. She is so proud of her lovely twins since 'they give her lots of hope for the future' she confesses.
In our Family Strengthening Programme, income generating activities such as art and craft, mushroom growing, soap making and agribusiness are going on seemingly well. For instance, caregivers have been able make some savings and have also borrowed money from a local savings scheme to cater for their family needs like school fees for the children, and purchase of crop inputs for their gardens. Large amounts of liquid soap, bar soap and mushrooms by the FSP Care givers are being sold to the families in the Children's village. While the caregivers have found assured market for their products, mothers in the family houses are also enjoying the services at cheaper and affordable prices. They also have opened up fully-fledged market centres where they sell their
products.
One of the beneficiaries known as Margaret has a family of six children and stays together with her husband. During assessment of Rubingo village, the SOS team found out that her family was very miserable and were living way below normal standards. Margaret and her husband were mere peasants who lived off meagre wages (earned by digging) for survival. Eight of them lived in a small hut with almost collapsing walls. In such a pathetic situtation, SOS chose to support the family in the hope that they will provide a better future for their children. Margaret and her husband were sensitized on several income generating activities that could contribute to getting them additional income for survival. They decided to settle with the art and craft groups within their village. While she learnt the skill of weaving the mat and baskets, her husband supported her in searching for local materials to use for the art pieces she intended to make. Fortunately, the family's innovations went on well and several attractive mats, hand bags and baskets were made. Many are the days the couple is seen transporting their craft work to the market. These items have fetched the couple a good amount of money which they are using to educate their six children. One of their older children will be sitting for the national primary (elementary) leaving examiniations this year. The couple cannot wait for such a moment to come since it will fully signify their success and hard work.
Many thanks for making it happen with your generous support.