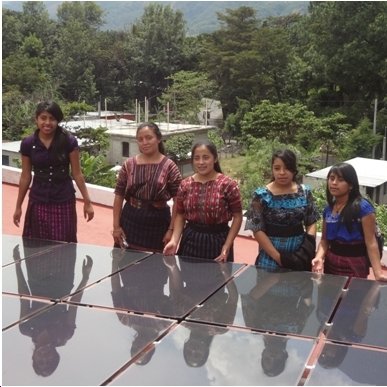 Our project has a new name: "Mayan Power and Light" We are collaborating with the NGO "Starfish One-by-One" to teach young Mayan women about electricity and solar power and we are going to help start a women's solar power cooperative.
We hired Formative Evaluation Research Associates (FERA) to help us assess our impact for this project. FERA is an independent evaluation group based in Ann Arbor, Michigan that has provided evaluation and learning opportunities to the nonprofit sector for over 35 years.
FERA works with clients engaged in innovative efforts at the local, national, and international levels. These clients include foundations and their grantees, nonprofit organizations, strategic alliances and collaborative efforts, and networks/membership associations.
In January Dr. Karin Tice of FERA visited our partners in Guatemala, and she visited potential clients for solar sales and installations.
The first take aways from Dr. Tice's preliminary report are:
1. The teachers and students are very engaged already with the project.
2. The value of solar is greater than we expected. Rural Guatemalan's that do not have electricity are spending more on candles and kerosene lamps than our original estimate. This makes sales of solar lighting systems a better model for a business than we anticipated.
3. Our Engineers are ready starting February 27th to work with our partners, Starfish One-by-One, and teach the Starfish mentors the solar curriculum.
4. Our Executive Director is traveling tonight to Guatemala with teaching materials and home solar energy systems to get the first class started.
We are very excited to get to the real work of this project.
We will keep you posted on how things are developing, and
Thank you so very much for making this project possible!