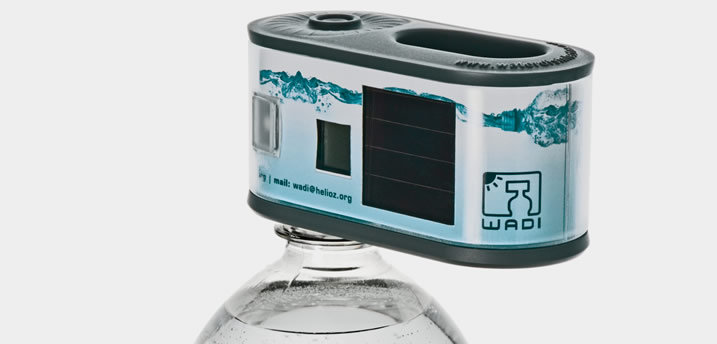 Dear supporters,
Every 20 seconds, a child dies because of diarrhea. As diarrhea is mostly caused by poor water, sanitation and hygiene conditions, we feel that our project can make a difference in this regard. In the project, which you supported in the past, we want to develop and produce a low-cost device to tell the user when their water is safe for consumption by making use of the method of Solar Water Disinfection (SODIS). Here is a short update from the latest developments:
One of our partner organizations (helioz.org) has just managed to produce a first small series of their indicator. We are currently talking to this organization on how to obtain funding for a field test - we want to give this device to 1,500 families in order to collect more data on the use and usefulness of the current design. Producing the device was just a part of the project, we now need to obtain funding for the distribution logistics, for the field promoters and for the data collection process.
This field test is important as it will help us identifying what are the key factors for an adequate product design. In our case, indicating the user what to do is not as simple as you'd expect: We need to distinguish three different states (turned off; turned on an in progress; ready) and communicate these states to the user in a simple way. As we want to use the indicator with low-income families and with people who often are illiterate, we need to find ways of communicating with the user without the use of text. In order to be able to use the same device in a number of different cultural settings (not only in Bolivia, but in Latin America, Africa and Asia), the communication also needs to be universally understood. Luckily, the spread of mobile phones in many low-income countries helped to establish a set of almost universally understood icons and we expect to use some of them (e.g., a smiley).
Meanwhile, we also want to test alternative designs. Ideally, we'd be able to field test different products simultaneously in one setting in order to compare their effectiveness and reliability. We hope that by creating some competition among different providers we will obtain the best results: a low-cost indicator which can help thousands of families to determine when their water is safe for consumption. With a small donation, you can support us in this task and be part of a simple solution for saving lives.
Thanking you in advance and with best regards from the project team,
Matthias Saladin
Links: