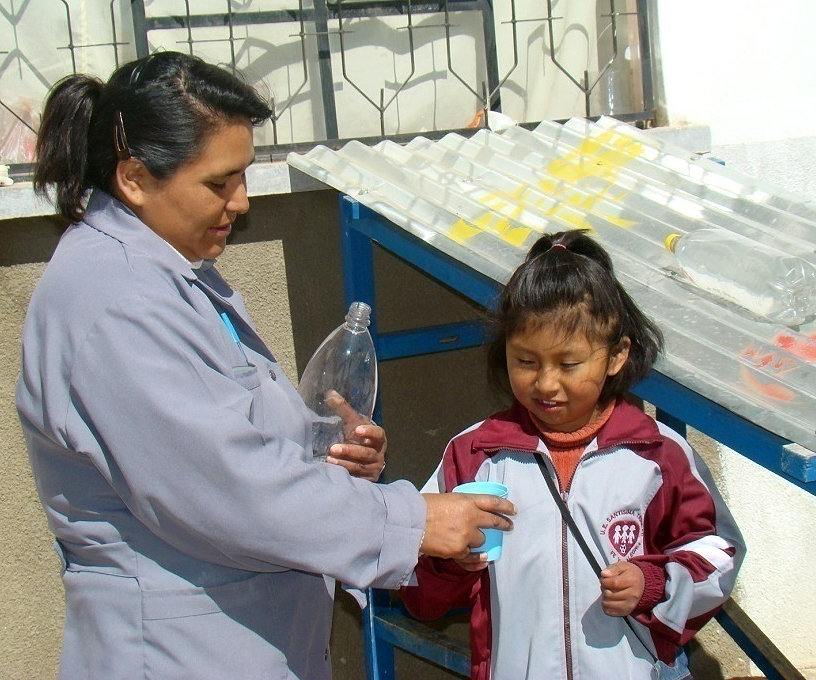 Dear supporters,
This is a short up-date on our project to develop and field-test an indicator for Solar Water Disinfection (SODIS). SODIS is a simple process to obtain safe drinking water by exposing it in transparent plastic bottles to sufficient amounts of sunlight (see www.sodis.ch). Depending on the intensity of radiation, the SODIS method will deliver safe drinking water either in 6 hours or in two days - and the difference between the two intensities is not always easy to tell. Therefore, the main idea of the SODIS indicator is to enable users of the SODIS method to detect the current level of sunlight intensity.
The project emerged from an open innovation challenge which was launched last year on the platform of InnoCentive (www.innoventive.com). More than 70 project teams handed in proposals on how a SODIS indicator may function and look like. The SODIS Foundation invited a team of international experts from research and industry to evaluate these proposals. The winning proposal came from a team of students at the University of Washington, who received the award of 40,000 USD donated by the Rockefeller Foundation. The solar-powered, re-usable device convinced the evaluators because of its design and its low price. Based on this experience, the students decided to set up their own non-profit organization (PotaVida: www.potavida.org) and keep developing the idea of a SODIS indicator.
In January, the SODIS Foundation, the Swiss Federal Institute of Aquatic Science and Technology (www.eawag.ch) and PotaVida managed to obtain funding for the technical development of a prototype. The design of the device is now reviewed again and different alternatives are evaluated. At the same time, we keep raising funds for the field testing, which will take place once the first prototype series has been developed and tested at laboratories. We look forward to these exiting developments and will keep you informed about progress on our side.
In the meantime, please support our work by spreading the word on this project further or by making a donation on the link below. Every donation will bring us a step closer to our main goal: make safe drinking water available to everybody.
By the way: On March 16, all donations will be complemented by another 30% by matching funds from the Global Giving Foundation. Take advantage of this special offer and support our project with a donation early on that day (matching funds are limited and will be allocated to the first $75,000 received that day on www.globalgiving.org).
Thank you for your support,
Best regards from the project team,
Links: