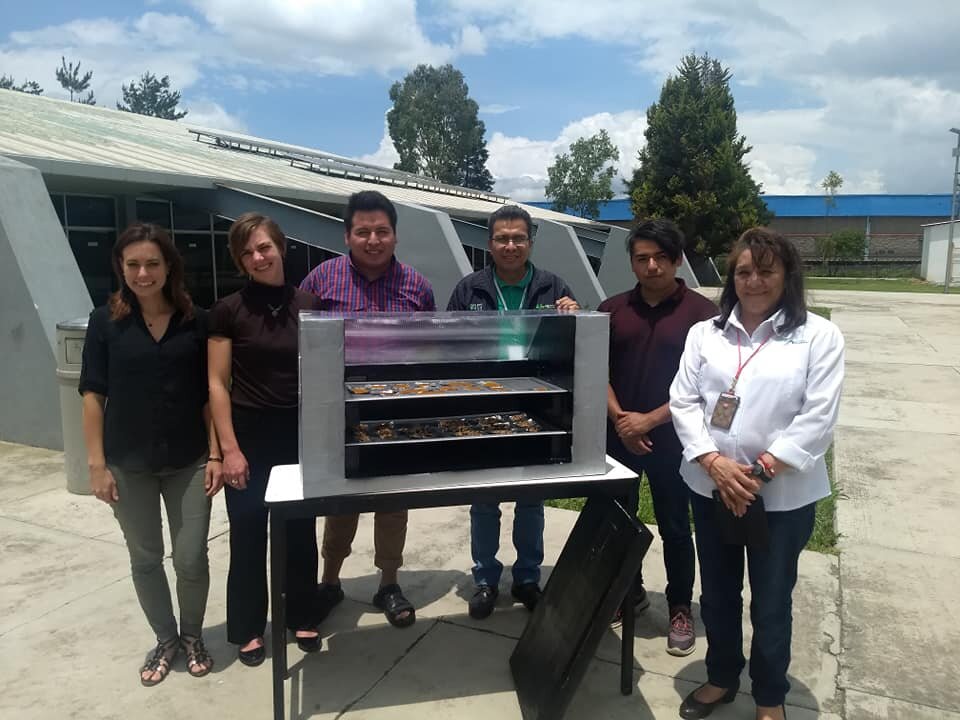 In September 2021 I visited one of the fincas (farms) where two of our solar food dehydrators are in use. I discovered several areas where we can make them better. We can make them easier to use, function better and last longer. We're talking Dehydrator 3.0, a major upgrade.
In our new design we are specifying simple things like better sealing against the elements, new long lasting materials, and especially we are adding a small fan like the ones found in desktop computers. Other elements are based on computer analysis.
Why are we making these changes? We found that even small gaps in our existing dehydrators allow bugs to get in. Standard plywood, no matter how much paint you put on it, will delaminate over time. Our existing design is too slow. In the growing season people want to get more food dehydrated.
We want our dehydrators to last a decade at least. Adding small fans cuts the drying time by a lot. What now takes two days to dehydrate can be done in just one day with the addition of a small solar panel hooked directly to a fan.
It takes only a few dollars to make these changes and we get new dehydrators that last much longer and are nearly twice as efficient!
I'm excited to share our new designs with you as soon as we get the new models built. We want to replace several of our existing dehydrators when the design is finalized. The families that use our dehydrators will greatly benefit from our new designs.

ATC has a 15 years of experience supporting rural farmers with appropriate technologies. ATC has partnered with several universities to develop multiple innovative solutions to our solar dehydrator. We will take the best design ideas from all our partners and add data from our field observations to make our Dehydrator 3.0 design.
We have seen how food dehydrators help families provide better nutrition for their children. Attached please find a very alarming graph from a Guatemalan health clinic showing just how many babies are malnourished to the point that they are failing to thrive, and actually are growing up stunted, never to reach their potential. With your continued support we can fix this.