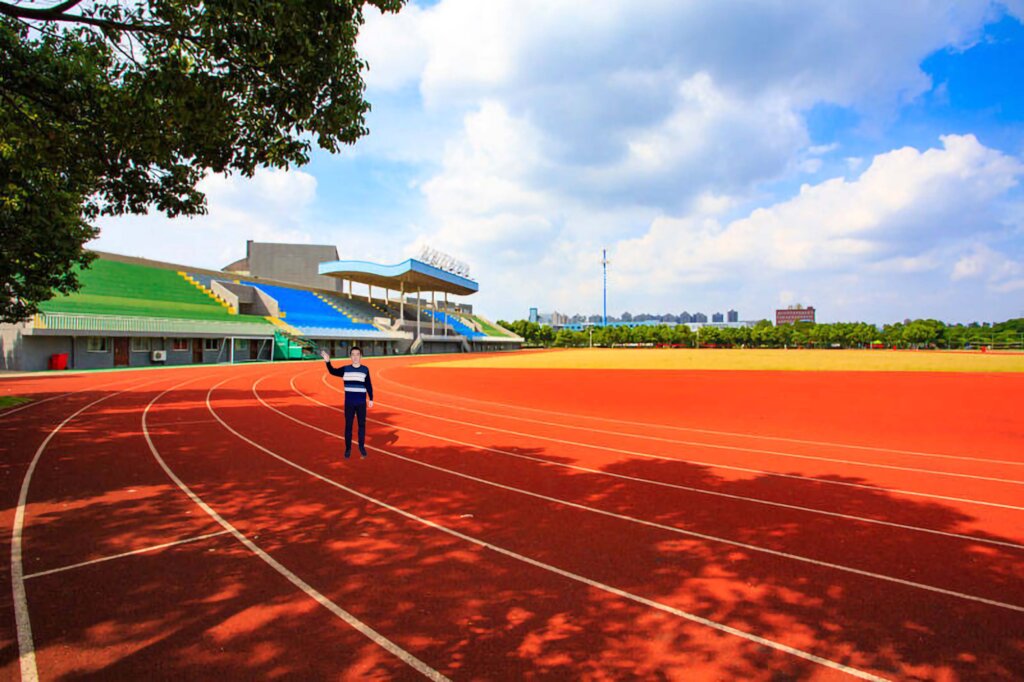 How time flies! I am going to graduate from college! Standing at this point and looking back to my past, I feel that my previous 20 years' life was filled with happiness and sorrow, failures and frustrations, daydreams and plans, desperation and hope…Glad that I have gone through all these! But all of those moments got me ready for my upcoming new journey. And special thanks to SOAR for being in my life!
I was born in a typical rural family in Shaanxi Province, China. Although my family was poor, I was fortunate to have loving parents and a carefree childhood. But life is like a box of assorted chocolates and you never know what's next. Misfortune came to my life all of a sudden, without any warning signs. When I was ready to go to elementary school and went to the physical exam as required, for the first time, I learned that there was something wrong with my eyes - I could barely see anything clearly on the vision chart, except for the largest letter on the top. Soon, I was diagnosed with retinitis pigmentosa (RP), which is a rare eye disease without any known effective cures even now. In the worst case I could be blind. It was a total disaster for my family! The doctor asked my parents to bring me back for follow-up exams every year, with a hope that it won't get worse in a rapid speed. Since then, eye disease and RP have become a key part of my life. I should say that I was fortunate to have residual visions during my elementary school years. I was able to finish my studies with the help from my teachers and classmates in elementary school. However, I could not see anything on the blackboard clearly even when I sat in the first row in the classroom. My parents tried everything they could to continue my education. Finally, I had to transfer to a school for blinded students and finished my middle school there.
By then, I need to make a decision for whether to continue my studies in a regular high school, or similar to my fellow classmates, to get trained with massage skills in a specialized vocational school. It is very challenging to choose because there aren't many high schools for the blind in China. After discussion with my parents, my teachers and thorough consideration, I made up my mind to take the entrance exam for Qingdao School for the Blind in Shandong Province, the first regular high school for the blind in China. I was so nervous and anxious and nearly desperate during my preparations for the entrance exams, because among thousands of students only 28 students could be admitted each year. I almost gave up. Then my most important mentor and supporter showed up in my life.
It was SOAR FOUNDATION that brought endless motivation to me in my hardest times and became an indispensable part of my life. I still remembered the day when my teacher came to me and told me with smile, "Great news for you, Andrew! Our school has been assigned with one awardee opportunity from SOAR FOUNDATION and you are the student to be recommended for this award for your superb performance. Keep going!" You may not be able to understand from your wildest imagination how excited I was! This award was not only affirmative and encouraging for a fragile me, but also a big help for my family. With this great news, I was able to concentrate on my studies and succeeded in getting admitted by Qingdao School for the Blind with a national 3rd place. I got more connections with SOAR during my high school. Every year, SOAR volunteers, whom I would like to call teachers, contacted me to send me the scholarship, updated my information about studies and life, and gave me hearty encouragement. With SOAR's support, I was able to finish my highschool studies with ranking No.1 and got admitted into Changchun University to study traditional Chinese medicines.
Compared to my high school life when I was buried with studies and exams, my life in the university became diverse and colorful. I attended debate competitions and joined several interest groups and societies and acted as the study group leader to urge and help my classmates in studies. As always, study is my first priority and my hard work brought me top scholarships and awards from the school. SOAR's college scholarship continues to be a big help! I chose English as my second major, which facilitated me with perspectives and insights different from my major in medicine. I was also proud to be the first and only student in my class to pass the college English test level 4 (CET-4) with Braille. Moreover, I worked as a Braille translation volunteer for the college entrance exam in Shaanxi Province, to help other visually impaired students to pursue their college dreams. I was so happy to be such a volunteer.
In the year 2020, I attended the online forum for the 25th anniversary of SOAR, and met many SOAR volunteers and awardees from various subjects and industries. I was deeply moved by the tremendous achievements of SOAR and motivated by my outstanding peer awardees. SOAR supported all my peers in their pursuit of knowledge and opened doors of opportunities for their lives. Without SOAR, I would be drowning in a river of darkness but SOAR completely changed my life. I owe my thanks to all the people helping me, especially the donors and volunteers of SOAR. I want to
be a person just like them, to support others to realize their dreams. Although I am not sure what job or life I will be landing in, I am confident and determined, to make my own contributions to help others in need, especially those visually impaired, and spread the great love of SOAR to the society.
Thank you SOAR!
Editor's notes:
According to the National Human Genome Research Institute, Retinitis pigmentosa is an inherited disorder, and therefore not caused by injury, infection or any other external or environmental factors. People suffering from RP are born with the disorder already programmed into their cells.
GlobalGiving's September 2022 Little by Little campaign will last 5 days, from September 12, 2022, at 00:00:00 EDT to September 16, 2022, at 23:59:59 EDT.
During the September 2022 Little by Little campaign, all eligible donations up to $50 USD per unique donor per organization will be matched at 50% for the duration of the campaign.
Thank you in advance for helping SOAR to win the BONUS!