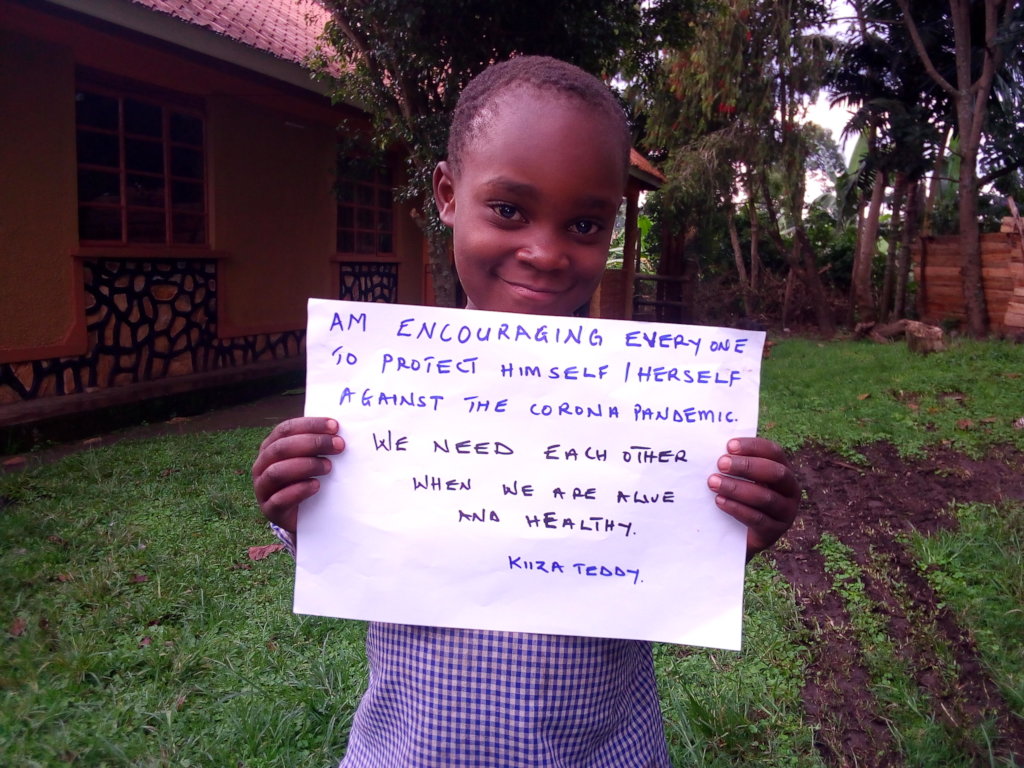 The Easter Holidays are over and school is back in session!
At Sky Is the Limit, 400 disadvantaged children are currently doing their end of year exams. These exams, normally taken later in the year, have been delayed due to the Covid-19 pandemic causing lockdowns worldwide. Sky Is The Limit closed its doors in April 2020 and reopened again in October 2020. Since then, the children and their teachers have been working really hard to prepare for their exams. I'm sure you will join us in wishing the children the best of luck, and we look forward to sharing news with you of their results over the coming months.
For some of the children, these exams will determine their future. Our P7 class of 28 children have just finished their End-Of-Primary exams, and are eagerly awaiting the results to see if they can continue their education at local Secondary Schools and build the future of their dreams.
After being closed for 7 months, the children at Sky Is The Limit are all very excited to be back at school.
Jackson (P6) says, "I love being at Sky. I like to learn and play football with my friends. The teachers are kind and know so much, and help us to do our best. Because of them I feel like I can learn more, and will do well in my exams! When Sky Is The Limit closed last year I was very sad because I could not play with my friends or learn, and I got very hungry. Now that I am back at school, I love to run around the garden of Sky and eat delicious school meals again!"
We're thankful that due to the generous donations from supporters like you, Sky Is The Limit was allowed to re-open in October after sufficiently meeting safety guidance outlined by the Ugandan government to limit the spread of Covid-19. We were able to install 4 hand wash stations and provide hand-sanitiser and masks for the children and staff. However, since reopening, running the school has not been without its challenges. Noah's Ark, our residential home for children who are orphaned or whose parents are unable to care for them has increased from 35 children to 40, putting additional strain on the resources at Sky Is The Limit. At the moment, all 400 children at Sky Is The Limit are phasing their attendance to school according to their classes, so that the school can social distance, and classes even go for lunch in phases so that they can safely eat in the dining hall, which is cleaned down after each class. In classrooms, children are seated 1 per desk and spaced out at a safe distance, but there is still limited space for the children to be safely spread out for lessons as there aren't enough classrooms at Sky Is The Limit. Ecologia Youth Trust is looking to build 5 more classrooms with desks and chairs, but in the meantime, the dining hall and school hall are being used for classroom space with lessons being taught outside when it is not raining.
Rose, the Founder and Director of Sky Is The Limit says, "We are so thankful for your support during the pandemic – you helped us to survive when we thought we would not. Your kindness has helped us to reopen and give hope and love to the children of Sky. I hope your love for us will continue." Rose has reported that funds are running low and that they in need of more masks, soap, hand sanitiser, and need to install more foot-controlled hand-wash stations to help keep the children and staff safe.
Will you consider making a donation today and help Jackson and children like him at Sky Is The Limit stay safe? Hand washing stations and hand sanitiser are vital in making sure the children at Sky Is The Limit who live with HIV/Aids do not contract Coronavirus, which is even more damaging to their health as their immune systems are ill equiped to fight off illness and infections. A donation from you today - no matter how big or small - means that you can keep some of Uganda's most disadvanatged children safe.
On behalf of everyone at Ecologia Youth Trust, and the children whose lives you are changing for the better – thank you for standing by us. Your generosity during the pandemic has helped us to safeguard children who need it most. Thank you for helping them to stay safe, and for allowing us to reopen the school so that they can experience the joy of learning again.