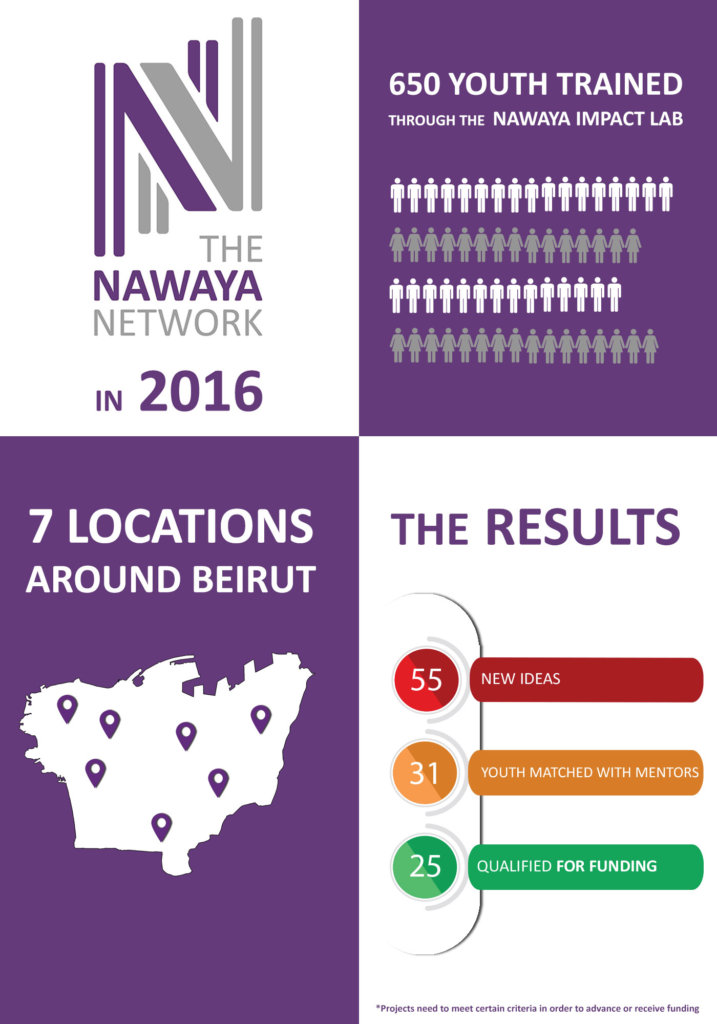 As the new year begins, we're all busy making plans and so are our youth!
We piloted the Nawaya Impact Lab in July 2016 over a period of seven months, in seven marginalized locations across Beirut, reaching hundreds of youth.

Our youth undoubtedly face a number of limitations and challenges on a daily basis.
Despite these limitations, we were inspired by their determination as we came across a treasure trove of innovative and creative project ideas proposed by youth.
Here are some of our youth small enterprise and community project ideas from our 2016 training round:
Mfak Baraghi is a small enterprise which provides a team of experienced workers for fast and reliable maintenance and refurbishment services. The services include: electrical wiring, plumbing, painting, AC and tiling services.The business will provide these services to homes and offices 24 hours daily, 7 days a week. Click here to view the project video!
Baytouti is a project created by two young sisters, one of whom is passionate about baking and healthy nutrition while the other is passionate about business. The aim of this project is to put an end to unhealthy snacking among kids on the outskirts of the Shatila refugee camp area by providing clean, homemade and healthy snacks for children! Click here to learn more!
Green and Peace is a welcoming and safe environment for girls whose parents do not allow to participate in outdoors or public sports activities. This project idea is to gather marginalized girls and women in group workout sessions in Horsh Beirut for them to alleviate their feelings of limitation. Watch the video here!
With the influx of Syrian refugees to Lebanon, an increasing number of people are looking for new homes to move into. Beit Now is a digital platform which connects landlords to tenants and facilitates the search for a new home based on each tenant's budget and requirements. Learn more!
Check out our platform on www.nawaya.org to explore a number of other exciting youth-led initiatives. We look forward to sharing their progress with you in the coming months!
Our target for 2017 is to reach 2,500 youth in Beirut, Mount Lebanon & the South through the Nawaya Impact Lab and our coding bootcamp SE Factory!
Kind Regards,
Celine