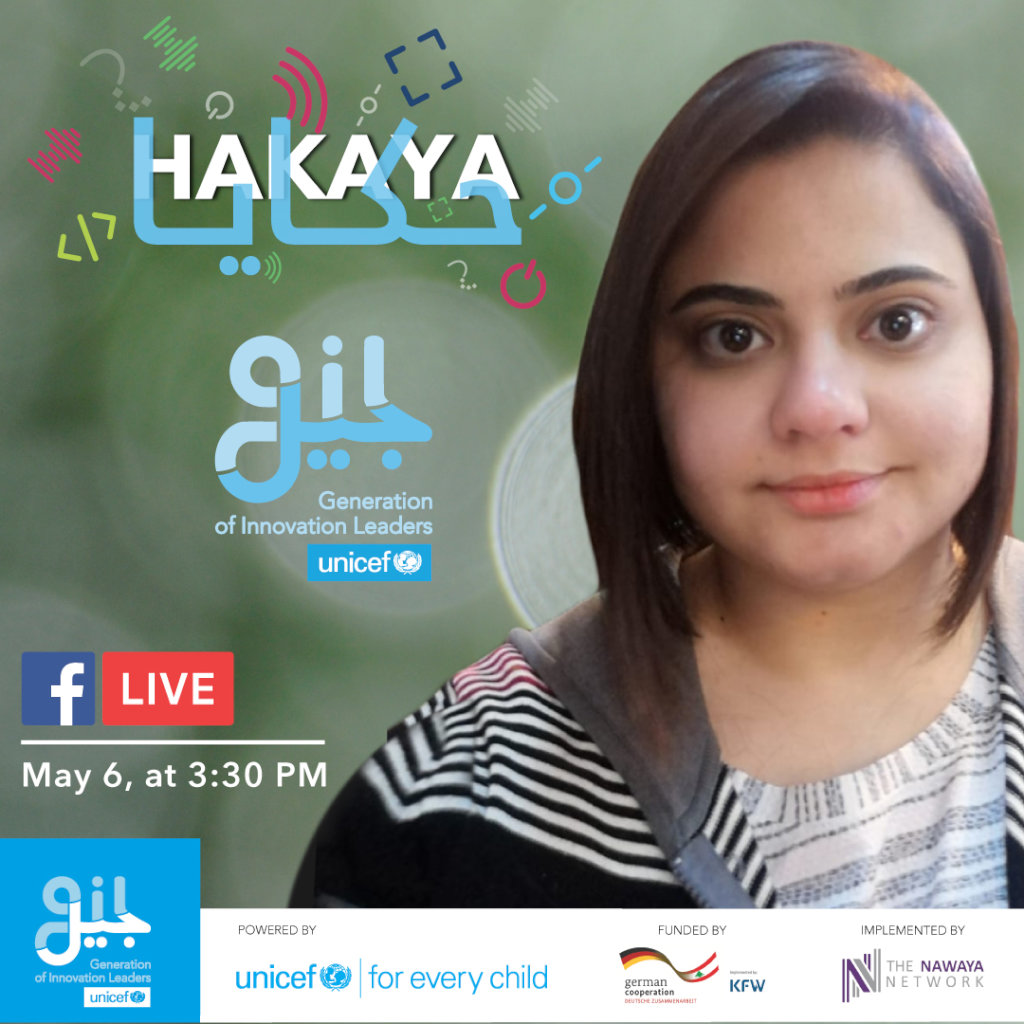 Dear Friends,
We hope you are all doing ok during this difficult period and all your loved ones are safe.
Now, more than ever, Lebanon needs us to keep going and to keep innovating with the changing environment, for the sake of the youth across the country.
As a result, in March, we launched our online entrepreneurship program in partnership with UNICEF as part of the Generation of Innovation Leaders (GIL) program. We had over 20 youth from UNRWA in Sibline and Rural Entrepreneurs in Baakline logging in to learn all about how they can turn their ideas into small businesses.
Our pilot ended just days ago, with many of the youth proposing business ideas that address COVID-19 related issues in Lebanon.
Firas from Baakline, for example, has found a way to turn methanol into pure alcohol, without methane gas. The result: a high quality, locally produced rubbing alcohol addressing the imminent market need as well as the inability to import such products in this economic climate.
Abdelrahman, on the other hand, has built a vaporizing machine that transforms water and sanitizers into a stream of vapor to be used in disinfecting store shelves and products, homes, or offices.
As our youth remain engaged and eager to keep learning during the pandemic, we are continuing to roll out more online training sessions for youth in other locations, including Bourj Hammoud with Mouvement Social NGO, Madineh Riyadieh and Saida with the Chamber of Commerce.
In addition, to continue supporting teams who have launched small enterprises through GIL, The Nawaya Network is now offering online mentoring.
Every week, we host online townhall sessions with experts, while dozens of youth listen in and ask tons of questions. We have already had sessions on how to adapt businesses during COVID-19, how to improve marketing strategies, online sales strategies, and a legal session.
And finally, in a bid to keep youth engaged and motivated, and to shed light on youth in Lebanon, Hakaya GIL, the program's signature storytelling event, will now be streaming on Instagram in bi-monthly mini-episodes.
The series will follow the stories of exceptional youth as they share inspiring their stories of how, through sheer will and perseverance, they've managed to triumph over seemingly insurmountable obstacles in their lives, the most recent of which relate the country's economic crisis, the pandemic and adapting their small enterprises for growth.
The live series launched on Wednesday, May 6th, 2020 with Ghina, a young girl from the South who shared her experience related to bullying and how it has shaped and impacted her life. Please make sure to tune in on Wednesday, May 20th at 3:30 pm Lebanon time for another inspiring talk with another Nawaya youth!
As always, thank you for your continued support. Please stay safe!