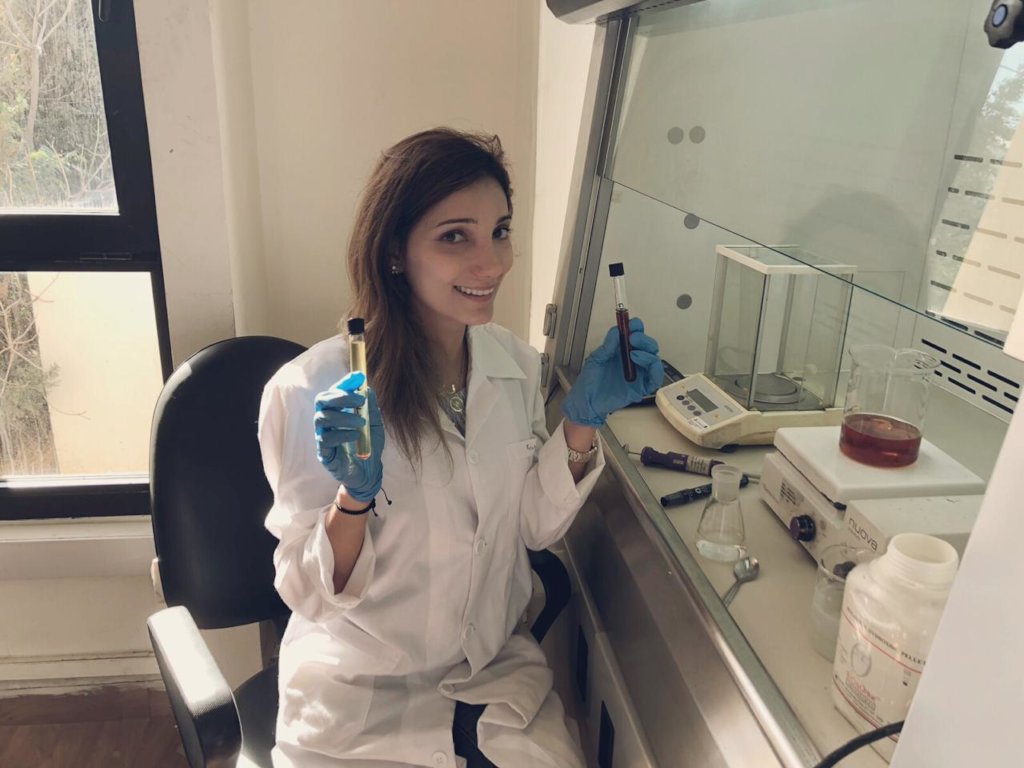 Following the great success of the Nawaya Talks: the Untold Stories of Youth in Lebanon, today, we would like to shed the spotlight on star youth who have gone through the Generation of Innovation Leaders, GIL programme, powered by UNICEF Lebanon and implemented by The Nawaya Network!
Twenty-one-year-old Farah, from Byblos, in Lebanon, is a chemist and agricultural engineer with a deep commitment to renewable energy sources.
In light of Lebanon's waste crisis, and through the Nawaya Network programme, Farah has proposed recycling used cooking oil into biodiesel. And so she set out testing the various chemical reactions until she found the right one which actually transforms cooking oil into an eco-friendly biodiesel.
Having crossed that milestone, Farah started researching a more efficient way to do it. This is when she came across a specialized machine which can get this process done quickly and efficiently and which sadly is not available in Lebanon.


Undeterred, she's decided to build her own! Farah will be testing out her project in her hometown.To build her machine and bring her project to life, Farah will be needing additional funding, access to a lab where she can continue testing and improving functionality as well as solid connections with the municipality, restaurants and households in her area, who will all be handing her their used cooking oil for recycling.
Moving on to Ahmad, from Syria, who has not only successfully launched his home delivery food service but has also won a spot at Spark and Jusoor's #startuproadshow in Amsterdam this November.
Ahmad is a trained chef, of Syrian origin, who like thousands of others, sought refuge in Lebanon following the war. Despite his daily struggles to make ends meet, settle within a new community and care for his mother, he has managed, through Nawaya's programme, to put his passion for making food into a viable business model which now earns him and income but has also won him regional visibility and a chance to join Jusoor's competition next month.
On to two other Nawaya Alumni, Joanne, creator of Foodie on a Mission blog and shop, and Haitham from Pro-Shield have both earned a spot at DOT's Unconference in Kenya last week.
Joanne traditional demonstrated Lebanese dishes and produce while Haitham presented his innovative product, Pro-Shield, a solution to solar power water heaters, which due to sun overexposure overheat and need replacing more often. Pro-Shield is meant to maintain a certain water temperature, therefore extending the life and maximizing the efficiency of water heaters.
Last but not least, we would like to recognize Mohammad, a Palestinian refugee, living in the Rashidiya refugee camp in Tyr. Mohammad will be participating in the para-athletes races, handcycling for other youth who have disabilities. Mohammad lost both his legs to a landmine at the age of twelve.
To wrap up, we would like to invite you all to read more about the inspiring youth we work for on our Facebook page and donating to our cause.