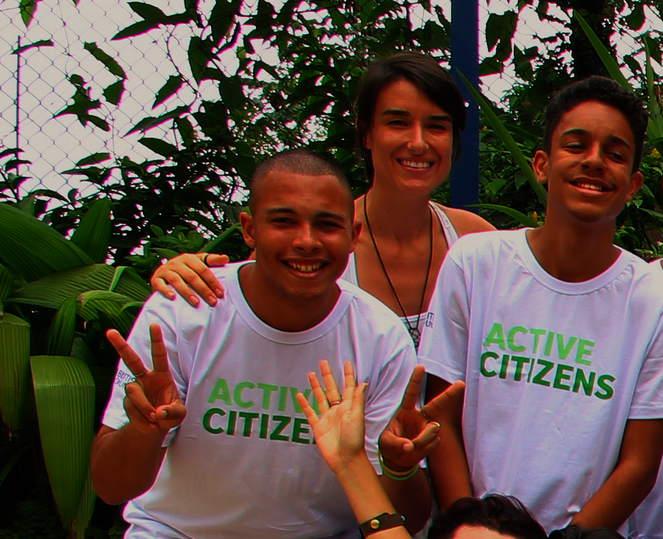 We want to tell you a very special story for this report about Evando, a young community leader.
In our last report, we told you about our leadership training workshops for youth in peripheral communities who want to make a difference in their lives, and the lives of their neighbors. These workshops result in project proposals that have to do with sustainability, women empowerment and community development.
In November of last year we met Evando, a wonderful young leader from the Baixada Fluminense - the peripheral area around Rio de Janeiro - who had been active trying to mobilize his community to work together to make it a better place to live. During the training he was very open and generous with the group, and actively participated brainstorming projects, discussing identity, culture and dialogue.
This year, Evando was chosen by the Active Citizens program of the British Council, to take a study trip to England! He travelled this month, meeting other young leaders from different parts of the world and geting to know other similar projets being implemented there.
While on his trip, he reached out to tell us how amazed he was with the experience and excited to be part of a network of young people trying to make a difference in the world through local actions. He told us there were many firsts that week: it was the first time he ever left the country, the first time he rode on a train, the first time he saw the snow, and the first time he got invited into a City Hall and was even awarded a gift by the Mayor. He had never had the opportunity to meet such a diverse cultural group, and was very inspired to see how we can all work together towards the same goal.
Evando is back in Brazil and working on a proposal to create a communal garden that will not only embellish the community, but also incentivice teamwork and sustainable practices. We are incredibly happy and proud to see him grow and have lifechanging experiences.
A huge thank you to our donors who help us organize these events that allows to find opportunities for young people who want to make a difference, and to create a platform for them to take on a journey towards becoming Changemakers!