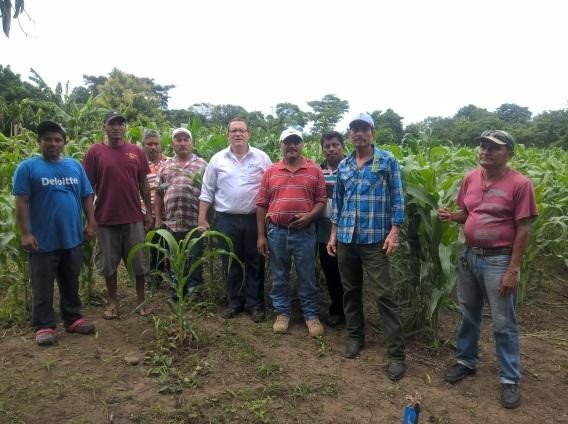 When we welcome guests to our training sessions, we always share Einstein's idea that, "If you want different results, don't keep doing the same thing." Farmers, women, and young people come from all over to be trained in the Fred Strohbehn Training Center (CECAL). Every month we host over 60 people and hold specific sessions to meet the needs of each group. We partner with the Ministry of Health (MINSA) and Peace Corps to "enrich the knowledge of women in agro-business and health," and "teach leaders of the CAPS (Potable Water and Sanitation Committees) to better manage their community water systems and improve water quality using the CTI-8 Manual Chlorinator technology.
The specific objective for the first training was to share knowledge about new varieties of Quality Protein Maize (QPM). Nicaragua has the lowest yield-of-corn statistic in Central America and has primarily only planted regular corn and grain since most communities cannot afford a hybrid seed. We taught farmers techniques for raising their crop yields when growing QPM.
One farmer beneficiary said, "I don't mind traveling far since I know that I am going to learn something new to improve my corn cultivation." He continued, "I want to thank Country Program Director Jorge and the Self – Help International staff that are always willing to support us with resources, training, and time. The best way I can show I am really grateful is by showing that I am implementing all the knowledge and skills learned from you all. My family and I will always follow your advice because we have seen that it works - as a result we have a better yield in our harvest and have seen an increase in our income."
We reflected on the current situation with our farmers: they now have access to modern technologies but, since the time of their grandparents, they have not made great changes to the way they sow and cultivate the land. For this reason, we have set out to launch the "Sustainable Intensification Strategy in Maize Production," identifying the factors that negatively influence the levels of maize production.
Our farmers are in need of knowledge and technological updates. They are producers located in the humid tropics of Rio San Juan who work hard to feed their families, but their agricultural practices lack technical advancements. Because of difficult growing seasons and a poor economy, they often experience harvest losses and fail to profit at the end of the season. In addition, these farmers are not considered eligible for credit through government micro-finance institutions due to lack of collateral or have sufficient credit history. We at Self-Help are committed to ensuring that small farmers know the nutritional advantages of high-quality protein maize and we urge them to sow this certified seed because it sells at a competitive price. This incentivizes farmers to attend every training taught by myself and my assistant Alfredo
Our micro-credit program has also had very successful training session at the Center. We trained 24 women on building a new INKAWASI oven to improve the safety of their baking. The traditional firewood stoves expose families to smoke and other gases that cause COPD (Chronic obstructive pulmonary disease). These ovens improve health and living conditions, save wood, and are environmentally friendly. At the end of the training, five women decided to build their own ovens. Our goal is for young entrepreneurs to become promoters and builders of the newly improved ovens as their own small business ventures.
On July 26th we had the support of the Ministry of Health to hold a women's health training. A gynecologist and nurse taught the women how to conduct simple at-home tests to check for breast cancer. They also brought them to a health center in order for the women to receive the Papanicolaou Test to screen for uterine cancer. We have held trainings of this nature since this center was opened to provide healthcare knowledge to rural women. We emphasize that the women in our program regularly monitor their health and check for these two types of cancer.
The last training event (July 27, 2017) was lead by the Clean Water program officer, Orlando Montiel Salas. Six leaders of CAPS from 4 communities came to learn about the methodology for calculating the drinking water tariff rate (the rate to be charged to the customer for the service of the Gravity Mini-Aqueducts (MAG) and Mini-Aqueducts by Electric Pumping (MABE) systems). This is a tool that allows leaders to set a collection rate adjusted to the real costs and administrative expenses incurred by the maintenance of the CTI-8 Manual Chlorinators and monitoring of the water quality.
At the end of the meeting, CAPS leaders realized that their rates of collection were far from realistic and that they needed to provide their communities with a report that would make substantive changes and set new collection rates differentiated by real consumption of water. Particapnts of the training said they valued the session and went back to their communities with new tools to better manage their water systems.
All in all, the training center has been busy collectively working on new, innovative ideas, and hopes to continue this upward trajectory to help families in Nicaragua improve their quality of life.