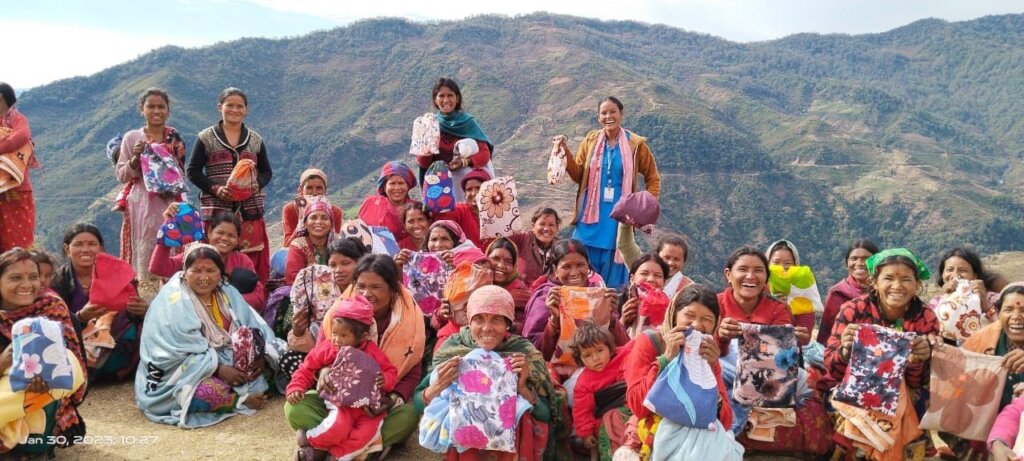 Thank you for contributing to help shatter the shame associated with menstruation in Nepal. In Kailali District, Nepal, women and girls face multiple menstrual health challenges including lack of access to menstrual products, lack of timely and accurate menstrual health education and the practice of Chaupadi Pratha, through which women are treated as impure and forced to live in mud huts during menstruation.
Despite being illegal, Chaupadi is still commonly practiced in Kailali and places women and girls at risk of exposure to extreme temperatures and weather, poisonous insects and animals, poor ventilation and assault. When the government deconstructed Chaupadi huts, communities rebuilt "incognito" huts as a way of continuing the practice more discreetly.
DfG Nepal seeks to address these challenges through (1) Menstrual Health Education sessions; (2) local production and distribution of sustainable washable pads; and (3) engaging Women's Circles and the broader community about Chaupadi Pratha.
To date, we have reached:
1,700 women and girls with DfG washable pad Kits and menstrual health education (including Women's Circles)
1,500 people with masks for protection against COVID-19
506 school-aged boys with menstrual health education designed to create allies for the health and wellbeing of their female family and community members
To evaluate the impact of this project, we used the DfG Survey Toolkit and held focus group discussions. So far, we have surveyed 65 females and 25 males; and have conducted 10 focus group discussions with 492 total participants.
Overall, DfG programs in Kailali are shifting norms towards the abandonment of menstruation-related practices that are harmful to women and girls, supporting them for the long term. DfG menstrual health education prompted respectful conversations about the beliefs and explanations behind Chaupadi, and provided new information to participants so that they can make informed decisions. Through focus group discussions, women demonstrated a deeper understanding of the law, their right to health and safety and their role in supporting other women. Some early highlights include the following feedback:
"Menstruation is natural process. During this time a women should be supported by the family and the community which makes their physically and mentally strong and develop self-confidence on them."
"Chhaupadi is the illegal taboos so we should aware people on the risks of chhaupadi and abolish the tradition."
"Women can contribute for the development of the community also, if they get good education and support."
Enjoy our most recent video with stories from Nepal, demonstrating the impact of this project. We are so grateful for your contribution to eliminating menstrual stigma in Nepal!