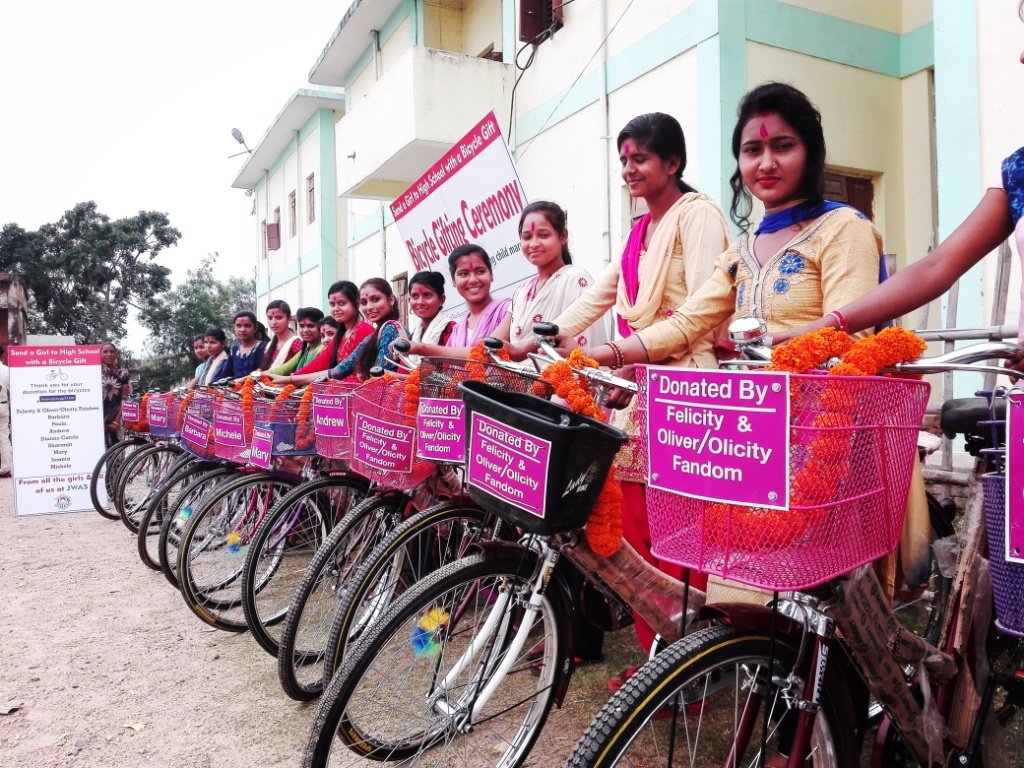 Dear Generous Donor,
With your kind support through the project loved and donated by you 'Send a Girl to High School with a Bicycle Gift' Janaki Women Awareness Society (JWAS) with the latest lot of bicycle gifting event has reached to around 200 poor high school girls in southern Nepal. Your support has contributed in achieving the major objectives of ending child marriage through increased participation of girls in schools and keeping them there until they complete their high school education.
Today it is my pleasure to share you the latest lot of Bicycle Gifting Ceremony held on 7th April, 2018 where 25 high School girls from Shree Ram Secondary School, Matihani-6, Mahottari have been benefited from the bicycles gifted by you. We believe your bicycle will support the girls stay in school and complete their high school education which means they are less likely to face child marriage proposal from the parents and their keen ones at home.
JWAS initiative of ending child marriage in Nepal has become possible from the donations made by you for the project. Without your support we couldn't have reached to this number and achieved this milestone.
We heartily thank all the donors and really appreciate and value your every donation for the cause. To acknowledge the respective donors for the bicycles we have prepared a name plate 'Donated by: XYZ' from your first name and set it in the bicycle's basket before gifting the bicycles to high school girls. We'll send you the recipient girl's photo with the bicycle, school address and her detail to acknowledge your donation.
Below please find some photographs of latest lot of bicycle gifting ceremony.
Please feel free to contact us for more details.
Thank you for your generosity.
Bishnu K. Bhandari
Program Coordinator (Project Leader for Send a Girl to High School with a Bicycle Gift) https://www.globalgiving.org/projects/send-girls-to-higher-secondary-school-with-a-cycle-gift/
Contact No: 00977-41-523576/520652, what's App: 00977-9854027765
Email: jwas@ntc.net.np
Janaki Women Awareness Society (JWAS), Saranchiyakuti, Janakpurdham-4, Nepal (www.jwas.org.np)