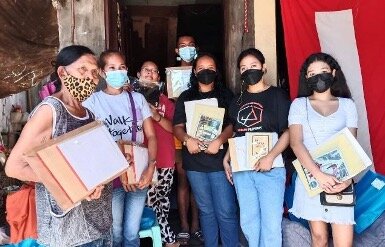 The 2nd Semester of SY2021-2022 has completed.
Students have completed the requirements for the remaining last quarter of the school year.
2 students were provided additional assistance: 1) Elaiza M>, gr.12, P1000 for graduation fee, and 2) Jesha B. 1 st yr college, P3000 for tuition Fee.
1 student, Andrei M., 2nd year, BS in Information Technology in Cavite State University, returned to schooling this March 2022 (2 nd sem, SY 2021-2022) after stopping for one year due to loss of interest in online classes; minimal learning vs tuition paid. He temporarily looked for a part-time job to help his parents.
Distance learning continues in the 2nd year of the COVID 19 pandemic, and students will soon be returning to the classroom for face-to-face learning as well as distance learning on certain days. Even in distance learning students still need basic school supplies for the completion of projects, performing task projects, and modules for submission. For the 2nd semester, 66 students were provided with school supplies and prepaid data load for internet access. A total of 87 beneficiaries received financial support from PAGA.
School supplies were delivered by the staff to Bulacan, and Angeles-based beneficiaries while students from other areas received these via delivery couriers. The NCR-based beneficiaries picked up their school supplies at the PAGA office.
Assistance continued to students having difficulty accessing distance learning studies. For SY 2021-22, five (5) Junior high school students were provided with Dotpad 10" Lemon Android Tablets. Grateful students show their happiness when they received their learning devices.