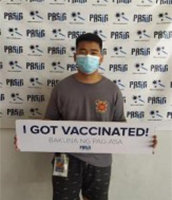 Greetings friends and donors of PAGA!
During the past few months of summer break we were pleased to see the advancement of many of our student beneficiaries. Congratulations to 11 Senior High School graduates, 11 Junior High completers, and 3 Elementary graduates.
Together with other students at different levels, they were promoted to the next year/grade level despite the challenges and difficulties brought about by the COVID-19 pandemic. They successfully adapted to the "new normal setup", with no face-to-face schooling. The highlight of the school year was the attendance of these students through Virtual Graduation and Moving-Up ceremonies uploaded by their respective school in YouTube and/or the school's social media links.
School is already in session again in the Philippines, as of September 13. A total of 71 beneficiaries are enrolled now. The distance learning mode is still in effect, but responding to the challenges, we will continue to be flexible with our programs to support our beneficiaries in their pursuit of completing the requirements for higher education diplomas.
During the past few months we conducted 4 Webinar sessions via Zoom for 54 of our students with the theme: PAGA Cares: "Student's Life Learning Experiences during the COVID-19 pandemic".
This was a venue for students to share their insights and learning experiences with distance learning during the COVID pandemic. Most encountered difficulties but there were also joyful moments during their online class. Many shared about having gained new friends, developed self-confidence, and knowledge, especially on using different applications such as Google Meet, Zoom and Microsoft Office.
All attendees expressed their thanks and appreciation for the support from PAGA especially the grant of their monthly educational stipend which was a big help for them to access data loads and/or internet connections, complete school projects, and enabled them to move up to next educational level.
On September 18, 2021 PAGA conducted a Webinar for the parents of beneficiaries with the Theme: PAGA Cares "Facts and Questions on COVID 19, Self-Care and Vaccination". 46 attended, with Dr. John Carlo M. Malabad, MD, PhD, an assistant scientist from DOST-PCHRD as the invited resource speaker.
Also, "PAGA Matters" – the May-June 2021 newsletter, was released and can be found on https://www.paga.ph.
In closing, we'd like to emphasize our heartfelt thanks and appreciation to all of our donors and volunteers. Please know that PAGA management is aware of the act of support that is made by your donation. We would be unable to continue our work for these worthy beneficiaries without your generosity.
Stay safe always!