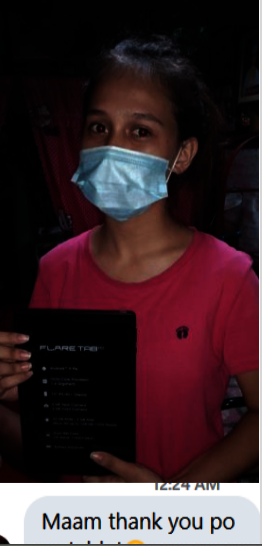 Our last GlobalGiving report, dated June 25, 2020, covered the arrival and entrenchment of the COVID-19 pandemic, from whose effects we are still reeling.
Since then, we have 'reformatted' our delivery of services to PAGA's beneficiaries to comply with the government's evolving health protocols, and continue to spend the majority of our budget on combating the direct and indirect impacts of this invisible enemy.
One major change is the cessation of face to face learning in the Philippines' school system, which will now employ various modes of distance learning, including online.
Due to health requirements, interactions between PAGA staff and beneficiaries are being conducted by Zoom teleconferencing, cell phone calls, text messages, and social media messaging.
PAGA social workers continue to facilitate psychosocial interventions, as necessary, to those families experiencing anxieties related to their income loss, and fears for the school enrollment of their children. The social workers help them plan and explore possible resources available.
PAGA was grateful to be the recipient of a hardship grant in the amount of USD $ 1,000 from GlobalGiving which will be used in support of our most vulnerable beneficiary families.
On July 8, PAGA's Executive Committee approved the immediate payments of PHP 1,000 to approximately 20 families in desperate need due to their near total loss of income by the COVID-19 lockdown. The first payment was made in early July, a second payment during the first week of August, and another in September due to the ongoing need.
Also approved was a proposal to provide all officially enrolled students' families with a monthly financial stipend of PHP 1,000 upon resumption of school on the new start date of October 5, 2020 and continuing through the end of the school year. The purpose of this is to provide some incentive income to students for attending school, partially offsetting their associated expenses and most importantly to reduce the parental pressure on our students to drop out and work.
This program has had an immediate positive impact on the number of youth enrolled in school.
Sixteen students began schooling prior to the October 5th official start, and have already benefited by the start of the monthly PHP 1,000 in the second weeks of September and October 2020.
In late September PAGA received approval of its application for a Beacon Grant from Elks National Foundation. This grant was in the amount of USD $3,500, to be used for the acquisition of 34 tablet computers for our High School students' online learning needs.
Please donate to support PAGA's assistance to these needy biracial Filipino-Amerasian children and their families. Indicate "COVID-19" on your donation and we will allocate 100% directly to our beneficiaries..