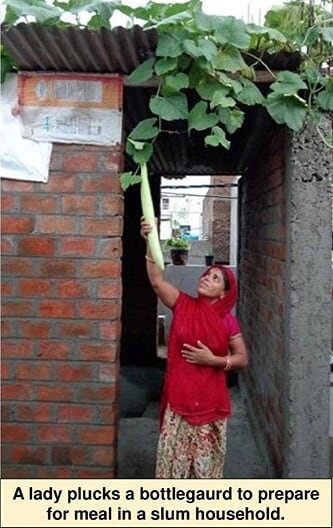 Key Message: Home vegetable gardening promoted by provision of seeds is helping families use tomatoes, brinjals, pumpkins, beans growing in their small slum houses. In 2020 the distribution of seeds was increased from 600 (in 2019) to 1100 families. During COVID19, sharing of surplus harvest with neighbours is helping over 27500 slum dwellers surmount food insecurity during hard times.
UHRC has been promoting vegetable gardening since past five years in slum households in Indore. Seeds are provided by UHRC social facilitators. Facilitators motivate families to tend plants as they grow. Basti (slum) families grew beans, bottle gourds, round gourds, sponge gourds, tomatoes, brinjals, small green peppers, and pumpkins in small spaces and broken buckets. Creepers also helped surmount space constraint. They were motivated, overcome space constraints of small slum houses and enhanced confidence to nurture household vegetable gardens.
Bast (slum) families were practicing vegetable gardening were able to avail benefits of their produce during COVID-19 which ravaged livelihoods and savings of many slum dwellers. In 2019 to 20 600 families grew 85000 kilo vegetables. Families were able to cook vegetables which they grew such as bottle guard, tomatoes, cauliflower, brinjals etc. This approach served as lifeline helping many families tide through the acute crisis during the May-July 2020 lockdown and continues to help many families who as they wade through uncertain livelihoods and exhausted savings. 1100 families are sharing their produce with neighbors setting examples of solidarity networks, promoting a sense of psychological well-being and accomplishment crucial to the well-being of urban vulnerable population. This is helping about 27500 disadvantaged families surmount nutrition and food insecurity in the hard times.
Home vegetable gardening in bastis (slums) demonstrates an approach of local resilience promoting food security and inclusive urbanization. Home gardening, a constituent of urban agriculture has the potential to foster crucial elements of healthier, more sustainable cities. This is helping during covid19, and can be helpful in non-COVID times as well. Growing vegetables in small basti (slum) houses is a strategy towards SDG11 (Sustainable Cities and Communities), SDG2 (tackle undernutrition and hunger)