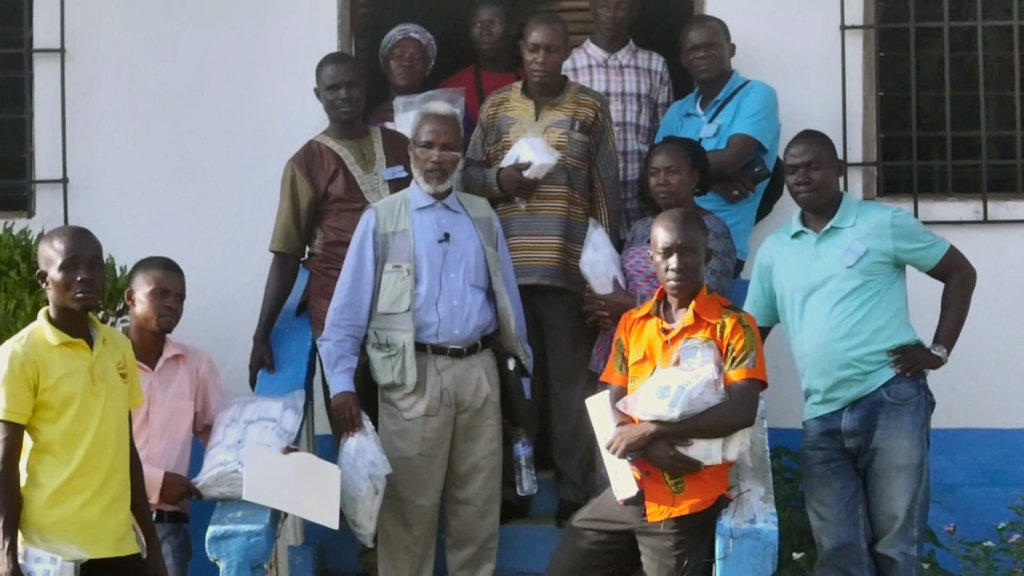 Hi folks,
So much has happened since the last report! As we shared earlier, our focus, as directed by our partners, has shifted toward facilitating an exit strategy that relies upon the collective strengths of our partners and their network. As their strategies have become more sophisticated and their capacity has expanded, we've asked them to help us understand where the network is headed next.
Third Stakeholder Meeting
Late in October, the partnership network organized a stakeholder meeting in Breweville City, Montserrado County, Liberia. During the meeting, they developed an action plan based on their pool of peer resources — the skills, tools, and supplies available to them. We're working closely with our ground coordinator, Francis Bendoe, and our partners to ensure that everyone is represented in the plan and that there is support as the network becomes more self-sufficient.
24 participants attended the meeting to represent their organizations, including:
Church Aid Liberia
Green Cost Agriculture Program (GCAP)
Jacob F. Tomei Enterprise Center (JFTEC)
Liberia Animal Welfare & Conservation Society
4-H Liberia
Restoration of Education Advancement Programs (REAP)
Network Innovation for Children's Endeavor (NICE)
Food Bank Liberia
Restoring Our Children's Hope
Other local and community-based organizations
Journalists, local farmers, and religious leaders
Related themes that partners reported emerging from the meeting included:
Seed is life.
Seed is wealth.
Invest seed into the soil for development. (This is a focus on seed as a resource for long-term nutrition and economic development in addition to food production for immediate consumption.)
Sow seed today for a better tomorrow.
We're also excited to report that 75,000 packets of SPI seed arrived in Liberia in time for this gathering. For this, our gratitude goes out to you for your support of this project, and to GlobalGiving for their generous support of this Ebola recovery project. This seed was highly anticipated, and was distributed among the partners according to the partnership plan that was created at an earlier meeting. Here's what some of our partners had to say:
Let our goal be to reach to the unreachable with SPI seeds that are helping us to fight diseases, hunger, and poverty in Liberia, which are our greatest enemies. — Bishop Kortu K. Brown of Church Aid Liberia
Because of the support from SPI seeds, more vegetables were available in Bentol City market. This encouraged growers to eat more vegetables, which improved their nutrition, and livelihoods improved from income they earned. I'm very glad to receive SPI seeds and I pledge my commitment to ensure that these seeds will reach the people who will benefit most. I encourage close collaboration among us SPI Liberia Network Partners to support each other in our areas of expertise. — Mayor Christine Tolbert Norman of Restoring of REAP
From Recovery to Resilience
Besides seed distribution and discussion about different aspects of self-sufficiency, Church Aid Liberia conducted a training on entrepreneurial skills for farmers. Farmers learned how to plant a commercial garden, including methods for estimating what income they can expect from the harvest.
Asked to assess the benefit of the partnership program, 4-H Liberia shared: this program provides a career path for young people to develop interest in feeding the nation. Access to tool banks via the partnership network is very useful. The children used to complain that their parents would refuse to let them borrow tools. Now, most of them have tools to cultivate their gardens.
These trainings, themes, and participant statements are all indications that our partners have grown from recovery toward self-sufficiency and resilience. Our SPI team could not provide support for our partners without your support. We're humbled and grateful for your support and the work of our partners.
Thank you.